WTA Travel Health Program
Jet Lag Articles
Disease/Illness/Medical Condition-related Articles
International Health Articles
Travel Health Product Information
Miscellaneous Travel Health Articles
WTA Travel Insurance Program offers members a suite of travel insurance products designed to ease the hassles of travel including those you encounter when faced with a health issue - whether in the U.S. or abroad. Free, instant quotes are available. Click here for more information.
Traveler Vaccine Info
The first step to healthy travel is to assess your relative degree of health risk and then acquiring the vaccines that will keep you healthy during and after your travels. Click here for information on determining the vaccines you'll need.
Travel Clinic Locator – Click here to find a travel health clinic near you that can provide the immunizations and information you need for your travels.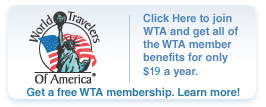 >