Learn about Tucson, Arizona, by reading One Day Tour of Tucson by Jerry Fogle, Leisure and Business Traveler. It features a mini, but thorough tour of the destination, plus all you'll need to know to plan your trip including how to get there, objective information on places to stay and eat, and things to do. At the end of the article, we've provided a summary of the contact information for your easy reference. Enjoy!
A One Day Tour of Tucson, Arizona
by Jerry Fogle, Leisure and Business Traveler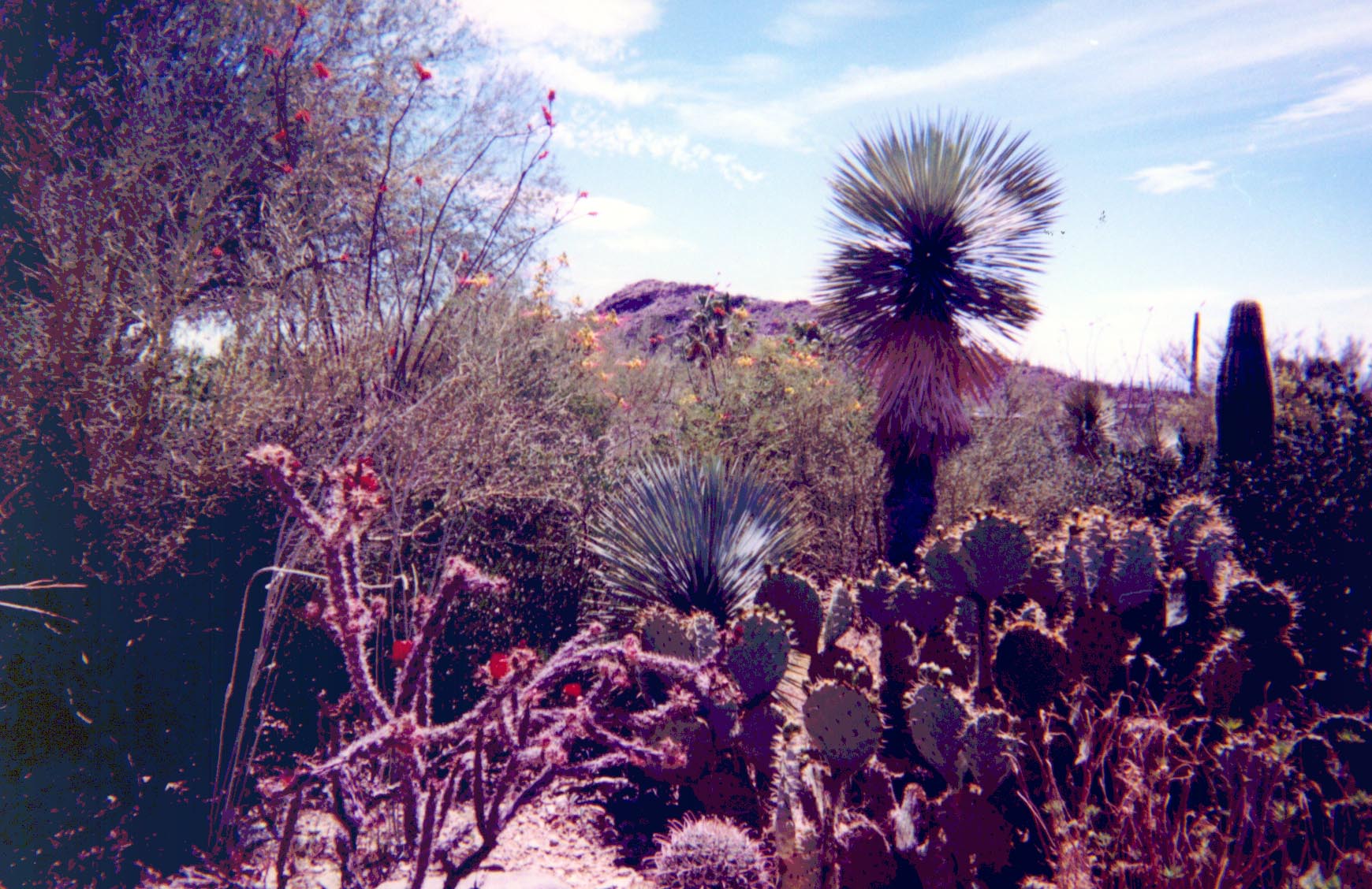 One of the things that frequent, business travelers often regret is not taking time to adequately see a city or surrounding area while visiting for a business activity. During my 30 years of traveling, I have had the privilege and pleasure to visit 6 continents, 34 countries and countless cities and towns. On many trips, time was a factor because other jobs were waiting. Since many of my jobs take only 1 to 2 days to complete, I often fail to make time to do some sightseeing. Some jobs are in cities 100 to 200 miles from a main city, and these trips allow some casual sightseeing just getting there.
For whatever reasons, Arizona has not been on my itinerary. Until recently, I had only landed in Phoenix on my way to and from Reno. My latest trip was my first job in Arizona and I decided to see some of the sights, although briefly, before coming home, so  I allowed an extra day when booking my flight. Getting to Tucson is easy thanks to its Tucson International Airport where most major airlines fly in and out of. Another option is to fly into Phoenix which is about 120 miles northwest of Tucson.
I arrived in Tucson on a Sunday evening and had time to rest for the job which started on Monday. I stayed at the Holiday Inn Express on Starr Pass Blvd, I-10 at exit 259. The room rate was $77/night and the accommodations were good. There was a 24 hour restaurant adjacent to the hotel and many other convenient restaurants and stores nearby. There were many other hotel choices, including full service Holiday Inns, in the Tucson area. The roads in Tucson are easy to use and everything is spacious, allowing good sight distances for exits and ease in finding city locations. (Editor's note: Consider using WTA's Travel Access Discount Program which can offer discounts at your hotel or vacation rental.)
My job at the University of Arizona Medical Center went well and took only 1 day to complete. I returned there on Tuesday morning to complete paperwork and at 10:15 am asked the staff at the medical center about their sightseeing recommendations. The rest of the day was about getting the maximum out of limited time. I was easily able to see the following:
Arizona-Sonora Desert Museum, 2021 N. Kinney Road approximately 13 miles west of I-10. Use Speedway Blvd from the city which turns into Gates Pass Blvd. If you have only time to see one thing, go to this one. The drive alone provides beautiful views of the desert scenery, the city of Tucson, mountains that are 36 plus miles to the west, and surrounding mountains and plains dotted with the majestic Saguaro cactus.

There are numerous pull-off areas to view the scenery, and be sure to have a camera to capture the beauty of the desert, and some water to survive it.

The admission prices vary according to the season. I paid $9.95 and the price for children is $1.75 year round, children under 6 free.

I arrived at the museum at about 11:00 am, but the locals recommend starting at the opening time of 9:00 am. It is cooler then and the animals are still moving about before the heat of the day. Most of the exhibits are outside and are blended with the desert landscape. At times, you forget that you are in a museum, because the exhibits are natural and you see the animals without sensing their enclosures. There are many varieties of snakes, turtles, and lizards inside, but the best is on the 2 miles of paths on the outside. There are more than 300 animal species and 1200 kinds of plants on display. There is no way you can see all of them in one visit, but it is fun to try.

The many attractions include an Earth Sciences exhibit, amphitheater, mountain woodland, desert grassland, cat canyon, desert loop trail, Riparian corridor, birds, bighorn exhibit, walk-in aviary, desert garden, life underground, pollination gardens, hummingbird aviary, cactus garden, and fishes/amphibians exhibit. All are in their natural setting and information is always available from the many volunteers on the museum staff.

There are 4 restaurants located on the grounds, no picnicking sites are available. I chose to have lunch at the Ocotillo Cafe, which features Sonoran cuisine in a fine-dining setting. I had a very nice shrimp salad with dried tomatoes, blue cheese chunks, walnuts and chefs' special dressing. The meal was accompanied with fresh bread and there was a full selection of beverages to choose from. There are 3 other restaurants at the museum including a grill, coffee bar, and a snack bar. There are also 2 gift shops featuring a variety of handmade, Indian jewelry, pottery, and other crafts.

San Xavier Mission, San Xavier Blvd between Mission Road and Interstate 19, adjacent to San Xavier Indian Reservation. It was a scenic drive to the mission via Kinney Road, Ajo Way, and Mission Road. This old, Catholic mission has been mostly restored to its original state and contains beautiful carvings and paintings. A large mound outside the mission complex provides a great view of Tucson and the Santa Catalina Mountains in the distance.

Pima Air and Space Museum, Valencia Road east of the International Airport and Interstate 10. I would recommend this museum for all aviation buffs. Included on the vast desert acreage of this museum are all types of aircraft from World War II, Korea, Vietnam, Desert Storm, and some commercial aircraft of interest. There is a Tram tour available that will save your feet and legs, and help with coping with the desert heat. I chose to walk because I arrived late in the day after the tram tours were available. I particularly enjoyed the guided tour of the Kennedy/Johnson era Air Force One, a 4 engine prop VC-118. You could almost feel the history and the guide explained many of the day-to-day activities involved with operating this aircraft.

There are numerous cold water fountains on the grounds, however I recommend starting your tour here with your own cold water bottle, and wear a hat if at all possible. It takes a while to see the aircraft, allow plenty of time and rest often. Special indoor exhibits include a movie ride theater, SR-71 Blackbird with boosters, Arizona Aviation Hall of Fame, Challenger Learning Center, and Space Gallery. There are concession stands, first aid station, and a gift shop that features many model airplane replicas.

Arizona Aircraft Storage Facility, along Kolb Road and Irvington Road, adjacent to the Davis Monthan AFB. From the 2 frontage roads I was able to see hundreds of stockpiled old aircraft, parts, and airplane sub-assemblies. The dry desert environment provides for excellent storage of these vintage parts and planes. Most of the planes here are no longer in production and parts from this "bone yard" are in demand. The Air Force even uses parts from here to keep the B-52 bomber going. While this aircraft was first made and used in the early 1950's, it is still being used today in Afghanistan. Thus, the importance of the aircraft storage facility.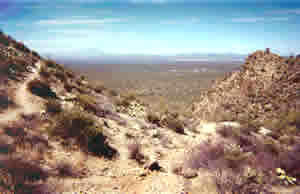 Other sites that I did not have time for, but were recommended are:
University of Arizona Science and Technology Park
Old Tucson Studios, wild west scenery and buildings, shoot-out recreations
International Wildlife Museum
Coronado National Forest in the Santa Catalina Mountains, north of Tucson
Golf, many fine public and private courses
Casinos, if you are into gambling.
I completed the day with a great dinner at a local fine-dining restaurant, which I found in the Yellow Pages. The Ye Old Lantern has served Tucson for over 30 years and is easily located north of the downtown area on North Oracle Road. The restaurant has a wide selection of entrees and a fresh salad bar. Dinners include barbecued meatballs served before the entree and fresh bread served at the table. I had sauteed scallops that were accompanied by a baked potato and vegetables. There was no room for dessert, but the offerings looked tempting. The service was excellent and I highly recommend this restaurant for the quiet atmosphere and delicious food.
I look forward to returning to Arizona with my wife and spending more time seeing the sights.
Details
Getting there:
Most of the major airlines fly into both Tucson International Airport and the Phoenix International Airport. If you fly into Phoenix, Tucson is about 120 miles southeast via I10.
Where to stay:
Holiday Inn Express
Stan Pass Blvd @ I-10, Tucson
1-800 Holiday

WTA's Travel Access Discount Program serves up deeper discounts on hotels, car rentals, flights, and activities all over the world. Most of our travel deals are not available to the public, which means rates are much lower than what the average consumer can find online. Click here to start accessing for free today.
When to go:
The best time of year to visit Tucson and the southwest is in late winter, early spring – February, March, April where temps are very pleasant – 70s and 80s with cool nights and tranquil weather. The heat becomes intense in May and very intense – easily and regularly in excess of 100 degrees – in the late spring, summer, early fall months. While the southwest may have lower humidity than other areas, when the temps are over 100 degrees, 40% humidity is still felt. The rains occur in the fall and winter.
Things to do:
Arizona-Sonora Desert Museum
2021 N. Kinney Road
Tucson, AZ
San Xavier Mission
San Xavier Road
Tuscon, AZ
520 883-2500
Pima Air and Space Museum
Valencia Road
Tucson, AZ
Open every day of the year except Thanksgiving and Christmas Days, seven days a week, from 9:00 a.m. to 5:00 p.m. Last admission: 4 PM.
Admission is $9.75 for Adults (ages 13 and up), $6.00 for Children (ages 7-12), Children under 6 are Free. Special rates apply for seniors and combo passes with other museums.
Arizona Aircraft Storage Facility
Kolb and Irvington Roads
Tucson, AZ
Where to Eat:
Ocotillo Cafe Arizona-Sonora Desert Museum
520 883-5705
Ye Old Lantern Restaurant
North Oracle Road
Tucson, AZ Notice: This information is current as of May 2002. It is recommended that you contact the numbers, and/or visit the web sites above to determine any changes to the information.