Learn about Sedona, Arizona, by reading Sedona – Surrounded by Beauty by Charlie Spence, Travel Writer and WTA Member. It features a mini, but thorough tour of the destination, plus all you'll need to know to plan your trip including getting there, objective information on places to stay and eat, and things to do. At the end of the article, we've provided a summary of the contact information for your easy reference. Enjoy!
Sedona—Surrounded by Beauty
by Charlie Spence, Travel Writer and WTA Member
Nature paints a tapestry of beautiful places throughout the United States. For those who thrill to the sight of sculptured canyons, rugged terrain, and incomparable scenic valleys, nothing approaches Arizona. The Grand Canyon has long drawn visitors. For years, another area attracted artists but remained the best-kept secret of the state until about 1960 when it was "discovered" by retirees and travelers in search of breath-taking beauty. Today, Sedona maintains much of its unspoiled wonder and all of its natural grandeur while offering the finest amenities to the visitor.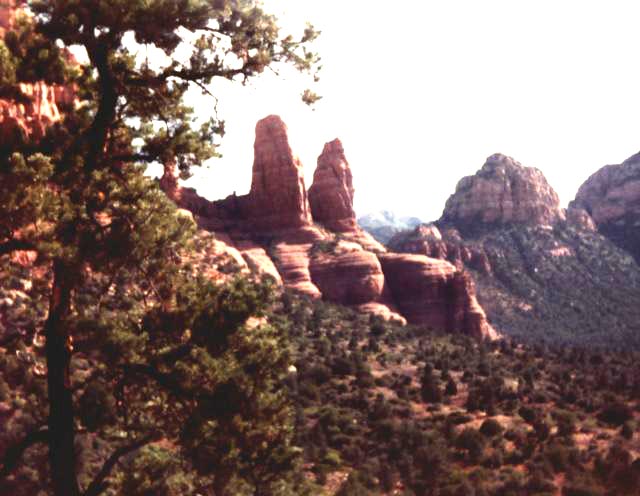 Look in any direction and view sculptures of the ages.
Sedona, nestled in the heart of the beautiful Red Rock Canyon, is surrounded by such red sandstone sculptures of nature as Chimney Rock, Capitol Butte, Sugar Loaf, and Cathedral Rock. Stands of magnificent pines guard flowing streams where the desert transitions into mountains. This enclave of nature's sculptures is about 25 square miles surrounded by stretches of national and state forest lands.
You will find so much beauty in this area that it will require several methods of enjoying it. Your first will probably be driving through some of the roads that began as cattle trails. If you prefer not to drive the winding routes, take a conducted tour in a rugged Jeep. These spires, cliffs, and bluffs tower above the valley, starkly reminding of the power of ages of wind and water to mold the ordinary into things of beauty. Cathedral Rock at Red Rock Crossing is one of the most photographed scenes in Arizona, if not in the world. But you won't want to limit your picture taking to this spot. The entire area around Sedona is a mecca for photographers, just as it has drawn other artists for years.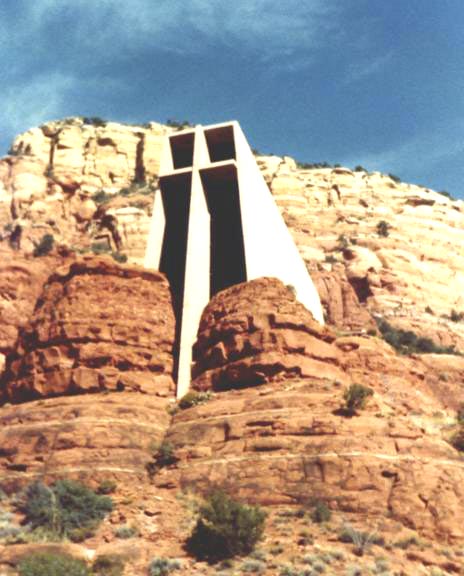 The Chapel of the Holy Cross towers above sandstone formations.
Amid this nature wonderland you will visit a man-made architectural and engineering marvel—Chapel of the Holy Cross. Two hundred feet above the desert floor, a cross soars from a craggy base, seeming to support this chapel. Inside, the view through the glass enclosures in the giant cross provides a wide vista of the red rock formations.
Year round weather in the Sedona area is usually ideal for hiking or biking around this unique wonderland. The average high temperature is about 75 degrees. Sedona's hiking trails offer routes for anyone's walking abilities. To cover more ground, take a bicycle over the area, most of which has been linked by a system of biking trails.
As you journey through the lands around Sedona, you will probably get the feeling you have been here before. And, you probably have. Scenery around Sedona has been used in many motion pictures starting as far back as the 1920s. Author Zane Gray was enchanted by the beauty of the region and wrote Call of the Canyon. Gray returned when a film crew came to make that story into a motion picture, the first of which has been many films using the spectacular beauty of Red Rock Canyon. So, be adventurous. Saddle up at a local equestrian center and go off exploring the rugged back country. Take these tours with or without tour guides.
Nearby is evidence that the area around Sedona was discovered centuries before Columbus. Among the red rock canyons you can see the remains of once-thriving cultures of the Anasazi, a Navajo term meaning "the ancient ones." Montezuma Castle, the oldest and best preserved cliff dwelling in the Southwest is just 25 miles south.
Soaking up the natural beauty of Sedona is but one of the reasons for visiting this enchanting area. There are two 18-hole championship golf courses to challenge the duffer or pro, and a fine par three executive course. Various inns have good tennis courts.
 The town of Sedona covers only 19 square miles and population of the greater Sedona area is only about 17,000. Walking through the main streets will be one of the delights of your trip, enabling you to stop at many of the enticing shops and boutiques where you may view (and purchase) some of the finest Southwest and Native American arts, crafts, and fashions. Because so many artists have migrated to the area, fine art abounds in the community. Sedona has more than 40 galleries.
Films, brochures, words can only begin to portray the natural beauty of Sedona area. When you experience the breathtaking natural beauty of the area, you, too, will know why it has become one of the finest vacation destinations. For a more complete report that will further entice you to experience this wonderland of nature, log on to: www.VisitSedona.com.
Details
How To Get There
Sedona is in the heart of north central Arizona making it easily reachable from Phoenix, Flagstaff, or even Las Vegas, driving over highways of expansive beauty. When you take air service into Phoenix you have only a two-hour drive up Interstate 17, with the final few miles on state route 179. A few flights will take you closer, landing at Flagstaff, where you will be only 45 minutes away, south on state road 89A. From Las Vegas it is about a five hour drive.
Where To Stay
Sedona has more than 70 hotels, motels and resorts and at least 30 bed and breakfasts. These range from nice but modest accommodations to luxury resorts. Rates will vary with the seasons and local events. A Days Inn room for two, for instance, will range from $75 to $120. Rates at Mii amo Destination Spa and Resort go between $1,590 and $5,740 for two persons. There are cottages, condos, rooms, or suites to fit almost any pocketbook.
WTA's Travel Access Discount Program serves up deeper discounts on hotels, car rentals, flights, and activities all over the world. Most of our travel deals are not available to the public, which means rates are much lower than what the average consumer can find online. Click here to start accessing for free today.

Where To Dine
The Sedona area attracts about four million visitors a year so eating places are numerous and varied. Visitors on the go will find the usual assortment of fast food shops. You can have your choice of literally more than 100 eating places in and around Sedona with culinary choices. These include delights offering Italian, Greek, French, Chinese, Thai, Japanese, Mexican, and Southwest dishes. Many of the resorts feature offerings from award-winning chefs. The usual fine weather in the area entices many to dine in the outdoor settings.
Notice: This information is current as of June 2003. It is recommended that you contact the numbers, and/or visit the websites above to determine any changes to the information.