Learn about Pigeon Forge and the Great Smokies of Tennessee, by reading Pigeon Forge and the Great Smokies by Charlie Spence, WTA Member and Leisure Traveler/Writer. It features a mini, but thorough tour of the destination, plus all you'll need to know to plan your trip including how to get there, objective information on places to stay and eat, and things to do. At the end of the article, we've provided a summary of the contact information for your easy reference. Enjoy!
Pigeon Forge and the Great Smokies
by Charlie Spence, Travel Writer and WTA Member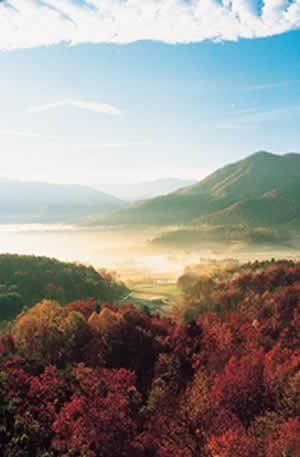 The area is the gateway to the Great Smokey Mountain National Park
Anytime is the right time to visit the Pigeon Forge area of Tennessee, but autumn offers the added benefit of the Great Smokey Mountains foliage ablaze in the golds, browns, and yellows from nature's palette. The Great Smokey Mountain National Park is the most heavily visited National Park in the nation, attracting more than 10 million persons a year, and you will see why when you make this one of your destinations.
The park is just one reason for going. Nestled in the foothills of the Smokies, this area of Eastern Tennessee is good down-home America country with antiques, crafts, shopping, live music stage shows, and more.
One of your first stops should be a visit the new Tennessee Museum of Aviation, located on the Gatlinburg/Sevierville Airport. In addition to an ever-changing fleet of about 20 aircraft, the museum features a comprehensive collection of artifacts and memorabilia. You will see miniature models of nine aircraft the Wright brothers built during the first decade of flight, a 52-foot wall with three tiers depicting the timeline of significant milestones in aviation history, and Tennessee's Aviation Hall of Fame. Most of the museum's aircraft are flyable and if you are there at the right time you will witness an impromptu flight demonstration. Children will enjoy learning what makes an airplane fly and taking the controls in "virtual flight."
The tri-town area of Sevierville, Gatlinburg, and Pigeon Forge treats you to a variety of attractions. These range from hundreds of exhibits from the Guinness Book of Records, and water rides, to first-rate musical stage attractions. In Pigeon Forge, you will have a choice of more than 50 attractions lining the parkway. Choose from such shows as Louise Mandrell Theater, Dixie Stampede, Smokey Mountain Jubilee and others.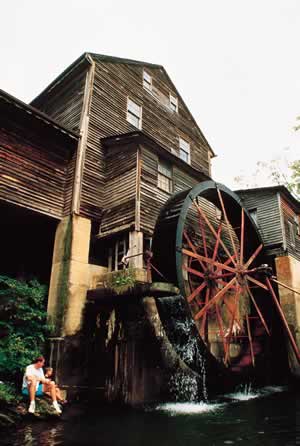 The old mill was the first business in Pigeon Forge
and still grinds flour and cornmeal for local use
Nearby, Dolly Parton's DollyWood amusement park offers thrill rides, wet rides, family rides, and children's rides. You will want to spend a lot of time at the attractions that include Dolly's Rags to Riches Story, Calico Falls Schoolhouse, and Southern Gospel Hall of Fame. Before taking off from home, be sure to request the special discount coupons for DollyWood that are available to you as a WTA member, https://worldtravelers.org/themeparks.asp.
Just when you think you've seen and done it all, move over to Gatlinburg for rip roaring adventures like water rafting 6 miles down the Big Pigeon River, or riding the 120-passenger aerial tramway that departs from Downtown Gatlinburg for the ski resort and amusement park. You have never really played miniature golf until you ride the incline 300 feet up and struggle through 18 holes of the challenging mountaineer hazards of Hillbilly Golf.
Try to spend more than just a weekend.  You still have Sevierville to enjoy. This picturesque town will entertain you with its fishing holes, nature trails, museums, golf courses, festivals and special events. Ooh and aah over the more than 90 classic cars in the Muscle Car Museum and go to the NASCAR Speedpark and race against champions of NASCAR.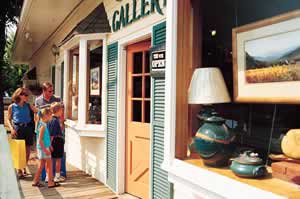 Shopping in the area offers 200 outlet stores plus
craft shops and others with a Smokey Mountain flair
Throughout all the area you will find fascinating shops for mountain crafts, flea markets, or the latest styles. Tanger Five Oaks Outlet Center alone offers 88 name brand outlets.
Details
How to get there
From Knoxville, Tennessee, take Interstate 40 east to Route 66 South.
Where to stay
Pick any location in this area and you have dozens of places to choose, Bed and Breakfasts, low-cost motels, resort hotels, rustic cabins. In Sevierville, for instance, Best Western offers rooms from $29.95 to $34.95, depending on the season. At Hidden Mountain Resorts, a room goes for $105 to $125; villas start at $145 for two bedrooms up to $650 for nine bedrooms. Also, Holiday Inn, Super 8, Hampton Inn, Sleep Inn, and Comfort Inns are just a few of the choices you have in this busy vacation site.
WTA's Travel Access Discount Program serves up deeper discounts on hotels, car rentals, flights, and activities all over the world. Most of our travel deals are not available to the public, which means rates are much lower than what the average consumer can find online. Click here to start accessing for free today.
Where to eat
Pigeon Forge alone offers 90 restaurants where you can dine on down-home southern cuisine, dine and see a show, or peruse the music memorabilia on the walls. In Sevierville, complete dinners at the Five Oaks Steakhouse range from $18 to $28. Buddy's Bar-B-Q has prize-winning barbeque sandwiches for about $2.20 and dinners starting at $8.50. Also, local outlets of national restaurants like I-Hop, TGI Fridays, and Shoney's are available.
What to do
The area abounds with museums, attractions, and activities in addition to DollyWood. Some are free. Here's a sampling of others: Forbidden Caverns: Adults $8, children $4. Louise Mandrell show: $23.10. Comedy Barn Theater: $15.00. Ober Gatlinburg Tramway: $7.00.
Notice: This information is current as of April 2002. It is recommended that you contact the numbers, and/or visit the websites above to determine any changes to the information. by Charlie Spence, Travel Writer and WTA Member