Learn about Key Largo, Florida, by reading Key Largo – A Classic for Movie and Underwater Enthusiasts by Charlie Spence, WTA Member and Travel Writer. It features a mini, but thorough tour of the destination, plus all you'll need to know to plan your trip including getting there, objective information on places to stay and eat, and things to do. At the end of the article, we've provided a summary of the contact information for your easy reference. Enjoy!
Key Largo—A Classic for Movie and Underwater Enthusiasts
by Charlie Spence, Travel Writer and WTA Member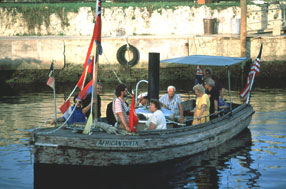 Ride the African Queen, the steam-powered boat made famous in the
Humphrey Bogart-Katherine Hepburn motion picture
If you imagine hurricane winds lashing at the wooden structure, you can almost see Humphrey Bogart and Lauren Bacall fighting through the hostage crisis of "Key Largo." The building where many scenes for this 1947 classic motion picture were filmed is but one of the attractions to this gateway to the Keys.
Instead of an isolated inn, the Bogie/Bacall locale—the Caribbean Club-- now fronts on a four-lane highway and is almost lost amid the low commercial buildings and neon signs hawking scuba diving, boat rentals, fast food and recreational activities. Not far away, at the Holiday Inn Marina, experience the steamship that Bogie and Katherine Hepburn struggled with in "African Queen." Still seaworthy, the African Queen chugs the local waters at $15 per person rides. Key Largo is also where "PT-109" was filmed.
This gateway to the Keys offers much more than motion picture lore, however. There is something here for every member of the family. Attractions from barefoot beach lounging to visiting art galleries or just enjoying being pampered in a full-service resort await the visitor. Key Largo is the longest island in the 125-mile long tropical chain of islands. On shore or off shore, the island offers numerous activities for the bold and the brave or the more relaxed and rested.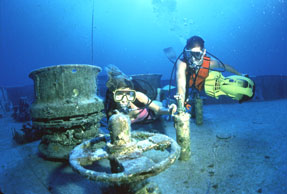 Exploring the artificial reef "Duane" at Key Largo
One of the first visits should be to John Pennekamp State Park, which lies adjacent to the National Marine Sanctuary. Pennekamp is the nation's only undersea park.  Together, these two parks cover about 103 square nautical miles where you will find 55 varieties of coral and more than 500 species of fish. Unlike gardens on the land, coral reefs are formed by animal life instead of plant vegetation. Billions of tiny organisms—called polyps—secrete a limy skeleton that is the basic structure of the reef. They form a myriad of patterns that shape into different and beautiful patterns of spires, flower-like shapes, extensions that resemble horns, branches, or shrubs. Besides marveling at the beauty of the reefs, you will see they attract a variety of marine life, such as crabs, lobsters, sea urchins, and sponges that seek the shelter of these formations.
There are several ways to enjoy this undersea show.  A glass-bottom boat will take you on a guided tour and you won't even get your feet wet. Price is about $18 for adults, $10 for children.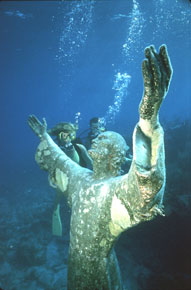 Christ of the reef statue under water is a copy of famous sculpture in Europe
One of the park's more popular sites is the nine-foot bronze statue of Jesus Christ, which is a replica of a statue in the Mediterranean Sea.  It rests in 20 feet of water so scuba diving is the route to it. You can be one of 16 passengers on The Reef Adventurer that departs twice daily for two-tank dives. Scuba trips cost about $37 per person with tanks and weights extra. Participants must be certified divers.
If you think water is just for drinking, stay on the land and trek the trails of Pennekamp where you will see an ecological smorgasbord of gumbo limbo, strangler fig, tamarind, wild coffee and mahogany trees. Or, go to the Hammocks State Botanical Site to view rare tree snails, Schaus swallowtail butterflies, white crowned pigeons, or mangrove cuckoos.
Okay. So you are not a nature lover.  You just want to relax and maybe brighten up an evening. Loll on a sandy beach or sit under an umbrella at one of the many hotel pools. Average daytime temperature is in the low 80s.
After a trip here, you might paraphrase Bogart from another picture, "Casablanca" - "We'll always have Key Largo."
For additional information, see the web site: www.fla-keys.com/keylargo,
Details
How To Get There
Arrive at the Miami International or Fort Lauderdale International airports and you have a choice of transportation's. Rental cars are available at each. Florida Keys Greyhound Shuttle offers regular service every day of the week from Miami airport. Luxury Limousine operates out of the Ocean Reef Club but advance reservations are needed. If you want to avoid the traffic congestions, take a commuter flight into Marathon Airport, about halfway out on the keys. You'll have about the same travel time back to Key Largo as coming from Miami, but the drive might be more enjoyable.
Where To Stay
Accommodations abound. You will find options from simple hotel rooms to seasonal rentals. Rates vary with the seasons. Villas at Amy Slate's Amoray Dive Resort, for instance, range from $70 to $300 a day while Ed & Ellen's Lodging provides rooms for $49 to $79 during the same season. Rooms at the Holiday Inn, where you will find the African Queen, range from $149 to $255. Weekly rentals can be found for as high as $5,000. With so many choices available, it's wise to check with the Key Largo Chamber of Commerce at 1-800-822-1088 or the website mentioned above.
WTA's Travel Access Discount Program serves up deeper discounts on hotels, car rentals, flights, and activities all over the world. Most of our travel deals are not available to the public, which means rates are much lower than what the average consumer can find online. Click here to start accessing for free today.
Where to Eat
Although you will find a wide variety of cuisines, your craving for seafood will be satisfied at any of the many fine restaurants. Here is a sampling:
Coconuts Restaurant and Nightclub - Waterfront location with extensive menus.  Nightly entertainment.
Frank Keys Cafe. Small and intimate - Named among the top 200 restaurants in Florida for the past eight years.
The Fish House - Specializing in seafood in "conch-style" cooking in a fun and casual atmosphere.
Snooks Bayside - Dine under palms at the water's edge. Plan dinner at a time to enjoy what the owners say are "spectacular sunsets."
If you tire of fine eating, there are many fast food locations.
Notice: This information is current as of June 2002. It is recommended that you contact the numbers, and/or visit the web sites above to determine any changes to the information.