Learn about St. George, Utah by reading Enjoy Utahís Truly Unique Experience! - St. George, Utah by Sandy Zimmerman, Travel Writer. It features a mini, but thorough tour of the destination, plus all you'll need to know to plan your trip including getting there, objective information on places to stay and eat, and things to do. At the end of the article, we've provided a summary of the contact information for your easy reference. Enjoy!
Enjoy Utahís Truly Unique Experience!
St. George, Utah
by Sandy Zimmerman, Travel Writer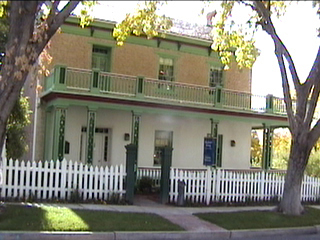 Walk around St. Georgeís historical district to experience 50 restored buildings, monuments to the pioneers. You can see Brigham Youngís winter home and more. The historic district is similar to an outdoor museum of the past preserving their traditions and heritage. St. George is a small town (under 100,000 population) with so much to see and do! There are 11 golf courses, Tuacahn Theatreís classic musical productions, museums, and more. Sand Hollow State Park offers sand dunes and 40,000 acres of trails for hikers and ATVíS.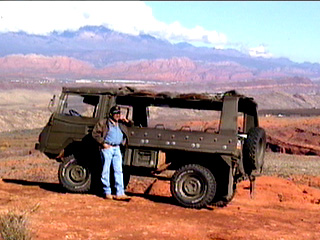 Australian Pinzgauer Jeep used in the ATV & Jeep Wilderness Tours.
Photo courtesy of Sandy Zimmerman
Go where Hummers and Jeeps fear to tread! I have taken many safari-style tours, but the ATV & Jeep Wilderness Tours around the back country of St. George, Utah, are a real adventure! They are a bit scary at times; although owner Jim Clay assures me that his Australia Pinzgauer 4-wheel drive vehicle canít turn over. We travel where there are no roads, as Jim makes his own path over sand, rock, and sandstone. When people said the tour would be action packed, they really meant it! We actually climb up steep mountains. It seems as though we are driving straight up, the jeep is pointing to the sky! Each jagged rock is another step toward the top of the mountain. Sometimes Jim must maneuver over rocks that stick out 2-6 feet. The mountainís red sandstone colors are striking and the eerie rock formations make us feel as though we are in another world. We have time to walk around and explore. Driving straight down was even a bigger thrill than climbing up. The Pinzgauer was like a mountain goat. Their design gives a Pinzgauer sixteen inches of clearance. The axles swing independently. Jimís tours are mild to wild. Jim also takes people on night tours under star lit skies, tours during lightening storms, and extreme tours climbing steeper mountains and dropping into canyons.
A major dinosaur track discovery was recently found at the Johnson farm in St. George, Utah. While Dr. Sheldon Johnson was digging 35í below the ground, he found some interesting shaped rocks and wanted to sell them as decorative landscaping. One rock was accidentally flipped over and exposed a cast of a dinosaurís foot. You can see imprints of dinosaurís toes, feet, skin, teeth, and jawbone, along with fish fossils. Dinosaurs roamed around here 200 million years ago when this area was a shallow lake a 100 miles long. The sun dried the mud hardening the footprints and mud tracks. Over 1,000 tracks have been found within a 10-acre area. These displays show some of the oldest and best-preserved tracks in the world. One exhibit, the three-toed track, was made by the Dilophosaurus (6-7í high, 15-20í long, 700-1,000 pounds). Researchers identified skin prints and impressions made by dinosaurs dragging their tails and swimming movements. The most exciting find is the rare squatting impressions of the dinosaurís ankle, foot, and tail bone. There is only one other in the world, in China.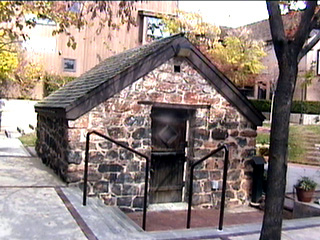 Historic old jail- in Ancestor Square.
Photo courtesy of Sandy Zimmerman.
Within historic downtown St. George, Ancestor Square Shopping Center is the perfect place to see how St. George looked in the 1800ís. The shops, restaurants, art galleries, and offices are either in historic buildings or in those constructed with the ďlook of the past.Ē Take a walk around the park, see the old jail, or sit on one of the benches.
The Green Gate Village B&B Inn is a collection of 9 restored pioneer homes of the 1800ís. This historic village is located in the center of St. Georgeís historic district! Relax around the Villageís green landscaped lawn or stroll through the courtyard. Stop by their unique gazebo, 1925 Ford, old-time gas pumps, and buggy. Guests sit in the Bentley House (1876) dining room. The Orson Pratt House (1862) was the first home in St. George. The green gates (1879) on the east side of the Orson Pratt House are original. Mormon leader Brigham Young ordered white gates for the Mormon Church, but when green gates he gave them to the settlers. Thomas Juddís Store (1911) is a famous St. George landmark of an early way of life.
The Olde Penny Farthing B&B Innís beautiful Victorian rose and burgundy cherry colors stand out from St. Georgeís other historic buildings. Built in the 1880ís, the workers mixed river mud and clay, and then sun baked the bricks. The walls are 18-inches thick with a lava rock foundation. Two large Mulberry Trees decorate the Innís entrance while providing shade from the sun. Thousands of antiques and collections of memorabilia cover every corner, windowsill, wall, shelf, and even along the stairs. Some of the bathrooms have old-fashioned claw foot bathtubs and a pull chain toilet. The Olde Penny Farthing Inn is located in the historic district, one block from Brigham Youngís home and St. Georgeís original downtown. Walk along the quiet tree lined streets to see some of the most beautiful examples of buildings of the 1800ís.
The St. George Holiday Inn Resort Hotel & Convention Center is not your ordinary Holiday Inn! With high wood beamed ceilings, a free flowing lobby, and unique design, you realize this is truly a resort! There is room to walk and several areas to relax. The central focus of the Holidome lobby is an indoor/outdoor heated swimming pool. The two pools are joined- swim under the flap and change pools in a minute! Take the catwalk over the pool and watch the activity. There is a great display of historic photos.
St George Details
Getting There
St. George is located in southern Utah, just 2 hours from Las Vegas, 45 minutes from Zion Canyon National Park, and 3 hours from Bryce Canyon National Park.
Attractions



Where To Eat


Painted Pony Restaurant - 435-634-1700, Ancestor Square, Tower Building, 2 W. St. George Blvd., http://www.painted-pony.com/.
Samurai 21 Japanese Steakhouse and Sushi Bar - 435-656-8628, 245 N. Red Cliff Drive, #11, St. George.

Where To Stay
B&B Inns
The Olde Penny Farthing Inn - Inside the historical district. 435-673-7755, 278 N. 100 W., St. George.
Hotel
St. George Holiday Inn Resort Hotel - Families like Holiday Inns because kids (12 and under) stay and eat free when accompanied by an adult! They even offer a special kidís menu. For golf, theater, and other packages, call the Holiday Inn Resort Hotel and Convention Center, 800-457-9800, 850 S. Bluff Street, St. George.
Other Hotel Options
Best Western Travel Inn - 435-673-3541

, 316 East St. George Blvd., St. George, www.stgeorgebestwestern.com.

La Quinta Inns & Suites - 435-674-2664

, 91 East 2680 South, St. George, www.lq.com.

Courtyard by Marriott - 435-986-0555

, 185 South 1470 East, St. George, www.marriott.com.
WTA's Travel Access Discount Program serves up deeper discounts on hotels, car rentals, flights, and activities all over the world. Most of our travel deals are not available to the public, which means rates are much lower than what the average consumer can find online. Click here to start accessing for free today.
Tourist Information