Learn about Rhode Island by reading Rhode Island: Little State, Big Attractions by Charlie Spence, Travel Writer. It features a mini, but thorough tour of the destination, plus all you'll need to know to plan your trip including getting there, objective information on places to stay and eat, and things to do. At the end of the article, we've provided a summary of the contact information for your easy reference. Enjoy!
Rhode Island: Little State, Big Attractions
by Charlie Spence, Travel Writer and WTA Member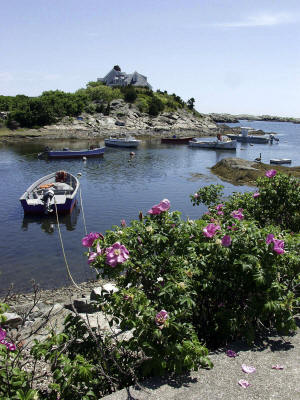 Whoever first used the phrase 'Good Things Come in Small Packages' surely must have had Rhode Island in mind. The smallest of the 50 states has a rich history and a vibrant, exciting present. Only 48 miles north-south and 37 miles east-west, this enticing area can be visited in its entirety without much ground travel - that is, if you can tear yourself away from the almost countless attractions to move from one to the next.
Historic villages along scenic coastlines welcome you to everything from excellent dining experiences and living museums to schooner cruises, uncrowded beaches, and snorkeling. For lovers of the water, bayside outfitters rent all types of recreational equipment. Paddle your own canoe or kayak along the shoreline of Narragansett Bay and get excellent views of historic places. Sail on a schooner. The bay's protected harbor and inlets are ideal for the beginner as well as the experienced boater.
But water activities are just the beginning of the attractions here. As might be expected, much of the appeal of this area is tied up with its dramatic history. Rhode Island has one of the largest collections of buildings on the National Register of Historic Places and many of them are open for touring. The most famous of these are the palatial Newport mansions that once were the summer "cottages" of New York's wealthiest families, like the Astors and Vanderbilts. Stroll along the picturesque Cliff Walk - about three and a half miles in length - and see the ocean on one side and these summer places of the wealthy on the other. Many of these vacation retreats for the wealthy are open for touring.
Since the middle of the 1600s, persons have traveled to Newport, finding excellent sandy beaches and establishing businesses. Visit the International Tennis Hall of Fame.
Two other places you'll surely want to visit in the Newport area are the White Horse Tavern and Touro Synagogue, two of the oldest buildings in the United States. White Horse Tavern was constructed in 1687. Touro Synagogue, built in 1763, is the country's oldest Jewish house of worship. The first Quaker Meeting House in the United States, built in the 1600s, still stands in Newport.
Rhode Island was founded by Roger Williams, who sought a place of respite for those looking for religious freedom, so it is natural there would be fine, old established houses of worship. Providence is the home of the first Baptist Church in America, established in 1638. St. Paul's Episcopal Church in North Kingston boasts the oldest church organ in America, dating from 1680.
The number of museums and other points of interest you will find in Rhode Island can keep you fascinated for weeks.
The Roger Williams National Memorial is located in downtown Providence and is one of the first places you will want to see. This commemorates the life of the founder of Rhode Island. This national park interprets the life and times of Williams through exhibits and a short film. It is a fine starting point for your explorations of the area. It is located within the larger John H. Chafee Blackstone River Valley National Heritage Corridor and other nearby attractions are within walking distances.
The Gilbert Stuart Birthplace in North Kingston is another historic site to visit. Born here in 1755, Stuart was the foremost portraitist in America. He still is best known for his portrait of George Washington. Here you will also see an operating eighteenth-century snuff mill with operating waterwheel.
In this same area, aviation enthusiasts will want to visit the Quonset Aviation Museum. It is located in the only brick hangar on the East Coast. More than 30 aircraft are on display or in various stages of reconstruction.
The Flying Horse Merry-Go-Round in West Greenwich will please the children as well as history-buff adults. Built in1867, it is the oldest carousel in America. Each horse is hand carved from wood and has real tails and manes. They are not attached to the floor but instead swing out from a center frame when in motion, giving the "flying" name.
Narrow streets with cobblestone walks and historic structures are but one facet of Rhode Island's attraction. You will find outdoor fun, indoor entertainment, restful scenic tours, or exciting events. Drive through the South County and you will pass enticing sandy beaches, colonial fishing villages, wildlife preserve, or a trading post established by Roger Williams. Throughout the state there are theater, music, and dance centers. Vineyards and wineries welcome you for tours and wine tasting. Surprisingly, the state's climate, moderated by its proximity to the ocean, makes the area ideal for growing certain grapes for wines. Five wineries produce award-winning products.
More than three-dozen golf courses are there to challenge you.
Unless you know exactly where you want to go, your best bet might be to either sign on for a tour or follow one or more of the planned trails. Various planned trails are available, geared to your specific interests. These are available through The Rhode Island Planner (TRIP) offering heritage trails focusing on your choice of Arts and Culture, Maritime, Religious, Nature, Landmark, and other specific interests.
Almost any time of the year is right for a visit to Rhode Island. Different seasons and different days offer a variety of reasons for coming. Summer brings outdoor music festivals and evening theaters. The oldest Fourth of July celebration in the nation - first one was in 1785 - is in Bristol where they celebrate with fireworks and a parade. In autumn the scenic drives will be the best with colorful foliage. Winter is Christmas celebration in Newport and visits to indoor museums. Then there are the daffodils in spring.
Rhode Island Details
How To Get There
Getting to Rhode Island is easy. The T.F. Green Airport is not far from downtown Providence. It offers more than 180 flights to and from virtually any destination. Many of these flights are with the smaller express operations of major carriers coming and going either direct form cities or from connecting locations.
Driving to Rhode Island takes about one hour from Boston or about three hours from New York City.
Amtrak's Acela service is available from Boston or New York.
Where To Stay
Luxury hotel, quaint bed and breakfast, motor lodge, moderate-priced hotel, or turn-of-the century two-bedroom homes with wooden plank floors - you have a wide selection of accommodations in any area of the state. The inns of Newport, for instance, are legendary; meticulously restored and prepared to pamper the visitor. There are seven basic areas of the state - including Block Island reachable by ferry or a general aviation airport - and each has it own variety of accommodations.
WTA's Travel Access Discount Program serves up deeper discounts on hotels, car rentals, flights, and activities all over the world. Most of our travel deals are not available to the public, which means rates are much lower than what the average consumer can find online. Click here to start accessing for free today.
A Few Places To Dine
Do you like crabmeat sausage? Or Escargots and sweet garlic butter? Maybe goat cheese cake? These are just three of the appetizers at the historic White Horse Tavern and symbolic of the dining opportunities available at Rhode Island's finer eateries. In Providence try Capriccio for sophisticated European dining and live entertainment nightly. Or dine leisurely at the Gatehouse, a five-star restaurant. In Bristol enjoy some waterfront dining at DeWolf Tavern or the Lobster Pot.
Notice: This information is current as of March 2007. It is recommended that you contact the numbers, and/or visit the websites above to determine any changes to the information.