Learn about Long Island by reading Long Island—A Crown Jewel in the Empire State by Charlie Spence, Travel Writer. It features a mini, but thorough tour of the destination, plus all you'll need to know to plan your trip including getting there, objective information on places to stay and eat, and things to do. At the end of the article, we've provided a summary of the contact information for your easy reference. Enjoy!
Long Island—A Crown Jewel in the Empire State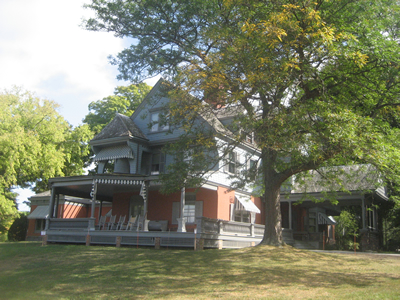 Sagamore Hill is a popular tourist destination on Long Island.
Photo courtesy of KKMPhotos/Long Island CVB
When you think of visiting New York City, your thoughts first go to imagining what it's like strolling down Broadway, overlooking the city from atop the Empire State Building, ferrying over to the Statue of Liberty, or bowing your head for a moment of silence at the 9/11 site. That and much more is great, but there is even more.
Two of the five Burroughs—Brooklyn and Queens—are on the western end of another interesting, informative, entertaining, sporting, and surprising area: Long Island. For the 10 years Long Island was my home, I never ran out of places to visit or things to do on this more than 100-mile long strip of land that it's difficult to select only a few to highlight.
One of the first places you might want to visit is Sagamore Hill. This historic 23-room Victorian mansion was the "Summer White House" for President Theodore Roosevelt from 1902 to 1909, and was his home until his death in 1919. Constructed by Roosevelt as his home in 1884-85, Sagamore Hill has a unique tradition for children: that is, helping to fold the American flag when it is taken down. A volunteer started the tradition because he liked talking with children about Roosevelt's life and patriotism. This began on a Sunday afternoon because that normally is the time more families are visiting to museum. (Just between us, if you are there on another day and have a youngster who would like to help, just ask and more than likely they would gladly welcome help from young patriots.) You will find exhibits and audio visual programs on Roosevelt's family life and career. It is open year-round and a 'bully' of a spot to visit!
Although Long Island has had many attractions for years, one of the newest and least expected is the vineyards and wineries. The first vineyard was planted only as recently as 1973. Today there are more than 60 ranging from two-and-a-half acres to more than 500 acres. In all, more than 3,000 acres are now tilled as vineyards with the number continuing to increase. Grapes are now grown for about two dozen different types of wine. The first winery was built in 1975 and today the number exceeds 50. Nearly three dozen of these are open for public tours. Most of these you will find in the North Fork area in eastern Long Island. There are guided tours available through which you can see many of the wineries and sample their wares. However, you probably will want to have a car available to set your own timetable, not only for the winery tours but for the many other attractions in other parts of the Island as well.
One of the places you will want to visit is the U.S. Merchant Marine Academy Museum, on the campus of the U.S. Merchant Marine Academy. The merchant marine serves the nation in peacetime and war and the museum serves as a repository of marine art, models, and many nautical artifacts to inform the public about the role these seafarers play in all our lives. The museum is closed Mondays, federal holidays and the entire month of July. Admission is free for children and a donation of $2.00 is suggested for adults.
The Railroad Museum is far out on the Island at Riverhead. Here you can see the old time steam engine, the diesel and various vintage passenger cars. Also, youngsters can enjoy a ride on the miniature railroad.
Surprising to many is the role that Long Island has played in aviation. From the early days of kites and ballooning to the race for the moon, people and places on Long Island have had prominent positions. This historic story is told at the Cradle of Aviation Museum in Garden City. Here you will see exhibits and movies of what the area has contributed to flight. Probably the best known is Charles Lindbergh's departure to be the first to fly solo across the Atlantic. The airport from which he departed is now a shopping mall. The Garden City Hotel, where he stayed and which was headquarters for the massive news contingent, is still a first rate hotel. The museum details many other but less celebrated flights that began or ended on Long Island. It also depicts how people and companies aided the aviation efforts of both world wars by the development and construction of fighter aircraft and the first guided missiles.
If you are a lover of antiques, you will have a field day on Long Island where there is a diverse selection of dealers, auction houses, galleries, and boutiques. In every part of the Island you will find opportunities to just browse, find bargains, or select the charming pieces for which you have longed.
Of course, fabulous Coney Island amusement park beckons the young and the young at heart. And if your visit is timed when the weather permits, by all means enjoy Jones Beach.
And thinking of weather, winter provides opportunities for cross-country skiing or ice skating, while warmer days invite you to many of the golf courses, riding stables, hiking paths, and fishing sites—on the shore, off piers, or in boats on the deep sea.There is also plenty of nightlife available ranging from cozy taverns to Broadway productions.
Long Island is more than 100 miles long with a diverse population and communities ranging from crowded urban centers to plush mansions on acres of ground. Because it's so big and diverse, it would be wise to determine exactly what you will be wanting during your visit and then seek some help in choosing where to make your base during the visit.
Details
How to Get There
Long Island is reachable by airline service to several airports. JFK Airport, on the south side of the Island, is the international terminal for the area as well as the point for many domestic flights. LaGuardia Airport on the north side of Long Island is a busy point for domestic flights. So, too, is Teterboro Airport in New Jersey. Long Island MacArthur Airport near Islip in the eastern part of Long Island has service by Southwest and U.S. Airways to and from many locations in the United States. From any of these airports take shuttle or taxi service to the Long Island Railroad to travel to chosen location. If driving to the area, you might want to take a ferry from Connecticut. It serves from a location off Interstate 95, near Stratford to Port Jefferson on Long Island. Driving from any other direction takes you through Manhattan, Queens, or Brooklyn. From any of these, seek out Long Island Expressway.
Where to Stay and Dine
Places to stay are abundant on Long Island and vary in price from the basic to the exclusive. It's wise to make your reservations in advance, considering where on the Island you will center your activities.
WTA's Travel Access Discount Program serves up deeper discounts on hotels, car rentals, flights, and activities all over the world. Most of our travel deals are not available to the public, which means rates are much lower than what the average consumer can find online. Click here to start accessing for free today.
Long Island has many fine restaurants offering a variety of dishes. Three of the places you might want to try are: Caffe Baci (Italian) in Westbury, Big Daddy's (southern, Cajun, Creole) in Massapequa, and Calagero's (Italian) in Garden City.
Notice: This information is current as of August 2008. It is recommended that you contact the numbers, and/or visit the websites above to determine any changes to the information.