Coos Bay—A Rugged Beauty
Learn about Coos Bay, Oregon by reading Coos Bay—A Rugged Beauty by Charlie Spence, Travel Writer. It features a mini, but thorough tour of the destination, plus all you'll need to know to plan your trip including getting there, objective information on places to stay and eat, and things to do. At the end of the article, we've provided a summary of the contact information for your easy reference. Enjoy!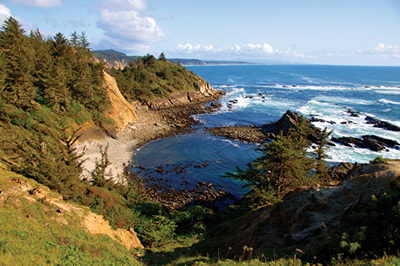 Oregon's coast has so many fascinating and interesting places to visit. It's difficult to select just one location, so if you don't have the time or inclination to travel the entire 363 miles of rugged cliffs, sandy beaches, and evergreen forests, then come with me to one of the many locations where you can experience most of this in one place — the Coos Bay area.
Coos Bay is at the southern part of Oregon's coast. It is a small town of about 16,000 people, but is still the largest city along the Oregon coast. With nearby towns of North Bend and Charleston, this region is known as Oregon's Bay Area, a place whose name and history date back long before Europeans ever set eyes on this beautiful place.
There's a reason why this area is called "Oregon's Adventure Coast." Although small in size, Coos Bay, nearby cities and the entire Coos Bay County, offer an abundance of activities and breathtaking sights. Bring your camera to capture many of the sights from your visit. Picture one is of the blazing sunset over the Pacific as you watch it from a secluded spot on a cliff or from the comfort of a beach. Or, snap a shot of the gray humpback whales as they migrate south to the warmer waters near Mexico for the winter or return north to the Alaskan waters in the spring. The time to see them going south is from November through May. In late December, they can often be seen in great numbers. March and April is when you'll see them heading north. The best way to see them is with your binoculars from one of the cliffs or from a fishing boat.
Coos Bay is the largest port between Seattle and San Francisco and is a major shipping port and an active commercial fishing area. It is believed that the first white man to see the area was Sir Francis Drake who sailed into the harbor in 1579, seeking shelter. Just nine miles west on Cape Arago Highway is Charleston, an old waterfront fishing village. It is one of Oregon's busiest commercial fishing ports and ideal as a sports fishing harbor. Go crabbing on the docks and then have them cooked for you.
Another water experience you will enjoy is a trip on the Rogue mail boat. The mail boats were started in 1895 to deliver mail into the river canyon, and are available from May until late October. As you ride on the jet boat you might see black bears or sea lions. Choose between short trips to see wildlife or longer trips that take you through whitewater rapids and rugged canyons. The excursions are narrated to give you a full understanding of the history and beauty of this area.
For an up close commune with nature, take one of the many hikes. Several hikes can take you to the estuaries where the freshwater meets the sea, an area supporting an abundance of life. Three state parks in the area offer a variety of sights for the nature lover. Sunset Bay State Park, on the Cape Arago highway southwest of Charleston, has a small, protected bay suitable for swimming in the summer months. Hike along some of the trails and gaze out to the west from these cliffs that protect the beach area. One of these trails along the cliff side connects the three parks.
When you reach Cape Arago State Park, you'll hear the pounding surf and scan the waters for marine mammals, such as seals and sea lions. The park juts out a half mile into the ocean. Shore Acres, a former estate, is the third state park. It has shrubs and flowering plants from different places in the world in its beautiful gardens.
But you won't want to spend your entire time soaking up the beauties of nature. The Coos Bay area has much more to offer. There are three golf courses, biking, shopping, and an oyster farm to visit. Tour a myrtle wood factory to see the expert crafts people make ornamental clocks, wooden bowls, spoons and other items from this fine grained wood. Amble along the boardwalk, explore the antique shops, or admire the work in the art galleries.
Want more action? Visit the Mill Casino where you will find more than 700 slots, Las Vegas style tables, and a poker room.
The entire area is rich in history. Several Native American tribes called this area home and their ancestral homeland. The name Coos Bay comes from an Indian word from one of those tribes. It has two meanings — lake and place of pines. It was in the mid-1800s when the Europeans discovered that the woods and water that had supported the Native Americans for centuries would also be valuable to them.
Coos Bay is Oregon's largest bay and was a haven for ships seeking refuge from storms. Hike along and see a couple of shipwrecks. The town of Coos Bay would not be known to old timers. It was founded in the 1850s and named Marshfield after the Massachusetts hometown of its founder. In 1944, residents voted to change the name to Coos Bay. But, like a rose by any other name will smell as sweet, a city by any name along this rugged coast beckons the adventurous.
Coos Bay Details
How to Get There
Air service is available on United Express from San Francisco and Portland. U.S. Highway 101 is the main North/South route if you are driving. The driving trip is only 72 miles from Portland.
Where to Stay
There are numerous Bed and Breakfasts in the area offering a variety of accommodations and prices. There is one B&B in North Bend and at least three in Coos Bay. Select a hotel or motel inland or along the coast. If you like to include golf you might want to select Bandon Dunes Golf Resort. Its course is along the cliffs overlooking the water. The Mill Casino Hotel offers slots and Vegas tables.
WTA's Travel Access Discount Program serves up deeper discounts on hotels, car rentals, flights, and activities all over the world. Most of our travel deals are not available to the public, which means rates are much lower than what the average consumer can find online. Click here to start accessing for free today.
Where to Dine
You will find the usual burger and pizza spots plus numerous dining facilities specializing in Northwest cuisine and, of course, seafood. A few suggestions: Brickstone's The Red Lion, offering steaks and seafood unique to the Northwest; Buffalo Bill's Steak House as its name implies serving fine cuts of beef and buffalo; Blue Heron Bistro specializing in Italian, German, and Cajun dishes. For a light meal, try The Empire Café for espresso, beer, wine, and spirits.
Notice: This information is current as of May 2009. It is recommended that you contact the numbers, and/or visit the websites above to determine any changes to the information.