Learn about Desert Hot Springs, California, by reading City of Hot Mineral Water and Health Spas – Desert Hot Springs, California by Sandy Zimmerman, Travel Writer. It features a mini, but thorough tour of the destination, plus all you'll need to know to plan your trip including getting there, objective information on places to stay and eat, and things to do. At the end of the article, we've provided a summary of the contact information for your easy reference. Enjoy!
City of Hot Mineral Water and Health Spas - Desert Hot Springs, California
by Sandy Zimmerman, Travel Writer
Hot mineral water bubbles out of underground springs to soothe your body and calm your spirit. Desert Hot Springs, California, is an oasis in the desert with approximately 42 hot mineral water spas and health resorts catering to your mind, body, and well being! With a population of only 16,000, the city is a beacon for world travelers seeking that wonderful feeling of swimming or lounging in hot mineral water pools and jacuzzis.
Proud of their two assets, Desert Hot Springs is a Triple Crown winner (Gold, Silver and Bronze Medals) for the past 3 years in the Berkley Springs International Water Tasting Competition. Fifty-six cities in the U.S. and around the world vied for these awards. Some of the countries entered in this competition were Italy, France, Norway, Belgium, Romania, and Syria. The contest is similar to wine tasting. Judges examine, sniff, and taste samples of water that are rated on appearance, odor, flavor, mouth feel and aftertaste. It is the water without taste or smell that wins.
Desert Hot Springs has even built a Hot Springs Park as a monument to their award winning water. Walk around forest-style settings, which depict the natural way the streams of hot water flow up from the ground and over the rocks. Several signs explain the geological processes and techniques of extracting the hot mineral water from the ground.
Just 15 minutes from Palm Springs, Desert Hot Springs prices are more reasonable. You can also enjoy the theatre, nightclubs, piano bars, events, museums, dining, casinos, and attractions of 7 nearby desert communities in the Coachella Valley (La Quinta, Coachella, Indio, Joshua Tree, Palm Desert, Palm Springs, and Rancho Mirage). Desert Hot Springs' big event is their October Festival of the Waters at Hot Springs Park, with two days of live bands, magic shows, free balloon sculptures, face painting, and moon bouncing. They provide a tour of the city featuring local hotels, spas, and residential areas.
Museums
Cabot's Old Indian Pueblo Museum honors one of the early pioneers, Cabot Yerxa. Cabot was a strange man, but perhaps it took such a person to survive in the desert. He arrived in 1913 by train, carrying only a paper bag filled with food and a quart of water. Without any money to spend on the necessities of life, he warmed himself by lying on sun-heated sand during the day and by a campfire at night.
Cabot became the first homesteader in the area, selecting 160 acres of desert land adjacent to the Two Bunch Palms. First he lived in a large hole without a roof, windows, bed, or anything else.
He and his burro, Merry Christmas, were familiar sights as they rode into the mountains to fetch drinking water until a Native American told him about the local springs. After successfully drilling for water, he hand-built a very unusual four story-high Hopi pueblo-style home with 35 rooms, 150 windows, and 65 doors.
When people started to show interest in the desert area, Cabot influenced L.W. Coffee, in 1932, to sell land and develop Desert Hot Springs. Today, walk through his former home and see the large stone fireplace, dirt floors, rooms filled with oil paintings by Cabot, original furnishings, and beautiful Native American pottery. This collection of pioneer-era desert relics, Native American artifacts, and 20-ton monument carved from a Sequoia tree almost fills the entire building.
Day Trips
Take the Windmill Tour to see one of the few places in the world where wind generates energy and substitutes for electric power. This unusual tour explores the power of windmills and is the only tour of a working wind farm. Travel in electric vehicles powered by wind, through a forest of towering silently spinning windmills. The guides call this "the ultimate power trip." NASA declared the San Gorgonio Pass as one of the consistently windiest spots on earth. The tour takes 90 minutes.
The world's largest rotating tramcar ride, Palm Springs Aerial Tramway, is not the usual tram ride! You will be surprised when the trams outside walls begin moving, rotating 360 degrees during your trip! There are only three rotating tramcars in the world (the other two are in Engelberg, Switzerland, and Cape Town, South Africa); this is the only one in North America. The views are breathtaking! At the Tramway site, Mount San Jacinto State Park and Wilderness, there are 54 miles of trails that are great for hiking in the summer and cross-country skiing in the winter.
Joshua Tree National Park is a quick 45-minute drive from Desert Hot Springs. You enter an eerie world of 50 tall Joshua Trees and odd-shaped granite formations. Pick up maps at the visitor's center for directions to the famous historic Lost Horse Gold Mine. They produced $3,000 a day, between 1896 and 1899, and now only an old stamp mill and several other mining implements are left. The mine is easily accessible by a short walk from the road. The park makes dramatic climbs from flat valleys to 5,813 feet up in the mountains and is the largest park outside Alaska. The views are unbelievable, especially on a clear day. You can see 40 miles away to Palm Springs and the Salton Sea. Campers must carry wood, gas and supplies into the campgrounds except at Cottonwood and Black Rock.
Resorts with Spas
Since the main reason for visiting Desert Hot Springs is to indulge yourself at one of their spas, here are highlights of two of the most exciting resorts and spas ranging from ultra-luxurious to the most reasonable. Be sure to avail yourself of their spa treatments even if you don't stay at these resorts.
Imagine a tropical paradise with over 56 acres to explore, stroll down lantern-lit paths, which meander through natural gardens, around a lake and spectacular grotto. Romantic Tropical Tranquil Two Bunch Palms Resort and Spa is everything you hope to find and more! Enter an exclusive hideaway world where you only think about relaxing and enjoying yourself. Their motto – "An oasis of tranquility in a world of stress" - is the perfect description of this resort, where they request guests to speak softly, just above a whisper, especially around the spa treatment areas, dining room, grotto, lake and pools. This is known as the etiquette of tranquility and harmony. Your private oasis from the world is nestled in the foothills of the mountains.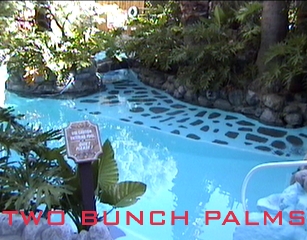 A tropical grotto pool at the Two Bunch Palms Resort
Resembling a scene from a South Pacific movie, the palm tree and rock enclosed grotto holds two hot pools - one maintained at 105 degrees and the larger soaking-pool at 95 degrees. The hot mineral spring water cascades through a series of rock-lined babbling brooks into the pools, interchanging with streams of fresh water.  Sit in the hot mineral pool grotto surrounded by palm trees as you look up at the stars. They have both - the soothing natural hot mineral springs and the regular chlorine-free mild salt-water swimming pool.
Voted by readers of Travel & Leisure as the 5th best spa in the world, choose from over 50 of the latest modern and ancient treatments. One of the Senior Spa Supervisors speaks to each client to determine what they want to accomplish - a full body rejuvenation or just a girl's/guy's night out. They can explain about each treatment and advise which fits your needs.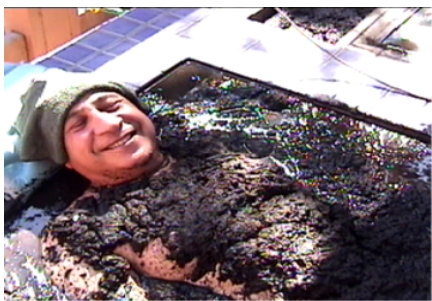 A guest enjoying a mud bath treatment at the Two Bunch Palms Resort
More than just mud, Two Bunch's exclusive natural green clay is extremely rare, known to restore the skin's tone and balance by drawing out impurities and toxins, leaving the skin firmer, smoother and more richly hydrated. Dating back to ancient Egyptian times, mineral-rich earthen clays, peat moss and hot mineral water are transformed into mud treatments and mud masques to be applied to the skin for health, beauty and spiritual reasons. If you choose a mud bath, you'll luxuriate in a large tiled, square tub filled with hot mineral water and mud, set in a private open-air room with forest views.  Relax and let the mud and minerals do their work!  This reporter has observed a mud treatment in a Sedona, Arizona, spa in which the therapist applied mud to the body while the client was laying on a table, and then the person was wrapped in a plastic blanket for 30 minutes. Their therapist's feel, immersing the body in a mud bath should be more penetrating, with the warmth and minerals of the hot spring water bath opening the pores. There are also combinations - with the mud still on the body, the person lies in the sun or sits in a steam cabinet after the bath.
An exclusive, the "Native American," 1-1/2 hour well being treatment, is an extraordinary mixture of ancient ceremony and massage. The Native American therapist uses 12 different objects (pine tree branches called living people, feathers, rattles, incense, and other ceremonial objects), for the blessings of the Four Directions. Each object has a meaning. Allow your senses to be transported back in time to think of what others experienced in the past. During the ceremony, she chants and talks while waving the objects, sometimes lightly touching you, telling the meaning of north, south, east and west blessings. She acts as a guide calling the ancient ones to give their energy and enlightenment. Following the blessing, she gently rubs you with sand and aloe vera scrub, opens your energy centers with warm herbs, and then releases the tension with an herbal oil massage.
Watsu combines Shiatsu massage with water therapy. You float while the therapist gently rubs your neck, arms, legs, and body. This evokes different feelings than just a regular massage. The effect is hypnotic, like rocking a baby. The Watsu treatment gives the muscles the opportunity to achieve a state of relaxation and fluidity at the joints and spine. You feel supported and nurtured in a gravity-free environment during these dance-like movements. The therapist cradles you in his arms then guides you in different directions with rocking, swaying movements. Take off your body armor and let all the tension float away while you surrender to a blissful dream-like state in the special Watsu pool.
Two Bunch Palms offers color therapy, Thai massage, Trager, Swedish, aroma therapy, specialty treatments (River Rock Hot & Cold Stone Therapy, Ayurvedic), well being treatments (Esoteric, Tai Chi, Reiki), body wraps (Sea Algae, Egyptian), Water Therapy (Wassertanzen, Aqua Reflexology, Aqua Soma), facials, and more. Always thinking of romance, Two Bunch also offers the luxurious feeling of a massage "Tandem (side-by-side) for Deux" (two), in their romantic Pagoda overlooking the lake.  This includes lounging in a Roman tub, a fragrant lavender Epsom salt bath by candlelight, massages, and an energy balance. The spa was recently featured on the Ordinary Joe NBC television program.
What could be more calming than yoga by the pool or lake with the rabbits, turtles, and swans? Join the daily yoga classes with one of their certified instructors. Yoga is supposed to bring a person's body into the balance we need. They feel that yoga awakens the spine, opens the mind, and gives more concentration. If you are tense at your office, just take long deep breaths and you will have the power to face the day.
There are miles of walking and jogging trails, expansive panoramic vistas, beautiful lush naturally landscaped gardens, saunas, night lighted tennis courts, abundant preserved desert wilderness areas, incredible sunsets, meditation benches, and nude sunbathing bins placed in secluded groves. Nature is all around you - playful roadrunners scampering across the grass, beautiful cranes preening, birds chirping their songs, turtles sitting by the lake, and other wildlife practicing their whims. Dotted across the resort are 45 guestrooms, suites, apartments, and villas - with private patios and many with private enclosed outdoor whirlpool spas. The majority of these accommodations are set apart from the restaurant, lake, grotto, swimming pool, and spa.
Al 'Scarface' Capone stayed at Two Bunch in the solid rock bungalows by the pool called "Capone's Fortress." These historic buildings are well preserved and still rent today as the Capone Suite.
Soothe your senses, ease your mind, let your spirits soar; the Two Bunch Palms Resort is a sensory experience. Part of the lure is its walled, guard protected, gated seclusion, and the friendly staff ready to answer your requests. This perfect, wonderfully serene setting is equal to some of my most indulgent trips to resorts in Jamaica, Tahiti, and other exotic destinations. Its name should ring of romance and excitement, but in 1907, during the U.S. Army mapmakers survey expedition from Los Angeles to the Mexican border, the soldiers saw two bunches of palms and simply gave the area that name, later becoming known as Two Bunch Palms.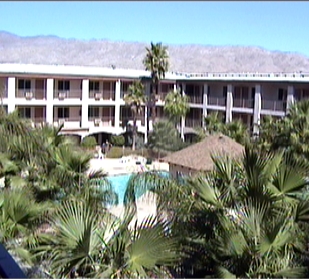 Pool view of the Agua Caliente Resort
Everyone at the Agua Caliente Resort and Spa is health conscious! Donna Jean, General Manager, makes it clear that they are not an expensive glamour and glitter resort. Dr. Joel D. Wallach bought this hotel in 1986 because of the mineral waters. Even though he is currently on a speaking tour, they can always call him for advice. With his famous Dead Doctors Don't Lie audiotapes, 4 books, plus 8 videos, and a full line of nutrition products, Dr. Wallach is recognized around the world as a health expert. Sometimes called  "the Mineral Doctor," Wallach has been involved in biomedical research and clinical medicine for over forty years. They feel that Desert Hot Spring's hot mineral water is rejuvenating and has a healing effect. The water is pumped out of their own wells at 98 degrees and maintains it with a heater and solar system.  Water at some of the other resorts is as hot as 180 degrees and has to be cooled. A beautiful tropical pool area, set apart by palm trees and plants, allows guests private vistas to relax or escape the sun. Two mineral water jacuzzis are placed around the swimming pool - outdoor (102 degrees) and inside a gazebo (104 degrees). Their building's architecture and decor doesn't have the look of luxury, yet there is more beneath the surface.
Agua Caliente offers 50 of the latest spa treatments including weight loss and detox programs. Have your body fat analyzed - a Body Analysis Machine determines your body fat, water, metabolic, and muscle in order to prepare a personalized program. Each person is different. You have to understand where you are going, where you are at, and your goals. Their 1-to-1 programs are intense, from 7 a.m. to 7 p.m., with detox, massages, meditation, walking, stretching and breathing classes, salt and sea glow (stress or relaxation), facials, wraps, vitamins, minerals, and a nutrition plan. These programs get results and therapists even keep in touch when their clients go back to their homes.
Therapists feel the body reflects when your life is out of balance and the purpose of any good massage is to allow our energy to get back in balance. Acupressure, or energy massage, spreads the energy throughout the body.  Two fingers press at two points of the body, pushing until the pain disappears in a melting sensation. When our bodies are balanced and free from pain, we have lots of energy.  Sometimes western Swedish massage techniques are combined with eastern techniques because they are stronger when used together. Acupressure has been practiced for thousands of year.
With acupuncture, the correct needlepoint's will activate certain areas in the brain to get a strong reaction in the brain. Needles in the hands and feet, called the Four Gates Treatment, release endorphins and relax the nervous system. Those in the ears are focused on the seat of cravings - smoking, overeating, etc.
Dining in Desert Hot Springs
Two Bunch Palms intimate restaurant offers a free all-you-can-eat breakfast buffet for guests, and full menu of gourmet entrees for lunch and dinner with balcony or indoor seating. Dennis Clark, Food and Beverage Manager/ Executive Chef, has created some interesting continental, international, and California-style cuisines. The 10oz. Kentucky Bourbon New York steak is prepared with a marinade of bourbon, olive oil, shallots, thyme, sage, and lemon. The banana leaf wrapped sea bass is first placed in a ginger marinade, then wrapped in the banana leaf, baked, and unwrapped at the table like a gift. He adds a special touch to each dish. The chicken curry is sauteed with fresh nectarines, apricots, dates, and cashews. Another original dish, the espresso crusted beef tenderloin medallions are crusted with espresso beans and cracked black pepper with a rosemary wine sauce. Choose from salads, pastas, sandwiches, sashimi, and other delicious selections.
At Doc's Diner, a colorful 1950s format restaurant with taste tempting meals, at the Agua Caliente Resort and Spa, you'll hear the music of Elvis, the Platters, and other singers.  Whether you want a special diet or a hot fudge brownie, they have a great selection. Doc's offers daily specials from $4.95. Their $6.95 specials include lamb shank, Swiss steak, chicken and cheese enchiladas, chicken parmesan, turkey, catfish, and barbeque rib lunch and dinners. There's also steak, coconut beer batter shrimp, and more. Agua Caliente's low prices are unexpected at a spa resort, but they are defined by their true dedication to health.
Details

Getting There
Desert Hot Springs is a two-hour drive from Los Angeles (I-10) and San Diego (I-15 and I-10), and 3-1/2 hours from Las Vegas (I-15, 215, and I-10). The Palm Springs International Airport is 12 miles from Desert Hot Springs, with connections around the world. The Sun Line buses provide service between Desert Hot Springs and other Coachella Valley cities.
Where to Stay
WTA's Travel Access Discount Program serves up deeper discounts on hotels, car rentals, flights, and activities all over the world. Most of our travel deals are not available to the public, which means rates are much lower than what the average consumer can find online. Click here to start accessing for free today.
Two Bunch Palms Resort and Spa: 67-425 Two Bunch Palms Trail, Desert Hot Springs, California 92240.
Offers seasonal and/or weekday discounts on accommodations and spa treatments: Preferred guests/ recent visitors may receive a free midweek night stay, or 3rd night free during promotions. Save 20-40% during value rate months - Jan. 1-17, June-September, and December 1-19. Save 30-50% during the summer - July and August. Ask about midweek discounts.
Standard room in grotto area - $175.
Standard room with private patio - $265.
Luxury private patio spa suites - $485.
1-bedroom, private patio villas - $355.
2-bedroom, private patio spa villas - $615.


For information call 800-472-4334 or visit the website at http://www.twobunchpalms.com.

Agua Caliente Resort and Spa: 14500 Palm Drive, Desert Hot Springs, California 92240.

For romantic getaways, try the jacuzzi pool suite where the pool measures 10 long x 5 wide x 3 deep. The price of this suite is the same as a regular room in other resorts. Agua Caliente Resort and Spa offers several packages - stay two nights and receive the third night free; stay one night and get the second night at half price; combination massages and private pool suite, along with Internet specials (depending upon time of year).
Standard – Low Season: $59-weekday, $69-weekends.
Standard –
High Season: $64-weekday, $74-weekends.
Pool Suite –
Low Season: $119-129.
Pool Suite –
High Season: $129-139

They also offer kitchenette, kitchen suites, and apartments.

Low Season is June 2 - Dec. 23 and High Season is Dec. 24 - June 1.

For information call: 800-423-8109. Spa: 760-329-2828
Spas
Two Bunch Palms Resort and Spa:
Massages (1 hour) - from $90.
Specialty treatments (1 hour) - from $90.
Well being treatments (1 hour) - from $85.
Mud baths (1/2 hour) - from $55.

For information about their spa treatments or packages call 800-472-4334 or visit the website at http://www.twobunchpalms.com.

Agua Caliente Resort and Spa:
Massage (1 hour) - from $55.
Body a la carte Body Wraps - from $65.
Acupressure Treatment (1 hour) – from $65.

The spa also offers 1/2-hour massages and treatments.  Their two nights and weekly Desert Cruise Detox/Weight Loss packages include accommodations, meals, Dr. Wallach's vitamins and minerals, 5 therapeutic treatments ranging from body analysis, salt and sea exfoliation, detox body wraps, Swedish and acupressure massages, detox baths, personalized training, body toning, low impact aerobics, stretching/breathing and nutritional classes. Agua Caliente prepares packages to suit you. For information regarding the detox or weight loss programs, spa, accommodations, Dr. Wallach's tapes and nutrition products, or special packages, call 800-423-8109.
Attractions
The Hot Springs Park is located in front of the Desert Hot Springs Resort, 10805 Palm Drive.
Cabot's Old Indian Pueblo Museum is open Saturday and Sunday, 9:00 a.m. - 4:00 p.m., 67616 East Desert View, 760-329-6411 or 760-329-7610.
Golf
Desert Crest Country Club, 69-400 S. Country Club Drive. Public; executive 9 holes. 760-329-8711.
Desert Dunes Country Club, 19-300 Palm Dr., North. Public; championship 18 holes. 760-251-5366.
Mission Lakes Country Club, 8484 Clubhouse Blvd. Public; championship 18 holes. 760-329-8061.
Hidden Springs Country Club, 15-500 Bubbling Wells Road. Public; executive 9 holes. 760-329-8816.
Sands R. V. Country Club, 16-400 Bubbling Wells Road. Public; executive 9 holes.
760-251-1173.
Day Trips
Windmill Tours - 877-449-wind. Interstate 10, off North Indian Avenue on 20th Avenue. Tours run 9 a.m., 11 a.m. & 2 p.m. on Tuesdays, Thursdays, and Saturdays.
Palm Springs Tram - 888-515-TRAM.
Joshua Tree National Park - 800-365-2267 .
Information
For information about Desert Hot Springs, call their Chamber of Commerce 800-346-3347 or visit the website at https://www.cityofdhs.org.
Clinics/Hospitals
Basic Medical Clinic - walk in's, Monday-Friday, 9 a.m.- 6 p.m.; 11600 Palm Drive, Desert Hot Springs; 760-251-8887.
Desert Regional Medical Center - Emergency and Trauma; 1150 Indian Canyon Drive, Palm Springs; 760-323-6251. 15 minutes from Desert Hot Springs.
Notice: This information is current as of December 2003. It is recommended that you contact the numbers, and/or visit the web sites above to determine any changes to the information.