Learn about Dana Point, California, by reading Pleasures You Can Enjoy in Dana Point, Californiaby Sandy Zimmerman, Travel Writer. It features a mini, but thorough tour of the destination, plus all you'll need to know to plan your trip including getting there, objective information on places to stay and eat, and things to do. At the end of the article, we've provided a summary of the contact information for your easy reference. Enjoy!
Pleasures You Can Enjoy in Dana Point, California!
By Sandy Zimmerman, Travel Writer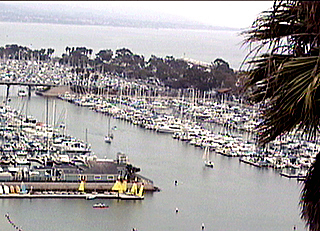 Dana Point Wharf
The moment we saw picturesque Dana Point Harbor, we understood why author/seaman Richard Henry Dana (1835) said, "It is the only romantic spot in California." Named after Dana, he describes the charms of the cliffed cove in his seafaring novel Two Years Before the Mast. At 19, Dana became a sailor aboard the merchant brig, Pilgrim, sailing from Dana Point around Cape Horn, to Boston. El Embarcadero Cove was used by small, fast hide vessels (1830-1840) engaging in the smuggling trade. Hipolito Bouchard, an Argentine pirate, used this cove in 1818 while his sailors raided and set fire to the Mission San Juan Capistrano.
Everyone is watching as the ocean's waves continue their dance-like movements around our boat. We dare not look away. Just a half hour from the harbor, the excitement is building within us. We must watch the churning sea. Suddenly the captain yells, "Whales at 6 o'clock," and our wait is over. A whale lifts itself out of the water, sometimes just for a few minutes, and at other times we can see more of its body and tail. The biggest mammal on earth performs its ritual so very close to us. Then the whale dives down to swim under our boat. Every year thousands of Orcas, Humpback Whales, Blue and Gray Whales leave the arctic seas and follow the coastline to Southern California and Baja. This 5,000-mile migration takes these giant mammals past Dana Point, referred to as a landmark for the whales. Usually whale watching season runs from November-April, some Blue Whales seem to like it there and are still around in August.
Come aboard the replica of an old pirate ship, the Pilgrim. This square-rigged, 118 foot historic Tall Ship looks as though it just came out of a scene in a pirate's film! You can tour this vessel and even go on one of their sailing cruises. The Ocean Institute, known for helping children experience the ocean environment, rums the Pilgrim and the R/V Sea Explorer. See the schedule of Tall Ship cruises, snorkeling trips, wildlife cruises, and programs in the Details Section.
We took the Street of the Blue Lantern up the mountain from the Tall Ship, Pilgrim's dock, and stopped at the Spanish style gazebo for some of the most breathtaking views of the ocean, harbor and boats. When we looked up, Cannons Restaurant was above us. This is called the Samson Overview Gazebo.
In addition to the thrills of watching for whales and enjoying all the attractions of Dana Point, we look forward to enjoying other pleasures- discovering restaurants that will delight our palate.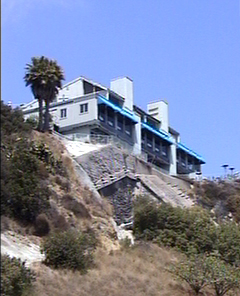 A view of Cannon's Restaurant from the road.
Imagine a setting so romantic, so exciting, and so perfect, that we will always remember the experience. Cannon's Restaurant sits atop a mountain high above the beautiful Dana Point Harbor. This is one of the best views in the city! During the day we can watch the sailboats and yachts challenging the wind. At night, the boats seem to dance as they sit at the dock with lights shimmering in the bay. Their terrace juts out over the cliff; inside the wide windows provide spectacular vantage points. And the food is as great as the view! Executive Chef Manny Delgado creates original dishes with the flavors of the Pacific Rim and traditional California cuisine. We found several culinary surprises. It is obvious why they have won the award as the "Most Romantic Setting in the California Coast." (See sample menu in Details Section)
Steve Rosen, General Manager co-owner of the Renaissance Restaurant, describes their image, "We serve fine food in an informal environment." Bill Milton, Chef co-owner, is a master of the culinary arts; "I give flavor to food before we serve it to the customers. Our meats and poultry dishes are marinated from 24-48 hours." Every night Chef Bill uses from 8-9 bottles of Chardonnay in preparing his pastas, "We want our customers to enjoy the type of cuisine they can't get anywhere else. Choose the type of steak you wish, then decide the way you want it prepared. (See sample menu in Details Section) No cover, no minimum entertainment nightly. Live bands with a variety of music.
After enjoying all the pleasures around Dana Point, we need the pleasure of a comfortable place to relax and get a good night's sleep. The Capistrano Beach All Suites Resort is nestled between the mountains and the ocean. What a romantic getaway! Their slogan, "We put the beach within reach, and promise . . . the view . . . the ocean . . . the room to unwind." And it is true. Marketing & Promotions Director, Alicia Salter explains, "Because the Capistrano Beach Resort was originally built as time-share apartments and converted into a resort, our guests have big apartments and more amenities than the regular hotels. The apartments range from 300-800 square feet and can sleep up to 6 people. Eat in your apartment, on your balcony, use the Jacuzzi decks B. B. Q. and tables, or sit at picnic tables on the beach. Most apartments have oceanfront or ocean views and offer bedroom suites, family suites, and apartment suites, in addition to standard value rooms. These services are free: super continental breakfast, in-room high-speed Internet connection, local calls, underground parking, in room tea/coffee/popcorn, and newspapers. Alicia and Chris enjoy living in Dana Point. She sees dolphins while walking on the beach. He catches 30-40 pound halibut. What a life! You can hear the surf from any of their ocean view or ocean front suites. The meeting room accommodates 26 people along with a hospitality suite for groups, family reunions, or meetings. Watch the sunset while soaking in the ocean view pool-sized Jacuzzi 7am-midnight. The big continental breakfast is served from 7-10 am - cereals, sweet rolls, muffins, bagels, donuts, biscotti, cream cheese, juices, including over 20 different items.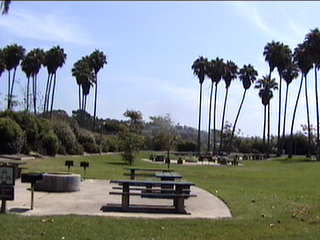 Dana Point Park
You are just a few minutes from Dana Point and walking distance to restaurants and stores. During the summer, a free trolley stops every half hour to take you to the wharf, restaurants, shopping centers, and around Dana Point. With a small town atmosphere, Dana Point is quaint, and has its own personality. Choosing the right hotel makes the difference in how much you enjoy your vacation or business trip.
There are numerous side trips and things to do around Dana Point including a Catalina Express trip to Avalon on the Island of Catalina.
Visit the Disneyland Theme Park (33 miles) The Happiest Place on Earth" is an enchanted kingdom of fantasy and imagination filled with classic family-friendly attractions and magical entertainment, dining and shopping.
The Legoland California theme park is a 120+ acre park geared specifically towards youngsters' ages two through 12. Over 50 rides, 5 new attractions. Located 30 minutes north of San Diego, 1 hour south of Anaheim, 32 miles from San Juan Capistrano, in the village of Carlsbad. Games recreated from Lego bricks, block of fame, world famous faces and works of art.
The Los Rios historic district in San Juan Capistrano is the oldest residential street in the U. S.; its 31 historic buildings are still standing from 1776 through the Spanish, Mexican, and statehood eras. There are two completely different walking tours. The Architectural Walking Tour (Friends of the Library) makes the past come alive, as each building has a story. The Historical Walking Tour (Historical Society) explains Capistrano's history, ghost stories, and folklore. You can also tour the Mission San Juan Capistrano (1776) called "The Jewell of the Missions."
Details
Getting There
Dana Point is located 10 miles south of Laguna Beach, half-way between Los Angeles and San Diego.
From Las Vegas: I-15 South (241.4 miles) to CA-91 West toward beach cities (9.6 miles). Take CA-241 S toward Irvine (toll) (12.2 miles), change to CA-133 S toward I-5 (toll) 3.9 miles. Merge onto I-5 South toward San Diego (16.4 miles). Take CA-1 North to Pacific Coast Highway (1.9 miles).
From John Wayne-Orange County Airport: Turn left on Macarthur to I-405 South. Change to I-5 South and exit at Crown Valley Parkway. Make a right turn, and after 2 miles turn left on Pacific Coast Highway.
From Los Angeles: Take I-101 South to I-5 South toward Santa Ana. Change to CA-1 North toward Pacific Coast Highway. (58 miles)
From San Diego International Airport: Take I-5 North and exit at Beach Cities. Stay left on the ramp and continue on Pacific Coast Highway North. (65 miles)
Things To Do
Capistrano Beach - Located approximately two miles south of Dana Point Harbor, you can use the beach, seven volleyball/ basketball courts, food stand, showers and restrooms. 34551 Puerto Place Dana Point.
Dana Point Harbor and Marinas are inside a 1- mile jetty, with moorings for over 2,500 yachts. Fisherman's Wharf, Marina's Village, charter fishing boats, jet ski/ kayak/ motor and sailboat rentals, whale watching cruises, restaurants, shops, Catalina ferries, a beach, picnic tables, and a launching ramp if you bring a boat.(949)-923-2255 www.danapointharbor.com
Dana Point Marine Life Refuge See the sea caves, sea anemones, octopus and maybe dolphins offshore. West end of Dana Point Harbor
Dana Wharf Sports Fishing & Whale Watching Special Two-for-on- Tuesdays- 2 adults for $18, Senior's discount day is Friday, and military discounts. Whale watching/wildlife cruises guarantee that you will see whales and dolphins or ride again free. They also have 90 minute weekend Reggae cruises with live music and appetizers aboard the 95' Dana. 34675 Golden Lantern. (949)-496-5794 www.danawharfsportfishing.com
Doheny State Beach This 62 acre state park consists of a mile of sandy beaches, tide pools, 120 family camp sites, and 170 picnic tables. Their Visitor's Center has 5 aquariums, an indoor tide pool, natural history museum, exhibits, photo history of surfing, and year-round educational programs. This is very nice but there are many beaches without parking charges. Doheny Beach is located next to Dana Point Harbor. Parking and camping charges, open 6:00 am to 10:00 pm (Daylight Savings Time), and 6:00 am to 8:00 pm (Pacific Standard Time). 25300 Dana Point Harbor Drive (949) 496-6172, (949)-496-6142
Pilgrim, Spirit of Dana Point Tall Ship sailing cruises, most Saturdays and Sundays. Nautical themed plays are presented in July and August. Snorkeling trips to Catalina Island- June to August, Harbor cruises all year. See dolphins, sea lions, and whales on the wildlife cruises - Saturdays and Sundays- with marine biologists. Tall Ship tours request a donation. "Pirate" Adventure Sail, July-August-September, Members: $33/adult, $17/child (5-12yrs). Non-Members: $36/adult, $19/child (5-12yrs); Sunday Brunch Sail, July, Members: $40/adult and $25/child (5-12yrs). Non-Members: $45/adult and $30/child (5-12yrs); Tallship Sunset Parade, you can take a cruise during the festival, September. Members: $45/adult, $32/child (5-12yrs). Non-Members: $50/adult, $35/child (5-12yrs); Tallship Cannon Battle Cruises, September. Members: $45/adult, $32/child (5-12yrs). Non-Members: $50/adult, $35/child (5-12yrs); Located on the far west side of harbor, next to the Ocean institute, 24200 Dana Point Harbor Drive. 949-496-1094 www.ocean-institute.org
San Clemente Golf Course 18 hole links style course. (2 miles) $35-59. 150 East Avenida Magdalena, San Clemente (949)361-8380
Shore Cliffs Golf Course Cut out of the canyons, this 18 hole course is a challenge, (2 miles) $29-54 weekends, 501 Avenida Vaquero, San Clemente.(949) 492-1177
Places To Eat with Entertainment
Discos in Westminister (26 miles)
Club Bleu - One of the biggest dance floors in Orange County, 2 DJ's play in separate rooms- techno, hip-hop, r&b. Acts as a sports bar and restaurant during the day, and nightclub at night. 14160 Beach Blvd, Westminster. (714)-245-SEXY
Places To Stay
WTA's Travel Access Discount Program serves up deeper discounts on hotels, car rentals, flights, and activities all over the world. Most of our travel deals are not available to the public, which means rates are much lower than what the average consumer can find online. Click here to start accessing for free today.
Side Trips
Catalina Express Round trip $49- Adults, $39.50-Children, $45-Seniors 55+. Week days- leaves Dana Point- 9:50 am and 3:45 pm; Weekends- 7:45 am, 11:55 am, 5 pm. Dana Point Harbor, 34675 Golden Lantern. (800)-481-3470
Disneyland (33 miles) 1313 S. Harbor Blvd, Anaheim, Information (714)-781-7290 http://disneyland.disney.go.com
Legoland California Theme Park - Located in the village of Carlsbad- 30 minutes north of San Diego, 1 hour south of Anaheim, 32 miles from San Juan Capistrano. Open 10 am-5 pm winter season. 10 am -8 pm, summer. Schedule varies. 1 Legoland Drive, Carlsbad (760)-918-LEGO www.legoland.com
Events
Some events around Dana Point: Festival of Whales (March) www.festivalofwhales.com; 4th of July Fireworks Extravaganza; Doheny Days Music Festival and Blues Festival (September) www.omegaevents.com; The Toshiba Tall Ships Festival (September) begins with a parade of Tall Ships entering Dana Point Harbor, then you can tour the ships and see displays. www.tallshipsnetwork.com; Boat Rides with Santa (December); Annual Boat Parade of Lights (December); For information about all of their events, or for print and save discount coupons, see the Dana Point Harbor website. You can also enter to win a free sailing trip aboard their Tall Ship in the monthly drawing. Call (949)-496-1094. www.danapointharbor.com
Emergencies
San Clemente Hospital and Medical Center (4 miles) 654 Camino de Los Mares (949) 496-1122
Mission Hospital (8 miles) 27700 Medical Center Road, Mission Viejo (714) 364-1400