Learn about the Louisiana's Cajun Country by reading Bievenu! Cajun Country by Charlie Spence, Travel Writer and WTA Member. It features a mini, but thorough tour of the destination, plus all you'll need to know to plan your trip including getting there, objective information on places to stay and eat, and things to do. At the end of the article, we've provided a summary of the contact information for your easy reference. Enjoy!
Bienvenue! Cajun Country
by Charlie Spence, Travel Writer and WTA Member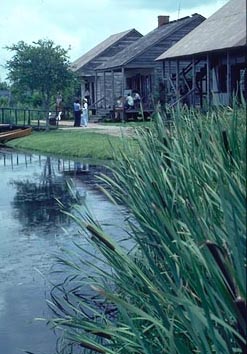 Bayou at Acadian-style village
Photo courtesy of Louisiana Office of Tourism
The year 2003 will be the 200th anniversary of the biggest real estate deal in history when Emperor Napoleon sold more than 800,000 square miles of land—for about four cents an acre—that let the fledgling United States doubled in size overnight. This bicentennial celebration year is an excellent time to visit Louisiana, the key state of the Louisiana Purchase. You may know much about New Orleans and its Mardi Gras, but for a different trip, include going west and enjoy the unique Cajun Country.
Here is an area rich in traditions, diverse in activities, picturesque, and starkly contrasting in natural beauty. Cajun Country is bayous and big cities, unique food and unusual nature adventures. It is meeting people who turned soup into gumbo and converted washboards to musical instruments. It is casinos and cultural museums. And, it is the embodiment of a distinctive joie de vivre.
The mix of cultures in Southwest Louisiana is immediately evident. The Cajuns, persecuted in France for their Catholic religion and then driven from Canada, brought their French heritage and language to Louisiana. The rich African-American heritage is also evident in the food, the music, and the festivals.
Begin your Cajun adventure at any one of several fine airports and then drive to the various coastal parishes and discover what the natives call "a natural paradise." The distinctive Lake Charles architecture lets you know immediately that "we're not in Kansas anymore, Toto." The houses are built tall, vertical, and angular. Legend has it that pirate Jean LaFitte used Lake Charles as a hideaway and some of his looted treasures still are hidden in the area. Take a driving or walking tour through Lake Charles for a close-up look at the structures that make the Charpentier Historic District so unique.
Entry point or an intermediate stop, Lafayette is one place to begin enjoying the exciting Cajun dishes. The unofficial capital of Cajun Country, Lafayette is the home of seafood platters, dirty rice and corn macque choux. Spend some time going through Acadia Village, which includes the Mississippi Mud Museum—a facility more interesting than its name implies—where you will see a 400-year old dugout canoe and spear points used by warriors thousands of years ago. Another stop you will want to make is Vermillionville's Performance Center. Cooking and craft demonstrations take place all day and you can listen to authentic Cajun music.
Just 18 miles southeast of Lafayette, make a stop in St. Martinville. Visit the Petit Paris Museum, which houses the Rotary Mardi Gras Costume Exhibit. The Bayou Teche is the setting for Longfellow's poem " Evangeline." Take time to rest under the Evangeline Oak and listen to the Remero Brothers play French-Cajun music.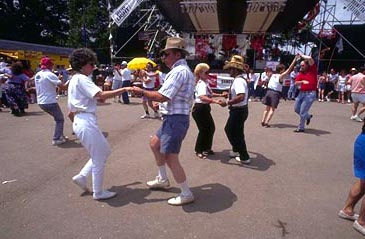 Visitors and natives do the Cajun Two Step at a Crawfish Festival in Breaux Bridge.
Photo Courtesy of Louisiana Office of Tourism
Live music has always been a part of the culture in Southwest Louisiana and there are numerous nightspots in the area where you can sample a diversity of sounds. These clubs feature Cajun, Zydeco, Swamp Pop, Blues, Jazz/Rhythm and Blues, and traditional country and classic rock.
The largest heliport in the world is located at Morgan City. These flights serve the many oilrigs off the coast.
After you have soaked up some of the city culture, you are ready to take off into the areas that abound with wonders of nature. Small towns add distinctive flavor and offer entrances to many of the outback nature trails. Of course, you'll want to take an airboat tour of the bayous, but alligators are only one of the different wildlife species that call this place home.
Take at least one day to travel the Creole Nature Trail. You'll see abundant wildlife as this 180-mile trail meanders through marshlands, bayous, and shores along the Gulf of Mexico. If you are strapped for time, at least take in the most frequently traveled portion of the trail that extends from I-10 at Sulphur, south on LA 27 to Holly Beach, east across LA 82 to Cameron-Creole and north on LA 27/Hwy 14 N to Lake Charles. Allowing for stops at wildlife refuges and beaches, this tour will take four to six hours.
The Cajun Coast is located along the Mississippi flyway for migratory birds that increases the number of fowl that you might see. The Atchafalaya (Indian word meaning "Long River") Basin Swamp is the largest overflow swamp in the United States and is home to more than 200 species.
Every parish has something unique, interesting, and sometimes exciting to offer the visitor. In Iberia Parish, for instance, you will find a microcosm of Cajun Country. Sugarcane farming brings millions of dollars annually to this parish. Tour the Konriko Rice Mill in New Iberia, the oldest operating rice mill in the U.S., which is now on the National Register of Historic Places. Drive south to Avery Island to Jungle Gardens to see alligators, deer, nutria, and some of the more than 20,000 egrets and other water fowl that nest here each year. You couldn't be on Avery Island without taking the free tour of the plant where TWTAsco Brand pepper sauce is made.
Almost any time that you head for Cajun Country you will find some kind of festival to attend. More than 75 festivals and events are announced each year ranging from Cajun French and music festivals to a film festival and from Silver Spurs Rodeo to a Louisiana Shrimp and Petroleum festival.
In Southwest Louisiana you will go from moss-covered cypress groves to plush gaming casinos, from exciting airboat tours to quiet beach relaxing. You will find new taste sensations and hear music you've never experienced before. Most of all, you will meet a proud people who will be eager to make your visit memorable.
For more detailed information, visit the Louisiana Tourist web site at: www.louisianatravel.com. Click on "Cajun Country" at the top of the page and discover more specifically where you want to visit in this pocket of different America where the slogan is "Come as you are, leave different."
Details
Getting There

You have a couple of options. One is you can fly into New Orleans on any of the major airlines and rent a car and drive to Lafayette (133 miles) or New Iberia (146 miles). Lake Charles is another 75 miles from Lafayette. Another option is to fly into the good regional airports that Cajun Country offers like Lake Charles Regional and Lafayette Regional. Some of the major airlines offer connecting flights into these regionals. For instance, at the time of writing this article, Continental offered $133 round trip airfare from Baltimore (BWI) to Lafayette Regional (LFT) via Houston, TX. It will all depend upon your time of travel and your budget.
Once in Cajun Country, travel Interstate 10 to navigate between New Orleans, Baton Rouge, Lake Charles and Lafayette and Highways 90 and 182 to travel between Lafayette and New Iberia and Morgan City.
Where to Stay


Accommodations in Cajun Country are as varied as the land itself. Of course you will have a choice of the national chains of fine hotels and motels like Hilton, Holiday Inns, Best Western, and others. Also Bed and Breakfast facilities are in many fine old Southern mansions. Here are a few:
In Lafayette, check Aaah! T'Frere'sB&B on Verot School Road. Food here is legendary "Cajun of the Bayou Country." Rates are about $100 per night, double.
In Lake Charles, Walter's AtticB&B is located in one of the oldest homes in the Charlentier Historic District. Rates start at $115.
Inn on the Bayou on W. Prien Lake Road in Lake Charles offers free rides to Riverboat gambling.
In New Iberia Chez Hebert overlooks Bayou Teche and is near Avery Island. Rates are about $100.
Also in Iberia, La Maison B&B serves Acadian style food and is located amid oak, pecan, and fruit trees.
For a different stay, look into renting a houseboat. In Morgan City, Cajun Houseboats rents 30-foot houseboats for $175 a day, $300 for a weekend.
If you want glitter to contrast the Cajun life, check in at the Isle of Capri Casino and Hotel. Here you will find five restaurants, 24-hour gambling in two casinos, and Vegas-style entertainment.
Many of these and others have their web sites where you can check the accommodations and surrounding attractions. Reach these through the Louisiana Travel website.
WTA's Travel Access Discount Program serves up deeper discounts on hotels, car rentals, flights, and activities all over the world. Most of our travel deals are not available to the public, which means rates are much lower than what the average consumer can find online. Click here to start accessing for free today.
Where to Eat

Fine restaurants abound in Cajun Country. You can find almost any kind of cuisine you like, but "when in Cajun, eat Cajun." A sample of the expansive menu of a couple of restaurants gives a hint at what awaits:
Prejeans Restaurant in Lafayette serves award-winning Cajun and offers live Cajun music. Appetizers run $5.50 to $29.50. Salads about $9.50. Both include choices of local specialties. Try a cup or bowl of gumbos, soups, and bisque. Entrees run $14.95 to 24.95. Some of the featured items include Crawfish Enchiladas, Crab Cakes, and Alligator Grand Chenier.
If you want to try the Cajun Two Step while dining, visit Randol's Restaurant and Salle de Danse in Lafayette. Their menu includes Creole Crab Fluff as an appetizer, Louisiana seafood salad, and entrees like mixed sausage grill of alligator, crawfish, and duck.
In New Iberia, find French Creole cuisine at Delores's Restaurant. Or, drop in at Clementine for such classics as turtle soup, corn and crab bisque, soft shell crab, and Black Angus steaks.
Wherever you might stop for food in Cajun Country, be sure to take along a hearty appetite!
Notice: This information is current as of October 2002. It is recommended that you contact the numbers, and/or visit the web sites above to determine any changes to the information.