Learn about Xishuangbanna, China, by reading Jungle Adventure – Xishuangbanna, China, by Sandy Zimmerman, Travel Writer and WTA Member. It features a mini, but thorough tour of the destination, plus all you'll need to know to plan your trip including getting there, objective information on places to stay and eat, and things to do. At the end of the article, we've provided a summary of the contact information for your easy reference. Enjoy!
Jungle Adventure – Xishuangbanna, China
by Sandy Zimmerman, Travel Writer and WTA Member
Usually when we mention jungles, most people think of Africa or New Guinea. But, hidden in the southernmost tip of China, along the Myanmar (Burmese) and Laos borders, is a wild, exotic jungle in the Xishuangbanna (pronounced SHEE-SHWAH-BAHN-NAH) autonomous zone of Yunnan province. Yunnan province is called southwest China's 'little-known land of eternal spring' and has the largest number of minority nationalities in all of China.
We arrived for the Water Splashing Festival and stayed around the capitol, Jinghong. The Hinayana Buddhist Dai believe the act of splashing water on each other washes away evil and brings good fortune to family, friends and guests. They welcomed each plane with ceremonial music and splashed water on everyone (dipping flowers or leaves in water and gently shaking them toward the passengers).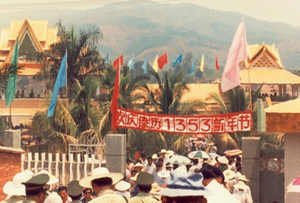 Entrance to the village.
For over 1,300 years, the Dai have celebrated their New Year with water splashing, parades, music, and dancing. Since the weather is hot, a little good luck water splashing is refreshing, but this takes place everywhere you go during the 3-4 days of the festival.
It seems as though the entire population of this sleepy little town suddenly awakened to participate in the festivities. Fiercely competitive Dragon-Boat races move to the beats of elephant foot drums and mangluo gongs. These long Dragon Boats date back 2,000 years and are designed with a dragon's head carved on the bow and a dragon's tail on the stern. It takes the efforts of 30 oarsmen to run each boat.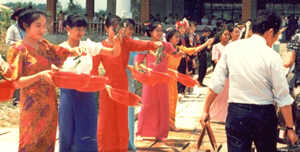 A "good luck" splash line during the Water Splashing Festival.
The Gaosheng (a section of bamboo poles filled with gunpowder) are lit and shot into the air as giant skyrockets where they explode for a different style of fireworks.
Colorful parades fill the streets with elephant, dragon and other floats while the people are singing along with peacock and pedestal drum dancing.
The Dai women wear long skirts with silver belts and flowers in their hair, while the men dress in turbans and short tunics tied at the side. Even the villages are decorated with colorful paper cutouts and traditional dishes are prepared for the feast. What a celebration!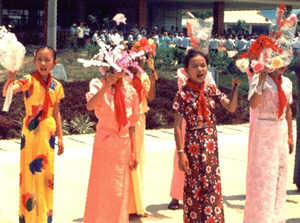 Ethnic group singing for tourists.
The Dai, linked by language and culture, are considered to be the ancestors of hill tribes of Thailand, Laos, Burma, and Vietnam. This region is called China's mini-Thailand. In addition to the Water Splashing Festival, throughout the year, you can also see the Closing-Door, Opening-Door Festival, Danpa (monks' tonsure), Danta (ceremony for stupa), and festivals of the other 12 minorities.
Xishuangbanna is an off-the-beaten-path eco-trip, not like the regular tours of China. The dense rainforest forms a thick canopy as you drive along the roads from village to village. Watch rice paddy farmers guiding their oxen driven plows through the water fields just as their ancestors worked thousands of years ago.
Here elephants, leopards, tigers, pythons, Malay bears, peacocks, wild boar, black gibbons, and golden hair monkeys roam free. Over 60 species of mammals and 400 species of birds live within 250 acres.
Choose from trekking, car, river rafting, and camping tours into the jungle.
The Tropical Crops Research Institute, in the western suburbs of Jinghong, is open to the public (daily from 8 a.m. – 5 p.m.). You can stroll around their gardens and see displays of pepper, oil palm, cocoa pods, nutmeg, sesame, and a medicinal botanic garden of gingers and small shrubs. Their rubber plantation brings the Institute an income of $15 million US (taping begins in March and continues for nine months). Facilities include some guesthouses and a dining room. A Traditional Chinese Medicine Clinic is adjacent to the Institute. You may be able to see a doctor plugging himself into an electric wall outlet and passing electrical currents through patient's bodies.
Another exciting sight is the Nationality Ethnic Group Park, dedicated to preserving the ethnic customs of six ethnic nationalities - Dai, Aini, Lahu, Bulang, Yao and Jinuo. This is a chance for visitors to see all of these minority groups up close and to experience their way of life. The park is just 2-1/2 miles from the airport in the suburbs of Jinghong.
Experience Dai life at their Manjinglan Village. Stroll around 179 beautiful bamboo houses surrounded with bamboo fences; climb the bamboo tower house; and enjoy Dai customs and dances. Just 4 miles from Jinghong.
Ganlan Hu (Peacock Lake) is a park where you can see the locals practice Tai Chi exercises.
DAY TRIPS
Many companies offer day trips that return to Jinghong or you can extend your stay in Menglian. Ganlanba, 18 miles from Jinghong City, is a typical Dai village surrounded by palm trees, rice paddy fields, and mountains.
Ganlanbei Minorities (Ganlan Basin – 23 miles or one hour south of Jinghong) live in bamboo huts in the rain forest. It is a beautiful setting with hundreds of butterflies and tropical flowers. You can spend time hiking around the forest and stay at one of the village guesthouses overnight.
Watch around 70 wild Asian elephants roam around the jungle from the safety of a tree hotel. Wild Elephant Valley is a nature reserve for the protection of the jungle and wild animals and is about 31 miles North of Jinghong. This is a MUST SEE.
The town of Menghai offers Hinayana Buddhist style buildings, the Mother and Son Pagoda, and the Jingzhen Octagonal Pavilion. The Hani (Aini) minority group was originally early settlers of this region until the Dai drove them into the hills. Today the Hani rank as Xishuangbanna's second largest ethnic group and cultivate the famous Pu'er Tea - the red, musty brew savored from Hong Kong to Tibet. Tours stop at the tea-processing factory in Menghai and a tea plantation. There are also attractions nearby-the Bamboo Shoot Tower of Menglun and the "King of tea trees" in the Nannuo Hills and Bada. If you are in good shape, there is a 1-hour hike to see a 1700-year old wild tea tree.
Just 34 miles from Jinghong, the ornate silver Manfeilong Pagoda was built of stones and bricks in 1204 in honor of a footprint left by Sakyamuni during his visit. The pagoda consists of nine stupas with the main stupa rising 55 feet. This is also known as the Flying Dragon White Pagoda. Bells hanging on the stupas ring like wind chimes. It is located in Damenglong village, 43 miles south of Jinghong, and just a few miles from the Burma/Miramar border.
The Tropical Botanical Garden is rated as the largest tropical garden in China and is run by the Chinese Academy of Science. See over 3,000 types of plants. It is located in Menglun, 49 miles from Jinghong.
The Dai's Octagonal Pavilion was built in 1701 as a place for senior monks to meet. It is located near Jingzheng Village, 49 miles from Jinghong.
Details
Getting There
Take a short flight from Kunming to Jinghong, or make connections via Bangkok, Thailand. This would be a great Thailand - China combination tour.
Bangkok Airways serves Bangkok, Thailand and Jinghong, Xishuangbanna, China. Their 11:10 a.m. - 3:40 p.m. flights from Bangkok run Tuesdays, Thursdays, and Saturdays. Call (866)-BANGKOK.
China Southern Airlines offers two daily flights - 5:55-6:35 p.m. and 7:10-7:50 p.m. from Kunming - Guangzhou- Jinghong. It's schedule changes seasonally. Call (888)-338-8988.
Where to Stay and Eat
Crown Hotel: The garden-style three star Crown Hotel is designed to resemble the Dai minority homes. It is in the Tourism & Vacation District, Manjinlan Tourist Area, Jinghong City, about 5 miles from the airport and 1-1/2 miles from the train station. It offers restaurants, a business center, meeting rooms, bar, dance hall, swimming pool, satellite TV, beauty parlor, and bowling alley. Room rates are from $24-30. The hotel offers Western, Chinese, Dian, Chuan, Cantonese, and Dai flavor cuisine. Telephone: 691-2128888.
Daiyuan Hotel: Within a garden and lake setting, the 4-star Daiyuan Hotel (Daiyuan Jiudian) is located near the minority group village, about 2 miles from the airport and 4 miles from the train station. It offers restaurants, entertainment, beauty salon, cable T. V., conference room, refrigerator, business center, bar, and shopping arcade. A Deluxe room runs $34-40. The hotel offers a choice of Chinese and western restaurants including the Peacock Restaurant which features local specialties and folkloric shows. #8 Nonglin Nan Road. Telephone: 691-2123888.
Tai Garden Hotel: The four star Tai Garden Hotel is the biggest hotel in all of Xishuangbanna. An international-style hotel, many presidents, embassy delegations, and VIP's have stayed here. It is located in Jinghong City, just 2 miles from the airport, 5 minutes by taxi from downtown, and one mile from the bus station and Jinghong Port. It offers tennis, a squash room, sauna, gym, swimming pool, fishing pool, basketball court, business center, conference facilities, shopping arcade, and bar. It rooms include Deluxe, Executive Suites, and a Presidential Suite. Rates are from $34-1,000. The hotel has 12 restaurants featuring Sichuan, Yunnan, Cantonese, Tai cuisine. There's an open-air barbecue at the pool. The Garden Cafe offers a folkloric singing and dancing show with meals. #8 Nonglin Nan Lu, Jinghong. Telephone: 691-2123888-859 (15)..
Golden Banna Hotel: Is a three star hotel located in the Jinghong tourism area offering standard rooms and suites. It has several restaurants for local specialties and other Chinese cuisine. It also offers a swimming pool, sauna, business center, meeting rooms, gift shop, beauty salon, and refrigerator. Telephone: 0691-2124901. 5 miles from the airport and less than a mile from the railroad station.
SPECIAL NOTE: Small restaurants and street stands are available, but it is advisable to eat in hotels or at restaurants on tours.
Getting Around
Car Rental
You cannot rent cars without drivers so the price is expensive. Call CITS (see below) when you arrive or make arrangements ahead of time. Cars with drivers may be rented daily or weekly. Driving is difficult because there are a large number of bicycles; push carts, wagons, and makeshift vehicles on the streets.
Train
Kunming - Buy from travel agents or directly at special ticket counters in the station. The soft-sleeper class consists of four soft bed compartments. The hard-sleeper class is open with six beds.
Bus
Bus from Kunming is an 18-26 hour, very uncomfortable ride.
River
Ferries run along the Mekong (Lancangjiang) River. Schedules vary.
Tourist Information/Visas
The China International Travel Service (CITS) will arrange visits to Dai homes, invitations to banquets, and trips into the jungle. Inquire about the dates of their minority festivals so you might be able to catch one of them.
CITS also makes arrangements for your visas. Visit their website at www.citsusa.com for more information.
CITS - Los Angeles
Tel: (626) 568-8993
975 East Green Street, Suite 101
Pasadena, CA 91106
C.I.T.S - New York
Tel: (718) 261-7329
71-01 Austin Street
Forest Hills, NY 11375
In Case of Emergencies
Jinghong Hospital of Xishuangbanna Prefecture
No.17, Central Galan Road, Jinghong City
Tel: 691-2123849.
Nearest large city is Kunming that has the First Attached Hospital of Kunming Medical College, No. 153, Xichang Road, Kunming. Tel: 871-5324888.
Notice: This information is current as of March 2004. It is recommended that you contact the numbers, and/or visit the websites above to determine any changes to the information.