Learn about Temecula, California, by reading Temecula, California – A Step Back in Time and a Step Into Luxury by Sandy Zimmerman, Travel Writer and WTA Member. It features a mini, but thorough tour of the destination, plus all you'll need to know to plan your trip including getting there, objective information on places to stay and eat, and things to do. At the end of the article, we've provided a summary of the contact information for your easy reference. Enjoy!
Temecula, California – A Step Back in Time and a Step Into Luxury
by Sandy Zimmerman, Travel Writer and WTA Member
When I take a trip, I like to have choices of things to do, attractions, hotels, spas, golf, shops, nightclubs, discos, casinos, and restaurants. Temecula, California, and the surrounding towns fit the bill. They offer something for the whole family.
Temecula has so much to offer! The Old West suddenly comes alive when we drive through the gate into Old Town Temecula's historical preservation district and see many original buildings dating from the 1800's. The Romona Inn (1897) is home of the "Blind Pig Saloon" where prize-fighters Jefferies, Sharkey and Dempsey trained in the upstairs' gym. The Machado Store (1892) has changed from a general store to a post office, saloon, and is now an antique mall. Old Town's businesses offer a wide range of unique gifts, jewelry, restaurants, clothing, furniture, pottery, a day spa, Temecula Stage Stop wine/beer garden, art, Temecula Stampede country western nightclub, old jail, museums, colorful murals, and what they call "cool stuff."
During their Western Days celebration, the streets are filled with bank robberies and old western-style gunfights staged by several local gun fighters clubs. There's also "Street Painting" and other festivals throughout the year. All events are free.
The Old Town Temecula Greeters offer guided walking tours of the old town. Guides Bob & Bea Taylor tell stories about Kit Carson, Erle Stanley Gardner (who wrote the Perry Mason stories) and many of the other early visitors to this historic area. Temecula began as a stop on the Butterfield Overland Stage Line and in 1882 the California Southern Railroad connected Temecula to the rest of the United States. With 58,000 people, Temecula has both a "small town feeling" along with a large number of vacation attractions.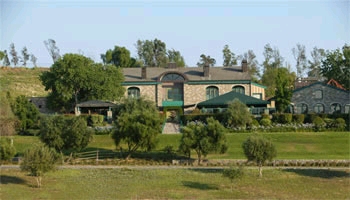 Thornton Winery
Wine lovers will be thrilled to find over 18 award winning wineries along the vineyard-dotted countryside. Drive yourself or take the wine country shuttle. Tasting fees range from $1-5, and are slightly higher for an elegant sit-down champagne tasting. Whether you are a novice or wine aficionado, spend a few hours, a day, or a week touring the wineries to savor some of California's finest wines. Each winery is different.
In a beautiful French-country setting, Thorton Winery has a line-up of year-round events- grape stomp, winemaker dinners, murder mystery dinner theater (October), jazz concerts, and dances. Thorton's Cafe Champagne won the Gold Award for contemporary cuisine for eleven consecutive years. Dinners include- peppered filet mignon medallions, caramelized Atlantic salmon, marinated boneless lamb loin, duck with ginger-lavender honey sauce, and other delights.
The Maurice Car'rie Winery invites you to sit in their picnic area, gazebo, or Southern Victorian-style farmhouse for complementary tastings. Enjoy sourdough bread and baked brie along with the wine.
Temecula's largest winery, Callaway Coastal offers crisp, fruit forward, food friendly wines. Callaway schedules an Autumn Celebration (October) and a Holiday Candlelight Dinner (December).
Taste wine directly from the barrel at Hart Winery. They specialize in handcrafted, barrel-aged red wines and dry, full-bodied white wines with an emphasis on Mediterranean varietals.
All of the wineries participate in The Harvest Wine Celebration in November.
There are numerous lodging choices available in Temecula. You will be sure to find one that fits your budget and suits your needs.
The Pechanga Resort, Casino & Spa is a Native American owned, AAA Four Diamond Resort that has everything to tempt your palate, keep you entertained, and re-kindle the sparks of romance. Choosing where to eat will be difficult! There are 7 exciting restaurants on the property.
The Great Oak Steakhouse matches the quality of other well-known steak houses. Cuts are available in a variety of sizes to please the smallest to the biggest appetite.
The Grotto Restaurant is different! Chef Robert Minor offers 22 different oysters from the Pacific and 21 from the Atlantic. If you can't decide, try a mix from a few regions. Grotto's delightful atmosphere gives you the feeling of being inside an oyster's shell under the sea.
Take a trip to Italy at Paisano's Italian Ristorante. Chef Kevin Hendrickson prepares taste-tempting cuisine in a Trattoria setting.
The Blazing Noodles Restaurant combines recipes from Thailand, China, Japan, and India. Talk about choices!
Enjoy live entertainment in Pechanga's Cabaret Lounge or Eagle's Nest Rooftop Lounge. The Cabaret features live entertainment on most nights. Needless to say, the view from Eagle's is reason enough to visit, but add in the entertainment options (salsa, blues, and jazz, to name a few) and there is no excuse not to visit. The showroom features headliner concerts (Tom Jones, Julio Iglesias, etc.), Broadway productions, professional boxing, and events.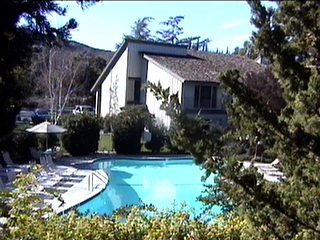 Inviting pool at Temecula Creek Inn
One of the beauty spots of Temecula is the Temecula Creek Inn. It is set within 300 acres of rolling hills which give you room to roam and explore! Seldom is such a large resort found within a city, so close to everything and yet still its own secluded haven. Golf enthusiasts will feel they have found their own golfer's paradise with 3 championship courses rated 4 stars by Golf Digest. Golfers can even play "Glowball" golf in the dark. Paths take you around the golf courses, waterfalls, pool, and beautifully landscaped grounds. The Inn has all of the elegance of a country estate. Relax, play golf or tennis, take a swim in the heated pool, or indulge your appetite. Nature is all around!
Dining is an event at the Temecula Creek Inn's Temet Grill! Beyond the usual breakfast fare, choose- an avocado, scrambled eggs, and green chile burrito; or croissant with scrambled eggs, Gruyere cheese and Canadian bacon. Enjoy a light lunch in the lounge by the fireplace. Dinner brings more selections of Mediterranean, Mexican, continental, California and southwest cuisine.
Each of the Temecula Creek Inn's oversized hotel rooms has breathtaking views and a feeling of luxury. The private patios, plush bedding, imported oatmeal soaps, shampoos, conditioners, and lotions give you the extras that count.
In addition to touring the area by car, take a hot air balloon ride to really appreciate the beauty of Temecula Valley.
Details
How to get there
Temecula, California is a 1-hour car ride from San Diego, 1-1/2 hours from Los Angeles, and 4-1/2 hours from Las Vegas, Nevada.
Where to stay
Pechanga Resort, Casino, & Spa: For information about their monthly gourmet cooking classes, wine maker dinners, spa, room packages, or for a schedule of entertainment and events, call 877-711-2WIN. 45000 Pechanga Parkway, (formerly Pala Road).
Temecula Creek Inn & Golf Course: The Inn offers special "Stay and Play," "Wine Country Escape," "Golf Getaway," "Retreat and Re-charge," "Unlimited Golf" and "Soft Adventure" packages. For information about packages, dining, golf, or accommodations call the Temecula Creek Inn 800-698-9295. 44501 Rainbow Canyon Road.
Things to do
If you are interested in any of the winery tours, call 800-801-WINE or visit http://www.temeculawines.org.
Hot Air Balloon Rides: A Grape Escape Balloon Adventure, Wilson Creek Winery and Vineyard, 800-965-2122
Tourist Information
For free information about Old Town Temecula, attractions, wineries, hotels, restaurants, spas, and festivals of Temecula, call the Temecula Valley Chamber of Commerce, 909-676-5090.
Notice: This information is current as of Spring 2005. It is recommended that you contact the numbers, and/or visit the web sites above to determine any changes to the information.