Learn about Smith Mountain Lake, Virginia, by reading Smith Mountain Lake - Head for the Mountains by W. Lynn Seldon, Jr., Travel Writer. It features a mini, but thorough tour of the destination, plus all you'll need to know to plan your trip including getting there, objective information on places to stay and eat, and things to do. At the end of the article, we've provided a summary of the contact information for your easy reference. Enjoy!
Smith Mountain Lake, Virginia - Head for the Mountains
by W. Lynn Seldon, Jr. Travel Writer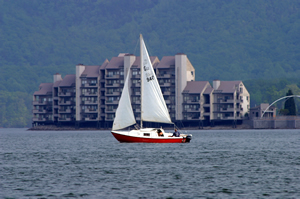 Vista Pointe Near Smith Mountain Lake Dam
Photo courtesy of Ted Pratt
If you love boating, fishing and/or the mountains, then you need to head for Virginia's Smith Mountain Lake. Located in central southwest Virginia, 215 miles from Washington, D.C., this popular destination provides the perfect reason to head for the mountains.
Smith Mountain Lake was formed back in the 1960s, when Appalachian Power Company (now American Electric Power) built a dam on the Roanoke River. Smith Mountain Dam is 816 feet long and 227 feet wide and the resulting lake (which first reached its full depth in 1966) provides 22,000 acres of recreational water and 500 miles of shoreline!
The lake has grown to become a four-season residential and vacation paradise, with the water, shoreline, services, amenities, and surrounding towns and attractions providing a perfect place to visit (and live). The climate around Smith Mountain Lake definitely has four seasons, with boating most popular during crisp spring, hot summer, and colorful fall days. "Each season combines the area's natural beauty with recreational activities, events, and all the amenities of a resort, residential, and business community," says Vicki Gardner, executive director of the Smith Mountain Lake Chamber of Commerce/Partnership.
For boaters, there are numerous marinas, boat docks, and public boat ramps listed in the excellent Newcomer and Visitor Guide. Thus, there are lots of places to get your boat - or one of many rental boats - on the water! The Newcomer and Visitor Guide also lists 25 places for boat rentals, repairs, and sales, as well as several non-marina businesses that can provide services and repairs (like the interesting Virginia Canvas Works).
Houseboat rentals are also extremely popular on Smith Mountain Lake, with a variety of companies able to accommodate practically any houseboat hankering. Two good possibilities include: Adventures on Houseboats and Parrot Cove Boat Rentals and Sales.
Once on the water, the possibilities are almost endless. Along with cruising the stunning shoreline and enjoying the mountain vistas, boaters and their passengers can enjoy fishing, water skiing, wakeboarding, and more.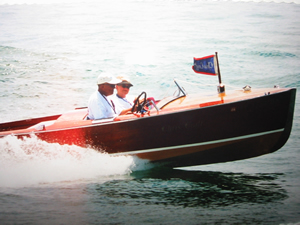 Photo courtesy of Ted Pratt
The fishing is particularly plentiful. Several record fish have been caught in the lake, with popular catches including: striped bass, crappie, flathead catfish, largemouth bass, musky, and smallmouth bass. Many local fishing guides are available to help land the big ones.
The Smith Mountain Lake Boating Association is an excellent resource for visiting boaters. They organize the annual boat poker run in May. There's also an Antique and Classic Boat Society chapter, with an annual in-water show each August.
Smith Mountain Lake accommodates visitors with a wide variety attractions, activities, events, shopping, dining, and varied accommodations options for those choosing to stay on land.
Land-based activities include: Smith Mountain Lake Park (1,000 acres that include a beach, fishing pier, hiking, and more); Booker T. Washington National Monument (Washington's birthplace and a glimpse into the life of the famed orator and educator); the National D-Day Memorial in nearby Bedford; and the Blue Ridge Institute & Museum (traditional life and culture of the Blue Ridge Mountains). There are also several local wineries, five gorgeous golf courses, and a 112-person sidewheeler cruise boat that features food and boating fun.
Events are also a big part of the Smith Mountain Lake scene. Some popular possibilities include: many fishing tournaments; the D-Day Celebration; poker runs; several fireworks celebrations during the July 4th period; a wine festival; and a Holidays boat parade.
Visitors who would like an insider's view of lake boating should contact Capt. Bill at Smith Mountain Water Taxi. He can provide a tour of the lake or shuttle small parties to dinner, tee times, lake nightlife, and more
The Smith Mountain Lake Chamber of Commerce/Partnership Visitors Center is located at 16430 Booker T. Washington Hwy. #2, Moneta, VA 24121. They can be reached by phone at 800-676-8203 or 540-721-1203, as well as through their great website, www.visitsmithmountainlake.com.
Details
How to get there
By car: Major highways and directions leading to the lake include:

Interstate 81 and the Blue Ridge Parkway are just west of Smith Mountain Lake.

There are four access roads to the lake from I - 81 and Roanoke:


via US 220 South to Rocky Mount and Route 40W to Route 122 North
via Route 116 to Route 122 North
via Route 24 through Vinton to Route 122 South
via US 460 East to Bedford and Route 122 South
From the Blue Ridge Parkway, select the following routes:
via Route 130 at Natural Bridge to Big Island and Route 122 South
via Route 43 at Peaks of Otter to Bedford and Route 122 South
via Route 24, Vinton
via Rt. 460, Montvale
via US Route 220 South to Rocky Mount and Route 40W to Route 122 North
US 220 North and US 29 North are the major highway routes for travelers arriving from
North Carolina and other destinations to the south.
From US 220 North, exit at Rocky Mount, VA on Route 40West to Route 122 North to the lake.

From US 29 North from Danville, exit at Gretna on Route 40 West.

Interstate 64 runs east and west to the north of Smith Mountain Lake. To reach the lake, exit south on to US 29 South at Charlottesville. US 29 South connects with US 460 West at Lynchburg or with Route 40 East at Gretna for easy access to the lake.
From the east, US 460 West is the major route connecting with Route 122 South at Bedford or to US 29 South at Lynchburg to 40 West at Gretna.
By air:

If you prefer to fly, the following airports will provide you with service:


Smith Mountain Lake Airport: 540-297-4500 (private charter)
Roanoke-Blacksburg Regional Airport: 540-362-1999 - http://www.roanokeairport.com
Lynchburg Regional Airport: 540-582-1150
New London Airport: 434-525-2988 (private charter)

Where to stay
Whether you want a full-service Inn, a motel, a cozy bed and breakfast, rustic log cabin, quaint cottage, vacation home, or resort, Smith Mountain Lake offers a wide variety of accommodation choices. Find the solace of the woods or the lake, enjoy the splendor of a classy resort, or don't miss any action with a place near all the attractions and events. Smith Mountain Lake has rooms to fit every budget.
WTA's Travel Access Discount Program serves up deeper discounts on hotels, car rentals, flights, and activities all over the world. Most of our travel deals are not available to the public, which means rates are much lower than what the average consumer can find online. Click here to start accessing for free today.
Where to eat
Whether your tastes run from gourmet to fast food, there is an eating establishment for you.