WTA Ski Resort Discount Program
Off to the ski slopes this winter? As a WTA member, you're entitled to significant discounts on lift tickets at top ski resorts from Maine to California. Join today for only $19 and pay for your membership with what you'll save on just one lift ticket. You'll also enjoy the many other WTA Member Benefits designed exclusively for travelers like you. And every time you use them, you'll not only benefit personally, you'll help support WTA's mission to make travel safer, more affordable and hassle-free. Want to enjoy all of the money-saving benefits of WTA membership? Join today!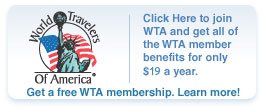 WTA Ski Resort Discounts

Save on lift tickets at top ski resorts...
As a member of WTA, you can receive significant savings at over 250 ski resorts worldwide (through Liftopia)! (Note: Membership & advance ordering required)
Available during season only. All tickets are discounted from gate prices and all tickets are valid for the current season only.
Discounts are available in the following US states and Canadian provinces. Please note that not all ski resorts in the states/provinces that are listed below participate in the discount program. Sign into the Members Only section to see the full list of participating ski resorts.
Alberta, Canada
British Columbia, Canada
California
Colorado
Idaho
Maine
New Hampshire
Nevada
New York
Oregon

Québec, Canada
Discounts are also offered through Liftopia. Liftopia has discounts at ski resorts throughout the US and Canada. Liftopia also has discounts at ski resorts in Austria, Chile and France.