Learn about Sitka, Alaska by reading Sitka, Alaska – Wildlife All Around You! by Sandy Zimmerman, Travel Writer. It features a mini, but thorough tour of the destination, plus all you'll need to know to plan your trip including getting there, objective information on places to stay and eat, and things to do. At the end of the article, we've provided a summary of the contact information for your easy reference. Enjoy!
Sitka, Alaska - Wildlife All Around You!
by Sandy Zimmerman, Travel Writer and WTA Member
Imagine a place surrounded by the beauty of nature, snuggled right on the shores of the Pacific Ocean. A setting so calm and picturesque, you will forget everything but the urge to explore this wondrous place.
Step back in time to the land of the Tlingit Indians (pronounced Klinket). Sitka is one of the few places where Native Americans have influenced the entire town. Perhaps it is because the Tlingits have lived continuously in Sitka for over 50 centuries. Out of Sitka's 8,500-person population, 3,200 are natives. Take this opportunity to meet these friendly Tlingit Indians and experience their culture.
Sitka Tribal Tours brings you into the world of the Tlingits, telling stories of their past. Sitka National Historical Park, or Totem Park, is the perfect start for your tour. You will see several fascinating totem poles at the entrance to the park. Each totem pole is different; each tells a story of an event identifying their families' history. Totem poles range as high as 65' tall while the average measures between 35' and 40' tall.
Every Tlingit is a member of either the Raven or Eagle groups (referred to as moieties). This is a matriarchal society in which the mothers make the decisions, and marriage was formerly allowed only between persons from opposite moieties.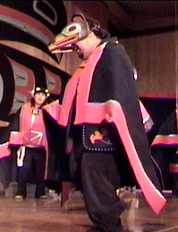 Tlingit Indian dance
You can enjoy easy hiking paths running through 113 acres of rainforest scenery and historic points. The highlight of your stay, the Visitor's Center and Southeast Alaska Indian Cultural Center immerses you into the Tlingit culture. Watch Tommy Joseph, a Tlingit Indian of the Kaagwaantaan Clan, as he carves ceremonial masks, totem poles, and helmets out of large pieces of wood. See native weavers prepare garments and rugs. This is your chance to speak to the artists, and ask them questions. These artists explain and teach the techniques of their art to the Indians and the public. Within the building are more examples of spectacular cedar totem poles and a professional museum of historical exhibits.
The traditional community house Sheet'ka Kwaan Naa Kahidi provides clan families a gathering place for special occasions. Listen to the exciting rhythms of the drums while the Indians perform dances of early days. The costumes, the dancer's movements, and the animal sounds, all make the folklore of the past come alive. Look on the back of the dancer's costumes to see the signs of their clans. During the last dance, the Tlingit's invite the audience to join their dance. After the show, you can meet the dancers and take photos with them.
Visit the Sheldon Jackson Museum, the oldest museum in Alaska. This museum houses the largest collection of artifacts representing Alaska's native cultures gathered between 1888 and 1898.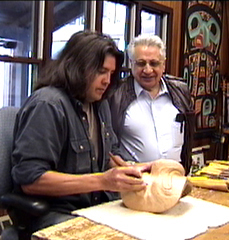 Tlingit Indian carving mask
SITKA TOURS opens the doors to the past! Their unique bus excursions visit historical highlights of this former Czarist Russian Capital city. See the site where the 1804 Battle of Alaska was fought in the Sitka National Historical Park, the Russian Bishop's House, Castle Hill, Block House, boat harbors, and St. Michaels' Cathedral to see religious artifacts and priceless icons dating back to the 16th century. It began in 1799, when the Russians saw their opportunity to engage in Sitka's lucrative otter fur trade. Alexander Baranof paved the way for them to become the most profitable fur traders in the world. In 1867, the Russians sold Alaska to the United States for $7.2 million at a transfer ceremony in Sitka. One of the highlights of this tour, the Russian New Archangel Dancers preserve Sitka's Russian heritage. See exciting Russian, Byelo Russian, Moldavian, Ukrainian, Georgian, and Armenian dances. The show is a mix of authentic costumes, intricate steps, and interesting stories.
Whale Park is dedicated to Sitka's wildlife with information plaques, boardwalks to the ocean, gazebos, trails, and viewing platforms. This is also home to whales and sea lions along the shore. The park has Radio Hydro-Phones underwater in order to tune into the whales. You can listen to the station on your car radio or the radio in your room. Nearby, try the easy Thimbleberry hiking Trail or more difficult Beaver Lake trail. Choose several areas for picnicking.
When I took a cruise along Alaska's Inside Passage, the M/V Caledonia luxury motor yacht was surrounded by nature's unspoiled wonderland. I felt as though I had just stepped into an untamed wilderness, a frontier opening for us to discover and enjoy. I was surprised to suddenly see black and brown bears fishing along the shore, American Bald Eagles flying above me, and porpoises jumping around our yacht. Each hour brought different experiences! As the yacht traveled north from Sitka, almost everywhere I looked, sea lions, whales, sea otters, and more and more wildlife appeared. We seldom see such an abundance of these beautiful creatures roaming free. One of the biggest thrills is being so close that we feel we can almost touch them.
Just seeing wildlife from the boat is not enough! Co-Owners Captain Bob Stephens and First Mate Penni Manns plan trekking safaris so their passengers can really experience the wilderness. They are happy to give suggestions or allow their passengers to decide which activities they would prefer. The itineraries are personalized for fishing, wildlife photography, kayaking, exploring, sightseeing, or . . .? Imagine, taking a romantic 2-person kayak into the wilderness. Or get aboard the hard-bottom inflatable. Its 50 HP outboard motor gives a smooth effortless ride.
Sitka has been known for breaking fishing records. Captain Bob says, "It's not whether you will catch fish, but when." These waters are fruitful with halibut weighing over 100 pounds and an abundance of the biggest salmon in the world. Let members of the crew scout the best routes for experiences you'll never forget. This is the safe way of indulging yourself, becoming one with nature.
With 20-25 years experience, Captain Bob and First Mate Penni know how to satisfy their passengers. It is an action packed trip with excitement around every corner. Expect the unexpected! You are "special" because there are only 8 passengers to pamper instead of thousands. And they do pamper you! This is like having your own private yacht! As you travel through the wilderness of Alaska's Inside Passage, the meals are fit for royalty. Captain Bob and First Mate Penni have lured Chef Bryan Winters away from Colorado's famous Broadmoor Resort and he prepares all of your meals on their 4-6 night cruises!
Westmark Sitka Hotel's Raven Dining Room has captured the essence of Alaska! When you combine the finest food with the magic of Executive Chef Joanne Michalski, the result is as explosive as the 4th of July! I would describe our dinner as a feast more than just a meal. Dining in the best hotel in Sitka- a small town of only 8,500 people, we were surprised to find a first class gourmet restaurant. And the hotel has Chef Joanne to thank for that! Her carefully fused Caribbean, southwest, and Alaskan cuisines please people from around the world. With 28 years experience, she has learned to be creative.
Don't walk past Ludvig's Bistro! This little storefront restaurant is the "hot spot" of Sitka, and their historic Tlingit Indian building blends in with its surroundings. Get ready to spend 2 hours dining leisurely on some of the most fantastic rustic Mediterranean fare, delightful original creations of co-owners Colette Nelson and Lisa Bower. Dine Alaska-style while listening to gypsy or Spanish music. Colette has been influenced by her college years studying in Spain and traveling in the Mediterranean.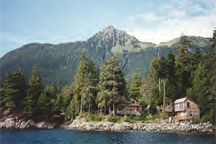 View of the Eddystone B&B Inn from the ocean.
Photo courtesy Tyler Eddy
It is the combination of staying in a secluded forest on a private peninsula along with the rustic buildings and wonderful views that make the Eddystone B&B Inn so spectacular. Yet, you will find it difficult to believe, that the Inn is only a few minutes from downtown Sitka. The Eddystone B&B Inn is all of that and more! Nature's exciting show continues all year. You will have a front row seat when the whales make their way south. If they are close, you might even get wet from their spray! Sea lions and seals play just a few feet from the porch; otters and minks run across the rocky shore. Watch for eagles soaring above you, or for their white heads in the trees. Yes, there are even a few bears around. Host Tyler Eddy and his family invite their guests to "Step into the wilderness from the comforts of our home." You can see nature from the guest rooms, from the living room's wall of 11 picture windows, the long front porch, the boardwalk-viewing center, and while walking around the grounds. Guests can meet other guests, sit by the fireplace, cook, and enjoy the entire home.
Details
Getting There


Airlines
Sitka has 2 direct flights daily from Seattle and Anchorage. Alaskan Airlines - 800-252-7522
Car Rentals
North Star Rent-A-Car: The most reasonable of Sitka's car rental agencies, Star is in the airport at baggage claim - 800-722-6927.
Tours


Sitka Tribal Tours: They offer several tours, which are entertaining and educational ($30-57), 200 Katlian Street, 907-747-7290.
Sitka Tours: Choose from several different tour itineraries. Bus Sitka Sightseeing Tours: (2-? hours) $25- adults, $12.50- child. Bus Sitka Sightseeing Tour and Raptor Eagle Center: (3 hours) $33- adults, $16.50- child. Historic Sitka Sightseeing Tour and Nature Walk: (2-? -3 hours) $28- adults, $14- child. P.O. Box #1000, Sitka, Alaska 99835, 907-747-8443.
Alaska & NW Charter Cruises: The yacht sleeps 8 adults and 4 children. Join other passengers or charter the entire yacht yourself. Cruises from May to September. Special 10% discounts for anyone booking August cruises, 907-723-4670.
Places To Eat


Westmark Sitka Hotel's Raven Dining Room: Open for breakfast, lunch and dinner. 330 Seward Street, 907-747-6241.

Ludvig's Bistro: Walking distance from downtown Sitka, reservations are suggested after 5 pm. Open Monday-Saturday, 2- 10 pm, Sunday, 2-6 pm. 256 Katlian Avenue. 907-966-3663.
Places To Stay


Eddystone B&B Inn: Each Alaskan themed (Artic, Russian, Wilderness and Ocean) guest room is different. The 2 two-bedroom beach cottages are surrounded by trees and only 15' from the ocean. Free all-you-can-eat breakfast. For information about rates- $85-250, off-season discounts, weekly or monthly specials, call 907-747-3313, 2398 Sawmill Creek Road.
Reference
Master storyteller James Michener wrote Alaska, his stirring tale tracing the history of Alaska and the Tlingit Indians.
Tourist Information
The Sitka Convention and Visitor's Bureau calls Sitka, "Your Alaskan treasure!" They offer free information and advice about tours, sights, wildlife, restaurants, shopping, charter fishing, the Tlingit Indians, Russian folk dances, festivals, entertainment, cruising along the Inside Passage, and everything that makes Sitka so exciting! 303 Lincoln Street, downtown, www.sitka.org/, 907-747-5940.
Notice: This information is current as of July 2005. It is recommended that you contact the numbers, and/or visit the web sites above to determine any changes to the information.