Learn about Shreveport, Louisiana by reading Shreveport, Louisiana Is an International City by Sandy Zimmerman, Travel Writer. It features a mini, but thorough tour of the destination, plus all you'll need to know to plan your trip including objective information on places to stay and eat, and things to do. At the end of the article, we've provided a summary of the contact information for your easy reference. Enjoy!
Shreveport, Louisiana Is an International City
by Sandy Zimmerman, Travel Writer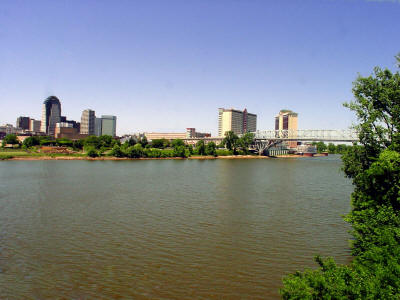 Shreveport skyline. Photo credit to Betty Jo LeBrun of the Shreveport-Bossier Film Office
Famous for their Cajun and Creole heritage, Shreveport and Bossier are two of the few cities in the U. S. that celebrate their diversity and treasure their 26 different ethnic groups.
See the Biggest Free Show on Earth! Imagine two months of parties, 21 parades, balls, and revelry. You are invited to the Mardi Gras, the biggest celebration in Northern Louisiana, a Shreveport-Bossier tradition since 1867. Ride on one of the floats, join a krewe (crew), enjoy the parties, balls, or watch the parades. As they say in Louisiana, "Laissez les bon temps rouler" (Let the good times roll)! This is your chance to be a part of the festivities, to do something different for a change. A number of these themed masked Gran Bals (balls) are elaborate affairs, evenings of Broadway-style entertainment, dining, and dancing. Some of the King and Queen royalty costumes are so heavy; they weigh as much as 50 pounds. A number of gowns and their trains have to be mounted on the float while the person backs into it. The two largest krewes- Gemini and Centaur are open to the public, while many of the others also allow guests. Your pets get a chance to dress up and celebrate at the krewe of Barkus & Meoux Mardi Paw events- they have dogs, cats, ponies, goats, cows, and some surprises! Mardi Gras is French for "Fat Tuesday," the last day before the season of Lent. "Throw it to me, mister," people yell as the parade rolls along. A big part of the fun of the Mardi Gras parade is catching the trinkets the krewes throw to the crowd- a wide assortment of candy, beads, necklaces, Frisbees, spears, roses, balls, whistles, stuffed animals, drinking cups, doubloons (coins), panties, and ??? These keepsakes are stamped with the theme and name of each krewe. This is the party that keeps going like the Energizer bunny! Between 300,000-500,000 people visit Shreveport-Bossier during their Mardi Gras celebrations. The krewe of Highland parade is considered a truck parade with mini-bikes, go-carts, motorized lawn mowers, cars pulling boats, large floats, people walking, bands, and is the longest parade (3 miles long) with 250 floats. Their carnival features flame throwers, jugglers, martial arts demonstrations, and live music. Their membership fee is only $10 and the public is welcome.
Shreveport's Multicultural Center of the South houses two entire floors of permanent displays and exhibits celebrating their ethnic heritage- Asian, Chinese, Cambodian, Creole, Cajun, African, East Indian, French, Greek, German, Hispanic/ Latino, Italian, Iranian/ Persian, Irish, Jewish, Japanese, Korean, Native American, Pacific Islanders, Pakistani, Filipino, Scottish, Slavic, Thai, and the Vietnamese. Walking from one dazzling exhibit to the next is like taking a quick tour of each country.
The "Once in a Millennium Moon" mural depicts real people and captures the history of the people of Shreveport. When looking up at the "Once in a Millennium Moon" mega mural, its extraordinary size will amaze you. Imagine a mural covering 30,000 square feet and 12 floors of a building! It is the largest publicly funded outdoor mural in the United States. This is a combined effort of community, a colossal project with professional artists and 2,600 community painters, taking 50,000 brush strokes and 2,500 gallons of paint to complete.
On October 16, 1954, Elvis made his first national public appearance on "Louisiana Hayride" at the Shreveport Municipal Memorial Auditorium and the rest was history! Elvis Presley's salary began at $18 a show, and in only three years, he had to move from the 3,200-seat auditorium to the State Fair Grounds so that 10,000 teenage girls could see The King. The auditorium became known as the "Cradle of the Stars." "Louisiana Hayride" was a popular live, weekly CBS country radio show, which launched the careers of many of the biggest country singers, songwriters, and performers: Hank Williams, Johnny Cash, Johnny Horton, Slim Whitman, Jim Reeves, Webb Pierce, Kitty Wells, Tex Ritter, Doug Kershaw, David Houston, Floyd Cramer, Hank Snow, Jim Reeves, and many others. Their museum houses an impressive collection of celebrity memorabilia showcased in several rooms. We have souvenir copies of 3 of Elvis Presley's original contracts for his appearances in 1954, 1955, and 1956. I especially enjoyed seeing Elvis' dressing room and hearing the tour guide's inside stories about Elvis and the other singers. The public is invited to take guided tours Wednesday through Saturday. During the tour you are allowed to stand on the very stage where it all happened!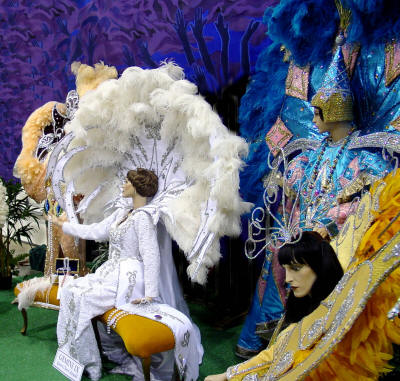 Ark-La-Tex Mardi Gras Museum displays some of the most spectacular costumes.
Photo credit to Betty Jo LeBrun of the Shreveport-Bossier Film Office
Even if you can't attend the Mardi Gras, the Ark-La-Tex Mardi Gras Museum displays some of the most spectacular costumes, most unbelievable floats, and awesome memorabilia. They house the largest collection of Mardi Gras royalty costumes in the Northern hemisphere and second largest in the world.
At the Antique and Classic Car Museum, you will see a Hupmobile (1927), Pierce Arrow (1936), and other cars on display and for sale.
If you arrive in November or December, don't miss the fantasy of lights at Roseland and the Mistletoe Christmas Tour.
Shreveport Details
Where to Eat
We must mention Shreveport's wide variety of restaurants- Cajun, Creole, French, Greek, Indian, Italian, Mexican, soul food, steak houses, American, specialty eateries, Japanese, Chinese, Polynesian Chinese, and teahouses. Don't forget to taste one of their alligator appetizers!
Bella Fresca Restaurant - Southern influences fused into Asian, Italian, French, Southwestern, Cajun, West Indian, and regional cuisine.
Columbia Cafe - Winner of the "Chef of Shreveport" award.
Ernest's Orleans Restaurant - Unique award winning Louisiana combinations.
Fertitta's Delicatessen - Famous for their "Muffy" sandwich.
Pete Harris Cafe - Reasonable local favorites.
Savoie's Restaurant - Alligator and other traditional Louisiana dishes.


Where to Stay
We were impressed with the Hampton Inn's friendly staff. They give complimentary hot breakfasts and a free computer in the lobby.
Tourist Information
Shreveport- Bossier Convention & Tourist Bureau - 888-45-VISIT, 800-551-8682, www.shreveport-bossier.org.
Notice: This information is current as of April 2006. It is recommended that you contact the numbers, and/or visit the web sites above to determine any changes to the information.