Learn about Seal Beach, California by reading Seal Beach, California - Hot Spot of the 20's! by Sandy Zimmerman, Travel Writer. It features a mini, but thorough tour of the destination, plllllllllus all you'll need to know to plan your trip including getting there, objective information on places to stay and eat, and things to do. At the end of the article, we've provided a summary of the contact information for your easy reference. Enjoy!
Seal Beach, California - Hot Spot of the 20's!
by Sandy Zimmerman, Travel Writer and WTA Member
The roaring 20's were really roaring in Seal Beach, California. Their gambling, booze, and beaches acted as a magnet attracting tourists to this little ocean-side village. The famous Joy Zone was set along the pier with the Jewel City Cafe, Derby roller coaster, beaches, and other diversions. At the end of the pier (where Ruby's Restaurant is now), a large synthesizer presented a blazing, flashing light show to set the mood. Sophie Tucker and other celebrities acted as judges at the Big Band dance contests. Tourists rented as many as 1,000 bathing suits a day, and 190,000 people visited Seal Beach each week. What was the reason for Seal Beaches' popularity? It was the only place where liquor could be served. During these early years, seals or sea lions frequented the people's yards, beaches, and ocean. Sometimes they even got in the way of bathers.
Changing throughout the years, today Seal Beach is a contrast to its past! We feel soft breezes from the ocean, walk along the quaint, historic old town Main Street, see the beautiful shoreline from the second longest pier in California, and enjoy a laid back, small town atmosphere.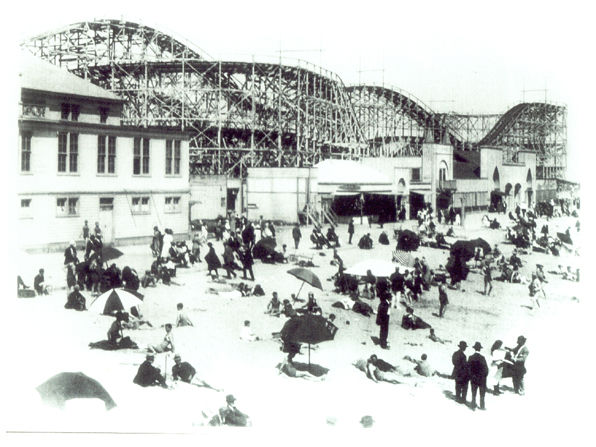 Historic- beach scene- Seal Beach in the 20's
We especially enjoyed visiting the Pacific Electric Red Car Museum. They are open the second and fourth Saturdays of the month, 1-4 pm, with exhibits, displays, and an exciting collection of Seal Beach memorabilia. We entered a rare 1925 Tower Car, which actually traveled along the route to Los Angeles and the Balboa Peninsula. Admission is free.
Docent Laura Alioto, President of the Historical Society of Seal Beach, has written a history of Seal Beach (Arcadia Publishing).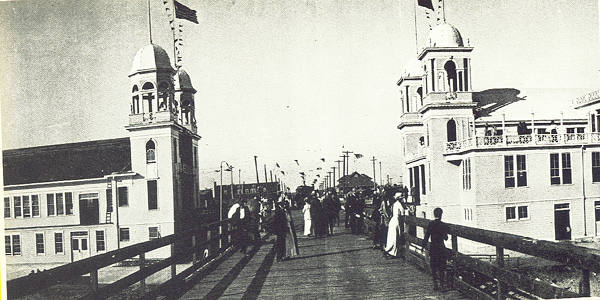 Historic- pier- Seal Beach in the 20's
The charming Seal Beach Inn was built in the 1920's and renovated by the owner. Marjorie Bettenhausen- Schmaehl has traveled around the world searching for unique antiques and furnishings. Marjorie has a feeling for creating a unique atmosphere! She saw twelve-foot high street lamps and decided they would look great at the Inn's entrance. The pool is adorned with an ornate 300 year old fountain from Paris, a London telephone booth sits in the garden, the hand carved front door was part of Universal Studio's sets, the reception desk was a church's alter, and there is much more for her guest's enjoyment! Don't miss anything while you walk through the library, tearoom, and lobby. When you arrive, one of the staff will take you on a tour and explain all of the exciting details. Each piece of furniture has a story! Marjorie wants the guests to be entertained as well as to enjoy their surroundings. The Inn is like a museum, reflecting Seal Beaches' colorful past, and it is an art form, which people can see and touch.
We dined in the ornate Tea Room for the all-you-can-eat breakfast buffet and afternoon tea. The ceiling's paneled design, the large fireplace, and antiques are things to behold. Breakfast is a feast of Belgium waffles, a variety of quiches, cereal, and muffins. Complimentary coffee, teas, and fruit are available from 7 am-10 pm. Their cocktail hour is great for meeting other guests while tasting wine and cheese. Every one is allowed to relax and spend time in the library, tearoom, front lobby, swimming pool patio, gardens, and other public areas. The 24 guest rooms and public rooms sparkle with old world charm - chandeliers, oriental carpets, fireplaces, Jacuzzis, fine art, paneled ceilings, and individual decorations. There is a cottage, royal villa, deluxe royal villa, king suite, deluxe king suite, and penthouse. Although the decorations are eclectic, the rooms have elegance and class. I loved the canopy, which reaches to the ceiling over the bed's hand carved headboard. Many of the rooms have skylights, which make them brighter during the day. The inn is winner of America's Top 12 Country Inns (Country Inns magazine), One of the Top 2 Bed and Breakfasts in the U. S. (National Japanese T. V.), A+ rating award (American Bed and Breakfast Association), and Mayor's Beautification Award.

Seal Beach Inn- antique front desk
For a great dining experience, The Spaghettini Italian Grill and Jazz Club is the place to go in Seal Beach! General Manager Jim Tilley explains, "We provide comfortable surroundings with great food and music." Their chef has created several original crusted seafood recipes adding exciting golden crunchy coatings infused with interesting ingredients. Choose from differently decorated Garden, Library, Bistro, and private dining rooms for weddings, parties, and meetings. Spaghettini is the only place you can enjoy music every night, no cover, no minimum.
Another fun dining experience awaits you at Walt's Wharf Seafood Restaurant. Owner Walt Babcock loves the sea! He worked as a commercial fisherman then traded that for a dental profession. He has now been pleasing customers for over 30 years. Their motto: "If it's fresher, it's still swimming." One entire wall in the dining room is decorated with a beautiful mural depicting a pelican, boats, the ocean, and Seal Beach pier. Chef Mark Tydell has created exciting recipes and his sauces are a fusion of different styles. We watched the food being cooked over the oak grill. As the owner of the Babcock Winery, Walt understands the importance of training his staff to be knowledgeable about comparing the wines to his customers. They have 3 banquet rooms upstairs for parties, meetings, and weddings. Happy Hour specials are offered from 4-6 pm.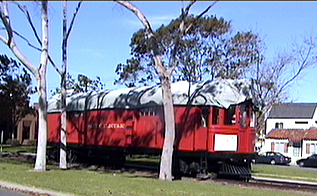 Red Train Museum
The Beach Cottage Day Spa looks like a beach cottage but it is one of the quaint businesses on the historic Main Street. The owner, skin care therapist Dodie Gutierreaz, has created a cozy atmosphere where her clients can rejuvenate their skin, spirit, and relax during their treatments. She wants you to "turn off your mind." Dodie uses the latest Yonka products from France, Spain, and Morocco. She lovingly calls Seal Beach, "The Mayberry of beach towns."
Details
Getting There
Seal Beach is a 30 minute drive from Newport Beach, 20 minutes from Huntington Beach, 40 minutes from Los Angeles, and 4 hour drive from Las Vegas. Pacific Coast Highway, Ca-1 and I-5 north, are the main highways. This is one of the quieter coastal towns with less traffic and noise.
Place To Stay
The Seal Beach B&B Inn is a romantic hideaway just a few blocks from Seal Beach's historic downtown Main Street, the pier, beach, shopping, restaurants, and the Electric Red Car Museum. Their rates range from $140 to $399. Gift certificates and romantic packages are available. Seal Beach B&B Inn is located on 212 5th Street. Call 800-HIDE-AWAY.
Places To Eat
The Spaghettini Italian Grill and Jazz Club has a variety of items on their menu. Entrees include potato-crusted halibut, parmesan crusted sea bass, horseradish crusted halibut, pecan crusted wild sockeye salmon, Sirloin steaks and Angus New York steaks. Entrees generally run from $25.95-$29.99. There are 10 pasta selections including the butternut squash ravioli with almonds, sage, and brown butter. Lunches from $14.95. Sunday family-style dinners from $18.95 serve 2-3 people, and there is a jazz Sunday gourmet champagne brunch. Their extra large bowl-style dishes are filled with generous portions. Spaghettini Italian Grill and Jazz Club 3005 Old Ranch Parkway, 562-596-2199. http://www.spaghettini.com/
Walt's Wharf Restaurant is known for its fine seafood selection including caramelized salmon, "Day Boat" diver jumbo sea scallops with Maui pineapple vinaigrette, blackened Louisiana catfish, Hawaiian yellow fin ahi with Wasabi-soy sauce, Ecuadorian Mahi Mahi with macadamia nut sauce, and macadamia nut coated Alaskan halibut with mango avocado salsa. Other choices include free-range double breast chicken, Colorado lamb top sirloin with port wine and Maytag blue cheese sauce, several pastas ($11-16), and prime certified Angus Beef top sirloin steak. Entrees run from $15-$26. Walt's Wharf Restaurant is located in the historic old town, just 1 block from the pier, 201 Main Street, 562-598-4433. http://www.waltswharf.com/.


Tourist Information
The Seal Beach Chamber of Commerce - 311 Main Street, #14A, 562-799-0179.
The Pacific Electric Red Car Museum is near the historic district, on the corner of Electric Avenue and Main Street, 562-683-1874.
Notice: This information is current as of May 2005. It is recommended that you contact the numbers, and/or visit the web sites above to determine any changes to the information.