Learn about Rome, Italy, by reading Experiencing Rome – The Remains of Rome by Gary W. Bloom, Travel Writer and WTA Member. It features a mini, but thorough tour of the destination, plus all you'll need to know to plan your trip including getting there, objective information on places to stay and eat, and things to do. At the end of the article, we've provided a summary of the contact information for your easy reference. Enjoy!
Experiencing Rome: The Remains of Rome
By Gary W. Bloom
It must have been a great time to be alive in ancient Rome, with a standard of living not to be achieved again for nearly 2,000 years. At it apogee, ancient Rome was not that much different from today – noisy, crowded, dangerous, and expensive. Yet everyone wanted to live there because even the poorest of Romans could enjoy the decadent largess of the empire.
The Roman calendar had 159 official holidays each year. Along with unofficial celebrations, ancient Romans put in one leisurely workday for every day they had off. And there was plenty to do on their holidays.
The early emperors brought Greek theater to Rome, although the highbrow sophistication didn't last long. The performances took on a decidedly draconian twist when actual murders took place on stage, with condemned prisoners in the starring role. Then there were the fabulous baths to relax in, along with libraries, museums, parks, and athletic grounds. And if they were looking for some excitement, there were the notorious games in the Coliseum. These brutal events were free, though toga was required. The Italians always did have a sense of style.
There are many ways to experience Rome, with one of the most popular being a tour of its many still remaining ancient landmarks. If you're visiting Rome in the summer, an organized tour may be your best bet. Summers are very hot, so an air-conditioned tour bus may be the most comfortable way to get around.
Rome is notorious for pickpockets who prey on tourists riding public transportation, as I can attest to. After years of travel throughout the world without ever being robbed, I met my match riding the Metro in Rome, even though I was on the lookout and had my wallet in a buttoned down back pocket. A couple of pickpockets working as a team were able to steal my wallet while I as getting off the subway. A man held both my arms while a young woman accomplice took my wallet. They both ran out the door with me chasing them, but in the crowded station were soon gone. Fortunately, I had put my passport and most of my money in the hotel safe. The risk is not confined to riding public transportation. The "gypsies" will surround you near tourist attractions, trying to pull your watch off your arm, your wallet out of your pocket, and anything else not bolted down. I have never experienced panhandlers quite this aggressive, and it was certainly one of Rome's major downsides.
Steer clear of restaurants located near tourist attractions and on famous squares. They are usually over priced for a mediocre meal. You can do better at small family run restaurants where the locals eat.
Beyond the well known, there are many hidden Rome attractions, some of them deep beneath the ground. Among the famous and not so famous landmarks are those featured here.
The Terme di Caracalla, built around 210 AD, was one of Rome's most extravagant baths, accommodating up to 1,700 people. Much of the Terme still remains, just south of Porta Capena. There is a mile long tunnel that connects the baths with the Palazzo Venezia, through which wood was hauled to keep the baths hot. In later years, Mussolini liked to race his sports car through the tunnel.
The Pantheon, built in 27 BC, is the only one of Rome's ancient buildings to remain intact, perhaps because its walls are 20 feet thick. It was built as a Roman temple and later became a Catholic church. With its domed roof, it is one of the architectural wonders of the world. The only natural light, besides the doors, is an oculus at the center of the dome. When animals were sacrificed, the smoke rising from their bodies escaped through this small opening.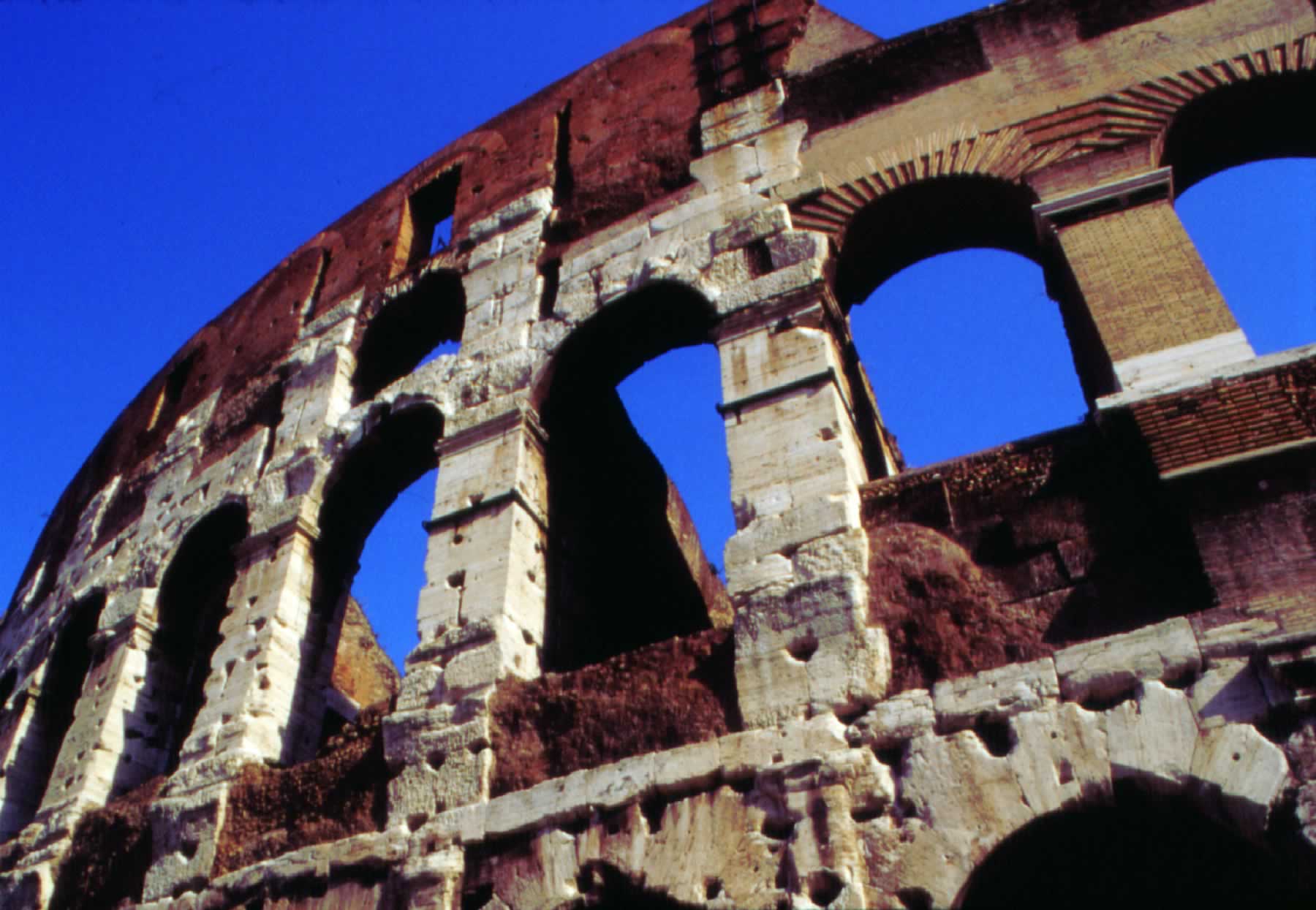 Rome's famous Coliseum
But it is the Coliseum that is Rome's most notorious landmark. This is where gladiators perfected their killing techniques and emperors came up with new gruesome and ever more perverse contests - among them, lions versus elephants, dwarfs versus women, and the public torture of criminals. In other words, not much different from the reality TV shows of today.
The Coliseum was opened in 80 AD with a 100-day festival that included the killing of 2,000 men and 9,000 animals, just to get things off to a good start. Like in the Russell Crowe movie, gladiators were usually slaves or criminals who fought their way to freedom and fame. The most successful became rich, and like our sports heroes, did product endorsements. Those that died a well-fought death had their blood sold as a tonic.
The Coliseum's wood platform surface was covered with sand and there were underground passageways used for changing scenery and for keeping the caged lions and tigers. These ferocious animals would be lifted up and released on the arena floor, to the sheer terror of the gladiators and the sheer delight of the spectators. If the emperor was in the mood for a nautical theme, the Coliseum's arena grounds could be filled with water for staged sea battles.
Near the Coliseum is the 12th century Basilica di San Clemente, but it's what's underneath the Basilica that's really interesting. Steps lead down to the remains of the original church, built around 375 AD, as well as other first century buildings, including Mithraeum, one of the best-preserved temples in Rome. This is just one example of the mostly unexplored subterranean Rome, where there are the remains of buildings and monuments and rivers still flow. Behind a locked door of a nondescript church there just might be a stairway leading down to these ancient ruins.
Another subterranean marvel is the Domus Aurea, under the Baths of Trajan. This was Nero's Golden Palace, built after a fire that burned much of Rome to the ground. Some blamed Nero for the fire, a circumstance that cleared the land for him to build his 200 room home, which occupied three of the famed Seven Hills of Rome. So much was Nero despised that the palace was looted and buried after his suicide in 68 AD. A small section of the Palace has been restored and can be seen today.
Rome has a delectably gruesome history, where the macabre has always held a special place. In the cellars at the Convento dei Cappuccini are the neatly arranged skeletons of 4,000 monks. And inside the church SS. Vincenzo Anastasio are the hearts and intestines of centuries of popes.
There are about 40 known catacombs that circle Rome, with an estimated 375 miles of tomb-lined tunnels. The Catacombs of St. Callixtus is the burial place for 16 popes along with nearly half a million early Christians. The underground network stretches almost 12 miles and reaches a depth of about 65 feet.
Like the strata of rock formations, Rome is built with homes upon homes, layers upon layers. The Rione Monti area is a good example. This is Rome's oldest quarter, where the basements of some of the homes have the remaining columns from ancient Roman temples. In Caesar's day this was a red-light district where Roman soldiers went to relax after months of conquering and plundering. Today it's a tranquil neighborhood where life goes on as it has for centuries, and ancient Rome lies just beneath the surface.
For specifics on the various attractions of Rome as well as places to stay and eat read the Details section.
Details
Getting There
Delta and Alitalia fly nonstop to Rome from Newark and New York City. Delta and Alitalia also have nonstop flights from Atlanta. Continental has a nonstop from Newark, US Airways has a nonstop from Philadelphia, and American Airlines has a nonstop from Chicago. Prices as of October 2004 were around $600 roundtrip.
Aeroporto Leonardo da Vinci, better known as Fiumicino, is the major airport, and is about 20 miles southeast of Rome. A taxi to the city will cost around 50ˆ. Make sure it's a licensed, metered cab. There are two trains that go to Rome. One, the Airport-Termini express, also called the Leonardo Express, will take you directly to Rome's Termini Station.
Where and What to Eat
Italians like their food fresh, so your menu choices change with the seasons. In the spring the best choices are squid, mussels, and calamari. In the fall it might be black truffles, white truffles, and mushrooms.
Rome has an advantage over its northern Italian neighbors in being in a region that is warm enough to produce delicious fruits and vegetables, and close enough to the Mediterranean to provide for a variety of seafood.
A few of the Roman favorites include tripe braised with onions, oxtail, clams sauteed with white wine, and of course a variety of pasta dishes. Abbacchio, milk-fed lamb, is a popular choice.
A service charge of 15% is often included, which should be listed on the menu. Tipping beyond that is not necessary.
Steer clear of restaurants located near tourist attractions and on famous squares. They are usually over priced for a mediocre meal. You can do better at small family run restaurants where the locals eat.
La Rosetta
Via della Rosetta 8
Tel. 39-06-686-1002
Web: http://www.larosetta.com/
This is the place to go for some of the best prepared fish in Rome, with prices to match. Popular dishes include sea bass with black truffles and sauteed clams, and for dessert, ricotta cheesecake. Expect to pay around 50ˆ for a main entree.
Hostaria Romana Ristorante
Via del Boccaccio 1
Tel: 39-06-474-5284
A semi-casual restaurant with a friendly staff who make visitors feel at home. They serve traditional Roman food, with entree's about 20ˆ. This is a good place to go if you want to mingle; they're known for their boisterous waiters and clientele.
Osteria Ponte Sisto
Via Ponte Sisto 80
Tel. 39-06-588-3411
Traditional Roman food at a reasonable price that's popular with locals in the Trastevere area.
Where to Stay
Hotel Hassler Roma
Piazza Trinita dei Monti, 6
Tel: 39-06-69-9340
Fax: 39-06-678-9991
E-mail: info@hotelhassler.it
Web: http://www.hotelhasslerroma.com
One of the most elegant hotels in Rome, the Hassler is old world charm at the top of the Spanish Steps. Commanding views of the city and commanding prices, with doubles around 600ˆ.
Teatro Di Pompeo
Largo del Pallaro 8
Tel: 39-06-6830-0170
Web: http://www.romeby.com/teatropompeo/
Boutique hotel in old Rome's historical area, built on the remains of the ancient Roman Pompey's Theatre. Located on a quiet street just a few steps from Piazza Navona and Campo de' Fiori. Rates go from about 170ˆ to 190ˆ for a double, depending on season, and include breakfast.
Alimandi
Via Tunisi 8
Tel: 39-06-3972-3948
Near the Vatican, this small hotel offers comfortable rooms at a reasonable price, with doubles for about 150ˆ.
When to Go
The most comfortable months to visit Rome are during the late spring and early fall. Winters are mild, with temperatures in the 50's, and you can avoid the crowds and find the best deals on hotels, though religious holidays any time of the year are going to draw tourists. Summers can be hot, with highs in the 90's. This might be tolerable if you're seeing Rome in an air-conditioned tour bus, but probably not if you're on foot or using pubic transit. Many low-priced hotels do not have air-conditioning.
Getting Around Rome
Rome and its attractions are too spread out to reach entirely by foot, so if you're not riding in a tourist bus you will have probably have to use Rome's public transportation, which is quite good. Rome has an integrated system including buses and trams and the Metro trains. If you use a taxi, make sure it's a licensed, metered cab.
Dollar Value
Italy, like most of Europe, now uses the Euro as its currency. The US dollar has declined against the Euro recently, and prices have been rising accordingly. As of September 2004, one USD was equal to about .82 Euros.
Attractions
Terme di Caracalla (Baths of Caracalla)
Via delle Terme di Caracalla 52
Tel: 39-06-575-8626
Admission: 5ˆ
Hours: Tues – Sun, 9am-4pm; Mon, 9am-2pm. Closed on holidays.
Colosseum
Piazza del Colosseo
Tel: 39-06-700-4261
Admission: 8ˆ
Hours: Daily 9am – 7pm during the summer months; closed about an hour before sunset during other months.
Basilica di San Clemente
Via San Giovanni in Laterano
Tel: 39-06-7045-1018
Hours: Mon-Sat 9am-12:30pm and 3-6pm. Sundays from 10am-12:30pm and 3-6pm
Admission: Free for the upper church, 3ˆ for the lower churches.
More Information
Italian Government Tourist Board
630 Fifth Ave., Suite1565
NY, NY 10111
Tel: 212-245-4822
Fax: 212-586-9249