Learn about Puerto Vallarta, Mexico by reading "The City Where Mexico Comes To Life!" Puerto Vallarta, Mexico by Sandy Zimmerman, Travel Writer. It features a mini, but thorough tour of the destination. At the end of the article, we've provided a summary of the contact information for your easy reference. Enjoy!
"The City Where Mexico Comes To Life!"- Puerto Vallarta, Mexico
by Sandy Zimmerman, Travel Writer
It all began when Elizabeth Taylor and Richard Burton came to Puerto Vallarta to film The Night of the Iguana, in 1964. Their love affair changed the sleepy little fishing village, of fewer than 10,000 people, into a famous resort town. Director John Huston said, "There are more reporters than iguanas on the set." Today you can experience the flavor of "old" Puerto Vallarta by strolling around "Viejo Vallarta" (Downtown) along the quaint cobble stone streets, historic buildings, Our Lady of Guadalupe Church (1918), sidewalk cafes, and shops. Bargain with 150 independent merchants at the Flea Market. The new Malacon, mile-long boardwalk, is just a few steps from the beautiful Bay of Banderas.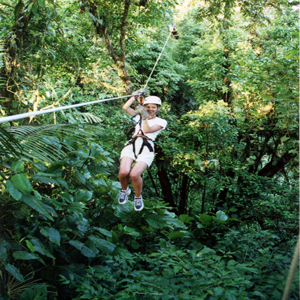 Canopy Tour- zip line. Photos courtesy of Sandy Zimmerman
Families can play together at Puerto Vallarta's unique family friendly-attractions. Try sailing or catamaran trips to spend the day on deserted islands only accessible by sea. Go horseback riding, drive ATVs or dune buggys into the forests and jungle. Stop for a dip at a secluded mountain waterfall. Take the zip-line canopy ride gliding from treetop to treetop over rivers and through the jungle. Puerto Vallarta is one of the few cities in the world where you can swim with dolphins.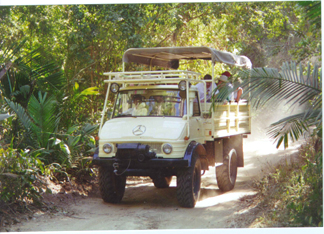 Jungle Safari Tour. Photos courtesy of Sandy Zimmerman
Thousands of sea turtles lay their eggs on the beaches (May-December). At the CasaMagna Marriott Resort, adults and children are encouraged to join the biologist and staff as they gather these eggs. The Marriott sponsors a Sea Turtle Rescue Conservation Program at their "Sea Turtle Nursery. By November, the hatchlings emerge and the baby turtles are released into the sea. Whales swim near the hotel! Of course, whale watching boat tours are available if you want to get closer to them. The waves touching the beach, the CasaMagna Marriott Resort's exceptionally large infinity pool and meandering lake are the ingredients for romance! They offer a daily Kid's Club for children 4-12 years of age. From 9:30 am-3:30 pm, children participate in a variety of supervised activities. Choose their Mikado Japanese Restaurant, Las Casitas Restaurant on the beach, La Estancia Restaurant, or the Champions Sports Bar.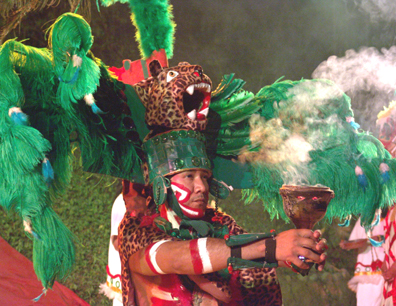 Rhythms of the Night show. Photos courtesy of Sandy Zimmerman
"Rhythms of the Night" allows us to watch natives perform their rituals as we share the fantasy! It was as though we were walking through a jungle and suddenly came upon an ancient Aztec tribe. Las Caletas' secluded cove seems so far from Puerto Vallarta, Mexico, and is only accessible by a one-hour catamaran ride. From the moment we step off the catamaran, the flaming torch and flickering candle-lit path set the mood. Drums are beating, birds chirping, and our adventure begins! With every turn in the trail, we are surprised to see natives performing their tasks symbolizing the life of the old Aztec culture 500 years ago. We can choose from several dining areas under the stars. One bridge takes us to a deserted beach, another to romantic torch-lit tables on the cliff. We can also sit in film director John Huston's former jungle hideaway, under the frame of his house with a wall of memorabilia displays and photos of Elizabeth Taylor, Richard Burton, and John Huston as well as many of his other friends. After a sumptuous all-you-can-eat buffet, we are ready for the spectacular show. The pre-Hispanic "Aztec Wedding Ritual" is performed on a red-carpeted pyramid stage with steps leading up to the sky. The cast appears from everywhere! Their professional dancers, glamorous costumes, and special effects have all of the pizzazz of a Las Vegas-style spectacular. This is not just a show; it is a look into the past! Vallarta Adventures Tours took a deserted cove and created one of the most original fantasies I have ever seen! "Rhythms" offers a truly enchanted evening, unlike any you will ever experience again. They combine the beauty of nature with a romantic fantasy. Vallarta Adventures purchased Las Caletas cove and it is only accessible through their tours.
Puerto Vallarta's 250 restaurants will dazzle you with all of their choices! When it comes to night life, Puerto Vallarta does it "con gusto." Whether you want to sip margaritas while watching the sun setting at a quiet cliff side terrace, a twilight sailboat cruise, or cold cervezas at a colorful bar, Puerto Vallarta dazzles by day and night.
Dine at 3 Different Restaurants in ONE EVENING! When you dine at Cafe des Artistes Bistro Gourmet, the overall experience is as thrilling as the food! I have never found a restaurant that allows guests to move from room to room. First savor appetizers and salads in the Thierry Blouet Cocina de Autor Dining Room, and then enjoy the entrees in the Cafe des Artistes Bistro, and the finale, desserts in the Cognac & Cigar Room or garden. Choose any of the rooms you wish. You feel as though you are dining at three different restaurants because each of the dining areas is completely different. This "tour of the senses" offers a guest the opportunity to interact with the chefs. And their award-winning cuisine is an extraordinary blend of provincial Mexican flavors with classical French cuisine. The Blouet Dining Room's tasting menu is perfect if you want to try a variety of flavors. You just order 3-to-6 courses because the portions are smaller and they can each be paired with wine.
Interact with some of the world's greatest chefs at Puerto Vallarta's Festival Gourmet, in November. Dine on some of the most unbelievable gourmet dishes, delicacies you have never tasted before. Experience the Chef's Table at each restaurant where you enjoy fantastic six-course dinners and complimentary wine. Join the cooking classes, meet these chefs, attend the Gourmet Brunch, and Grand Gala Banquet.
Puerto Vallarta Details
Airlines
Numerous American and Mexican airlines fly to Puerto Vallarta.
Tourist Information
Puerto Vallarta Convention & Visitor's Bureau, 888-384-6822, http://www.visitpuertovallarta.com/.
Notice: This information is current as of May 2006. It is recommended that you contact the numbers, and/or visit the websites above to determine any changes to the information.