Learn about the Outer Banks of North Carolina by reading Outer Banks, NC – Where Flight Began and Fun Never Ends by Charlie Spence, travel writer and WTA member. It features a mini, but thorough tour of the destination, plus all you'll need to know to plan your trip including getting there, objective information on places to stay and things to do. At the end of the article, we've provided a summary of the contact information for your easy reference. Enjoy!
The Outer Banks, NC—Where Flight Began and Fun Never Ends
by Charlie Spence, Travel Writer and WTA Member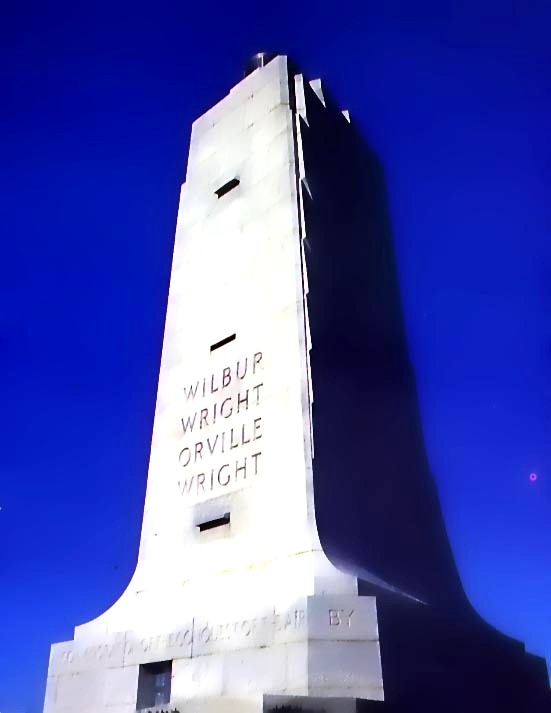 The Wright Monument dedicated to Wilbur and Orville
for their "dauntless resolution and unconquerable faith."
A hundred years ago, Orville and Wilbur Wright chose this area as the place where the first powered flight would begin to break the surly bounds of earth. Yet, long before that momentous event at Kill Devil Hills, the Outer Banks area of North Carolina was the site of another beginning—settlement of the New World.
In December, the entire world will help celebrate the first flight here with almost daily special events. Coming here to be a part of the centennial of flight celebrations is reason enough to visit the area, but once here you will find more than windy dunes that attracted the Wrights. Many other places of magic, beauty, history, and fun await vacationers of any age. Tour the Elizabethan Gardens, speculate on the fate of the Lost Colony, climb the winding steps of a lighthouse, golf, parasail, fish, dine elegantly, stroll the beaches, and do it all in a laid-back, easy-going manner for which the area is noted.
Your first stop will be Kill Devil Hill at Kitty Hawk. Here the 60-foot granite monument atop Kill Devil Hill overlooks a replica of the primitive campsite where aviation began. In 1953, to commemorate flight's 50th anniversary, the National Park Service built two wooden structures as accurately as photographs and historical accounts could make them. Inside are furnishings from the 1902-03 period, duplicating how the brothers lived and worked.
A boulder marks the takeoff spot of the 12-second flight, covering only 120 feet. (The brothers took turns flying and made three more flights that momentous day, the last going about twice as far.) Walk along the path of this historic event. The distance of the first flight is shorter than walking the aisle of one of today's jumbo jets. At the visitors' center, skilled guides will point out fascinating features of the replica of the original airplane and describe other interesting memorabilia of the time. The memorial is open 9-5 daily. Admission is $2 per person, or $4 per carload.
In contrast to the origin of flight, a paved runway welcomes airplanes today. Aircraft Owners and Pilots Association has donated a pilots' center beside this runway for today's followers of the Wrights. Here, today's pilots will find the latest state-of-the-art weather services as well as other amenities of a flight stop.
Flight is not the only first for which this area is noted. To experience a first activity that long preceded the Wrights' achievement, travel across the causeway to Roanoke Island. It was here that Sir Walter Raleigh made the first attempt to colonize this New World. The first child of English parents, Virginia Dare, was born here. This site is truly the birthplace of America.
One of the first places to visit on Roanoke Island is Fort Raleigh, near the town of Manteo, named for one of two Indians taken back to England by an earlier exploratory party. Fifteen men had been left at "this new fort in Virginia," but when a group of 115 colonists arrived to settle, they learned from evidence and friendly Indians that hostile Indians from the mainland had promptly murdered most. Nevertheless, they established the first colony in the new world. They did not have enough supplies to last until the next harvest and friendly Indians had scarcely enough for themselves.
A ship sailed for England to obtain provisions. When the members of that sailing party returned, there was no sign of the settlers or their village. Did angered natives kill them? Did they find it necessary to relocate to another place in this new world? If so, where? Everything and everyone simply vanished. Did they give up hope that relief from England would arrive and build a fragile vessel and attempt to sail home, only to be lost at sea? When you visit the site of Lost Colony, you'll form your own opinions.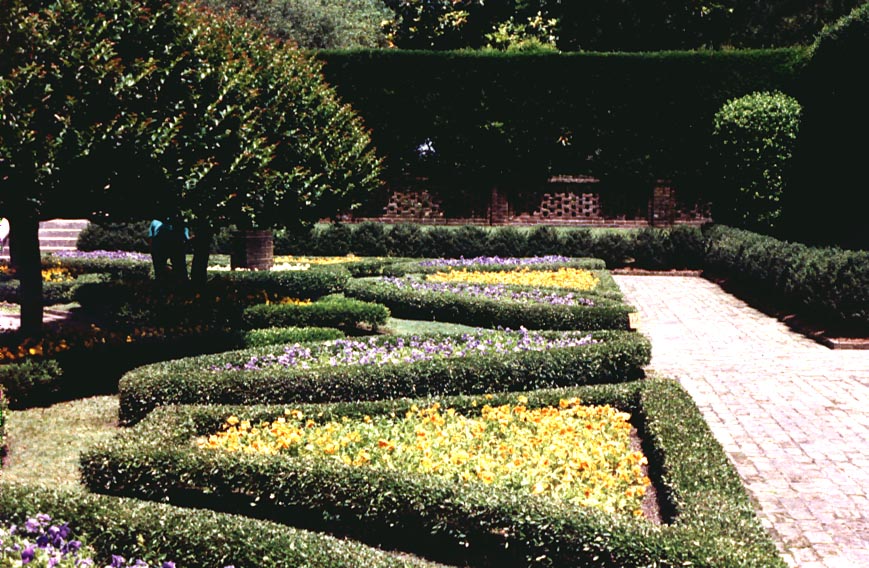 Elizabethan Gardens on Roanoke Island offer eye-dazzling
beauty of various flowers, shrubs and trees as a living
memorial to persons of the Lost Colony
Nearby you will enjoy a living memorial to those persons who disappeared and "walked away into history" as you tour the Elizabethan Gardens. The Garden Club of North Carolina created this garden in a tranquil setting on Roanoke Sound. Myriad varieties of plants, wild flowers, indigenous shrubs and trees will bring out the oohs and aahs as you stroll through this lovely garden.
The sea has played an important role in this area's history, so experience a touch of it by going aboard the Elizabeth II, a composite design of the 16th century ships that brought the colonists to this area. It's at Roanoke Island Festival Park.
Between soaking up history, turn to a few of the other attractions. There are four lighthouses within easy drive in the area, including the noted one at Cape Hatteras, known as America's light.
From Corolla in the north to Hatteras, the Outer Banks offers a variety of activities that are sure to please any member of the family. Of course, the sandy beaches and blue surf invite you to either loll in the sun or frolic in the water. Along the one main road that extends the length of the Outer Banks you will find everything from amusement rides to miniature golf. The true golfer will find links that are often compared to those in Scotland. Go deep-sea fishing, parasailing, or kayaking.
In addition, special festivals are held throughout the year. And one other thing, you'll see some of the most beautiful sunsets just as you are ready to start out to enjoy a fine dinner and perhaps a show.
Details
HOW TO GET THERE
Unless you arrive by personal or charter aircraft, you will need a car to get to this favorite vacation area. Air carrier service is available to Raleigh, N.C., where rental cars are available. From Raleigh area take highway 64 all the way. Driving from the north, from Portsmouth, VA, area highway 17 to 158 takes you to the Outer Banks just north of Kitty Hawk. From the south, ferry service (tolls) is available from Cedar Island to Ocracoke. Reservations are requested 30 days in advance for ferry service.
Where To Stay
The area has lodging accommodations to fit every taste and every pocketbook. You will find typical, small bed and breakfast homes, plush resort suites, and everything in between. For an elegant stay, check the Hampton Inn and Suites at Corolla with its 123 rooms, suites—some with Jacuzzis—pools, exercise rooms. A Holiday Inn Express is a possible choice in Kitty Hawk. If planning an extended stay, like for a week, look into one of the rental properties that abound in the area. For more information about accommodations, check the website: www.visitnc.com/coast.
WTA's Travel Access Discount Program serves up deeper discounts on hotels, car rentals, flights, and activities all over the world. Most of our travel deals are not available to the public, which means rates are much lower than what the average consumer can find online. Click here to start accessing for free today.
Where To Eat
There are so many excellent places for dining in the area that you will want your stay to be longer in order to try more of them. Of course, seafood is a regular item on all the menus but you also can choose everything from fast food burgers to Greek, Oriental, Italian, or good ol' American steak and potatoes. In Duck, you might want to try Swan Cove and ask for a window table at sunset. Suggestion: ask some of the residents for their recommendations.
For Further Info:
http://www.nps.gov/wrbr/pphtml/newseventsdetail6251.html