Learn about Nova Scotia, Canada, by reading Nova Scotia: The Southern Loop & Lighthouse Trail by Jayne Condon, leisure traveler and WTA member. It features all you'll need to know to plan your trip including how to get there, objective information on places to stay, and eat, and things to do. At the end of the article, we've provided a summary of the contact information for your easy reference. Enjoy!
Nova Scotia- The Southern Loop & Lighthouse Trail
By Jayne Condon, Leisure Traveler and WTA Member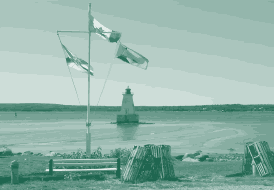 Sandy Point Lighthouse, Nova Scotia
Nova Scotia is the brightest of Canada's maritime jewels. Shaped like a moth, it hovers in the Atlantic Ocean between New England and Newfoundland. Its bottom is aimed at Cape Cod, which is the lower end of an ocean basin producing the most spectacular tides on earth.
Getting there involves a number of choices. If you fly from the US, most connections to Halifax are through Boston, New York or Portland. Driving can take you through New England and New Brunswick, the latter being connected to Nova Scotia by a spur of land roughly corresponding to the moth's wings. By boat – which also carries cars – you can take a fast ferry from Bar Harbor, or a slower, more conventional one from Portland, both to the port of Yarmouth. Since a car is a must for self-touring and we like driving our own, we chose the ferry; our preference was Portland, but we ended up catching it out of Bar Harbor. With loading of the high speed "Cat" starting at 6:30 a.m., we opted to stay the night before at the Atlantic Oakes by the Sea Hotel whose location next to the ferry was a plus.
Driving conditions are much the same in Nova Scotia as in the States, although speed limits and signposts are in kilometers. With the American dollar worth about $1.50 Canadian, everything but gasoline costs less.
We headed north on the Evangeline Trail. Passing Digby, the scallop capital of Canada, our first overnight in Nova Scotia was at the charming Blomidon Inn, near Wolfville. After a walk through this delightful little town we ended the day with a sumptuous seafood dinner at the Inn.
The next morning we went shopping and one of the sales ladies gave us some great tips on things to do, including the Domaine De Grand Pre vineyard. Owned by a Swiss family, it includes a wine shop, winery and a restaurant, Le Caveau, where we made dinner reservations for that evening.
Our next stop was the "Look Off," the highest point above the Minas Basin with a view that goes on forever. Then on to Cape Split, which binds the basin on its western end, and Scott's Bay, where the tidal "slosh" can rise and fall by almost 60 feet every 12 and a half hours!
We arrived at Le Caveau early enough to have a glass of wine in their open-air pergola and to take in the vineyards, and the adjacent rich countryside. After dinner, we visited the new press house to see the award-winning wine being made.
The next day, we set off on a trek along the 17th century Wolfville dykes - and our first view of a high tide on the Bay of Fundy. From there we went to Port William and visited the 1812 Prescott House, with well-tended grounds and gardens for relaxing.
At noon, we ventured to Hall's Harbor for an outdoor feast, where the smell of lobster mingled with the scents of pine and sea wrack at low tide. From there, we went to Halliburton House on Morris Street, a four-star inn at the heart of downtown Halifax and within easy walking to the harbor.
Our fourth day in Canada began with a 90-minute cruise through Halifax harbor on the Christina Lynn, a gaff-rigged schooner.
After lunch at the 250-year-old Waterfront Warehouse, we spent the afternoon strolling through the town. Sites of interest included St. Paul's Anglican Church, at 250 the oldest Protestant Church in Canada, and Alexander Keith's original Brewery on lower Water Street built in 1834. For dinner, Sweet Basil on upper Water Street featured unusual fish and meat dishes in a casual atmosphere.
Our first stop the next day was the Halifax Public Gardens, a Victorian gem of trees, statues and fountains in the center of a lush and green city.
Next was the star-shaped Halifax Citadel National Historic Site, with its ramparts, musketry gallery, powder magazines, and garrison cells. Tours with members of the 78th Highland Regiment include bagpipe serenades, the changing of the guard, and the firing of muskets.
Later that morning we set out along the Lighthouse Trail, passing the famous rocks of Peggy's Cove and one of the most photographed beacons in North America.
Further down the southern coast is Mahone Bay, whose narrow streets house the studios and galleries of some of Canada's finest artist and artisans. Of special interest is the Amos Pewter Shop, where visitors can watch the spinning of flat sticks on the lathe and the polishing of nearly finished pieces to perfection.
Just a few more minutes down the Trail is the beautiful and historic town of Lunenburg, with its colorful waterfront, and captivating architecture radiating the flavor of the town's Swiss and German ancestry and its seafaring heritage. We settled in for the evening at the Boscawen Inn/Mac Laughlin House, and enjoyed the panoramic view over the harbor with our excellent dinner.
The next morning started with a carriage ride with Basil, the owner of "A Trot in Time"(902-634-8917) and his horse Bob. According to Basil, originally all of the waterfront buildings were painted red as a guide to the fleet returning in the fog.
Touring the Fisheries Museum of the Atlantic (902-634-4794), we boarded boats to chat with "Old Salts" who had spent a lifetime fishing the Grand Banks, and saw dozens of exhibits and displays. We lunched in the same building at the Old Fish Factory Restaurant on the water's edge. Later, after a trip to dramatic Blue Rocks (just what it sounds like), we had dinner at the Lion Inn B & B and Restaurant, with a casual atmosphere and good food and service.
The next morning we packed a picnic in our hamper, and after a stop at Sommerville Beach, we journeyed to Sandy Point Light House where we lunched at a picnic table and enjoyed one of the best views of the trip, an artist's dream.
Less than two hours later we arrived at Cape Sable and Clark's Harbour, the latter filled with colorful boats and ship-building yards, crammed with stacks of lobster traps at every turn.
That evening, we closed the loop on our Nova Scotia adventure in Yarmouth. The next morning we boarded the Scotia Prince, arriving eleven hours later in Portland. The daytime trip back is a bit challenging because the Scotia Prince is configured principally for nighttime travel. Comfortable seats are limited and scattered throughout the boat. A day cabin is not a bad idea.
Because this trip is so popular, hotel reservations for both Portland and Yarmouth should be made in advance. The many hotels fill up fast, especially in peak summer months. We also recommend that you contact the Tourist Bureau for your complete guide to Nova Scotia, "Doer's and Dreamer's," by calling 800-565-0000. This guidebook contains most of the information that you will need for that perfect trip, including helpful information on applying for a tax refund on purchases and hotel accommodations, which can exceed 15%. Visit the Nova Scotia Details box (below) for further information.
Nova Scotia Details
Getting There, Places to Stay, Eat, and Other Contact Information
Getting There
By Air: Fly into Halifax, NS and definitely rent a car. Check the many options with your travel agent or on the Internet.
By Ferry: There are two good options:

Places To Stay

Bar Harbor, ME


Atlantic Oakes by the Sea, 800-33MAINE

Wolfville, NS

Halifax, NS

Mahone Bay, NS
Mahone Bay B&B, 902-624-6388
Boscawen Inn - editor's note: Boscawen Inn closed as of April 2, 2022
Lion Inn B&B Restaurant 902-634-8988
Lincoln House, 877-634-7179 or (e-mail) lincol@fox.nstn.ca
Commanders Inn, 902-634-3151
Lennox Inn B&B, 902-634-4043
Hillcroft Cafe and Guest House, 902-634-8031
Summerville Beach, NS

Places To Eat

Wolfville, NS
Blomindon Inn, 800-565-2291,
Le Caveau at The Domaine De Grand Pre' vineyard, 902-542-1753 or www.grandprewines.ns.ca

Halls Harbour, NS

Halifax, NS


Halliburton House Inn, 902-420-0658
Sweet Basil, on Upper Water Street, near the docks, 902-424-2133

Chester, NS
Rope Loft, directly on the harbor, 902-275-3430

Lunenburg, NS
Boscawen Inn, editor's note: Boscawen Inn closed as of April 2, 2022
Hillcroft Cafe & Guest House, 902-634-8031
Old Fish Factory Restaurant, 902-634-3333
A special note, the Hillcroft Cafe is noted for their dinners, which are open to the public. Reservations are recommended and both have only three or four rooms to rent.
Things To Do/Miscellaneous 

Lunenburg, NS


A Trot in Time, 902-634-8917
Fisheries Museum of the Atlantic, 902-634-4794
Paul Myna Smoked Fish Products, 902-624-8862
Notice: This information is current as of September 2000. In planning your trip, it is recommended that you contact the numbers above to determine any changes to the information.