This article is a must read if you're planning a hike up to the base camp of Mt. Everest! Read about a WTA member's hike with objective info on how to plan it, where to go, how to prepare, and more. At the end of the article, we've provided a summary of the contact information for your easy reference. Enjoy!
Mount Everest - The Ultimate Journey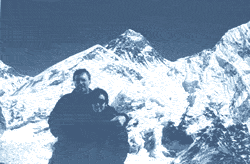 The Schuchsí Peak Experience
How high is 29,028 feet? Think of the Sears Tower: put another one on top of it, and then another, until you have a stack of 20. Or, itís the entire length of the Verrazano Narrows Bridge across New York Harbor pointed straight up and multiplied by seven. If you could walk vertically, like Spiderman, at the same rate as the average person strolls along the horizontal, the trip would take two hours; and you could be gasping for breath, probably even freezing to death long before you reached the top.
Chomolungma, or Mount Everest as it is known in the west, straddles the border between Tibet and Nepal. The first photo of its peak taken from an airplane was in 1933, and its virgin conquest by climbers was less than fifty years ago. Today Everest remains the ultimate romantic destination, not just for the handful of super-athletes and wannabes who challenge its summit, but for a new generation of adventure travelers. Each year, thousands of them circle the globe for the privilege of standing halfway up its slope with the world at their feet and above them its lofty eminence.
Two such adventurers, Karl and Cheri Schuch, made their three-week pilgrimage to Everest in October and November of last year, a guided group trek planned through Mountain Travel Sobeck in California. The Schuchs (heís an aerobatic pilot, and theyíre both skydivers and ocean divers) heard about the Sobeck organization through friends, and contacted them a year before their intended departure after checking out their web site. "Some tour groups over-promise and under-deliver, but they exceeded our expectations," Cheri says. "The whole trip did."
A packet of "Essential Pre-Trip Information" arrived in short order, with detailed instructions on the physical preparations required for the Nepal trek. It recommended a six-month regimen to build strength and endurance, including aerobics, weights, push-ups, sit-ups, squats and running (3-5 miles) or biking (1-2 hours, including hills.) It also listed immunization shots recommended for visits to Nepal: typhoid, tetanus, hepatitis A, and polio.
Their group, which started out with 14 strangers from across the US, aged 25 to 70, didnít all come together until Katmandu. Eleven of them, including the 70 year old, made it all the way through to the base camp of Everest and return. Of the three who didnít, one had to be helicoptered out when he fell and hurt his ankle. Another got altitude sickness at about 11,000 feet and had to turn back at 14,000 for treatment in a medical clinic. The third fell down the hotel steps in Katmandu and never even started.
After a couple of days acclimatizing in the 4,000-foot Nepalese capital, they flew by 22-seat Twin Otter to Lukla, landing on the side of a mountain at 9,000 feet. From there on, it was all uphill, and all on foot. They lived outdoors for the next 16 days and nights, in a world without wheels. The Mt. Everest base camp is just under 18,000 feet, but along the way they climbed Kalapater, which is 1,000 feet higher, and stopped at Lohtse and Nuptse, both famous for their views of the ridge across to Everest. Their first glimpse of their goal was at 12,000 feet, about the 4th day into the trek. "We could just see the tip, with the plume," Cheri recalls, "and it looked a lot closer than it really was. But it was breathtaking."
Meals were rice, potatoes, a lot of cabbage, and every night a broth consisting of little more than water and garlic. Chickens were everywhere, but in a land where cows are sacred, breakfast eggs were as close as the group came to any form of meat. They hauled in supplies like canned goods, but the rest was bought along the way from the mountain people. A couple of times they stopped for refreshment at tea lodges along the trail, in peopleís homes.
The group was tended by a staff of 20, which included cooks, Sherpas, porters, and kitchen help. The average income in the Nepalese Himalayas is about $150 per year. The bearers carried 80-100-pound backpacks, often greater than the burden assigned to the six yaks, which carried the trekersí baggage all the way to the top.
One of the most memorable aspects of the trip for the Schuchs was the color of the sky, in the thin air a deeper blue than either of them had ever seen before. Except for one day when it clouded and briefly snowed, they enjoyed crystal clarity for the entire trip.
At one point, the trekkers caught sight of a 13-person expedition to the summit on adjacent 26,000 foot Amadablan. One of the mountaineers jumped off the steepest side, and the Schuchs watched with envy as the tiny figure parachuted down to base camp.
Other unforgettable memories included two avalanches, one close enough for them to hear its eerie roar and echoes. The sights and sounds will be with them forever.
The group trekked 90 miles each way, with their clock divided into 8-hour intervals of hiking (15 miles a day), resting and sleep. Despite some early acclimatizing exercises, at about 11,000 feet almost everyone started to experience headaches from the altitude. They were all given a drug called Diamox to increase blood oxygen, but Cheri declined because of her allergy to sulpha. It was there that the man with serious altitude sickness began his symptoms.
Most of the Himalayan peaks are climbable for only two periods during the year: in April, or after the monsoons, from October into mid-November. Daytime averages in Katmandu at those times of year are 59-67F, but temperature drops as altitude rises; at 18,000 feet they can fall below freezing, even below zero especially at night.
Basic costs for the trip were $1,800 per person airfare, and $2,200 per person for the land portion, everything included. You can contact Mountain Travel Sobek at 6420 Fairmount Avenue, El Cerrito, CA 94530-3606, telephone 888-687-6235, e-mail/visit at info@mtsobek.com or www.mtsobek.com.

Places to Stay, Eat, and Other Contact Information
Notice: This information is current as of September 2000. It is recommended that you contact the numbers, and/or visit the websites above to determine any changes to the information.