Learn about Michoacan, Mexico, by reading Expect the Unexpected in Michoacan, Mexico by Sandy Zimmerman, Travel Writer and fellow WTA member. It features a mini, but thorough tour of the destination, plus all you'll need to know to plan your trip including getting there, objective information on places to stay and eat, and things to do. At the end of the article, we've provided a summary of the contact information for your easy reference. Enjoy!
Expect the Unexpected in Michoacan, Mexico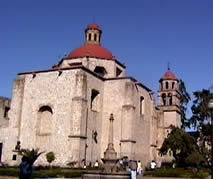 One of the historic churches in Michoacan
Unique…Exotic….Extraordinary….Your journey through the state of Michoacan is not the usual Mexican trip. This is the real Mexico. Located between Guadalahara and Mexico City, Michoacan is not as well known as some of the other areas of Mexico.
Everything about Michoacan is different. You experience the difference when you walk around the cities, dine in their restaurants, and stay in the hotels. The strong Spanish influence is everywhere; buildings dating from the 1500s-1600s still stand to echo their stories of the past. UNESCO (United Nations Educational, Scientific and Cultural Organization) named the entire capitol city of Morelia a world heritage artistic site - an outdoor museum. Preserving these beautiful historic buildings creates the feeling that you are on a movie set of another era.
There are over 1,113 historic buildings throughout Morelia's downtown and aqueduct districts. The ornate baroque architecture offers opportunities for photos during the day, but when the historic buildings are lit at night, they seem to glow.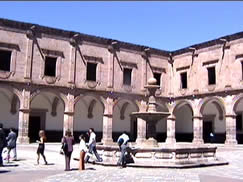 Take a stroll across this historic courtyard
Here's a sample of some of the historic sites to visit:
The Aqueduct built in 1795.
The Clavijero Palace, built in the 17th century, was originally the headquarters of the Jesuit School of San Francisco Javier. It is now the home of the Congress of Michoacan government offices.
The Cathedraldates back to 1660. It took 84 years to be built. Inside, don't miss the silver showcase and silver neoclassical baptismal font from the 18th century. The 4,600-pipe organ was a later addition in the 20th century.
Capuchin Church(1737).
Church and Convent of San Francisco(1531) is now the House of Handicrafts.
The Church and former Convent of Carmen dates back to 1593 and continued to be built throughout the 17th, 18th, and 19th centuries.
In the Government Palace (1760 - took 10 years to build), three murals portray different periods in the history of Mexico. It is now the seat of the state government.
Los Rosas Conservatory of Music, Saint Rose Church(18th century) This building houses the Boy's Choir of Morelia and the School of Music.
In the Market of Sweets and Handicrafts, sample the candies made from dried fruit, Rompope (similar to eggnog), coated fruit, Morelianas, and Charamuscas.
Merced Temple
Municipal Palace(18th century) offers an impressive octagonal patio.
Maximiliano de Hapsburgo stayed at the Museum of Michoacan (1772) when he visited Morelia in 1864. This is one of the oldest museums in Mexico.
Public Library(17th century).
The Palace of Justice (1884) is the site of the Judicial Department of the state of Michoacan. It has a French-style facade and pre-Hispanic decorative elements.
Plaza de los Martires
Located across from the Conservatory of Music is the State Museum built in the 18th century. It is divided into three sections - Archaeology, History, and Ethnology. It also features furniture and fixtures from a pharmacy dating from 1868.
San Nicolas de Hidalgo School is home of a preparatory school of the University of Michoacan. It has a Neoclassical facade.
Temple of our Our Lady of Mercy is a monastery dating back to 1604. It was later converted into a school.
And your Morelia adventure continues with each meal. Stepping into the past, the Hotel Villa Montana is part of the beauty and history of Morelia. The elegance of the Montana, their incredible gourmet delights, and the love story of the owners are the makings of a Hollywood script.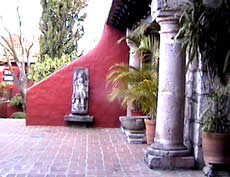 Statuary and stonework motifs decorate
the paths of the Hotel Villa Montana
French Count Nicolas de Reiset saw the Villa Montana 30 years ago and fell in love with it. Much later Ava, an attractive Parisian femme, visited Morelia and fate brought her to stay at his hotel. They married and still enjoy being around the hotel and greeting their guests. The Montana is truly a romantic setting high in the mountains with breathtaking views of the city. Tyrone Power and Ava Gardner spent time here during the shooting of the film "The Sun Also Rises."
When you drive through the wrought iron gate and enter the grounds, you are suddenly transported to a 50 year old, historic mansion. Paths take you around four acres of sculptures, gardens, terraces, and private patios.
Experience the feeling of fine dining where you are surrounded by expensive museum-quality paintings, antiques, and intricate carvings. While being entertained by a pianist, choose from French, International, or Mexican cuisine. This is a meal to remember!
Many of Morelia's restaurants are as unique as the state. The owner of the Restaurante San Miguelito has a sense of humor and is not afraid to be different. His understanding about combining fine food with unusual decor makes this a must see.
The Bar Taurino's lounge and stage are decorated like a small bullring. Each table in the dining room is different with its own-style of crystal, settings, tableware, and chairs.
El Rincon de las Solteronas (Spinster's Corner) is dedicated to Saint Anthony. Women pray to Saint Anthony to intervene and help them find a special man and make their dreams come true. During the ceremony, they light a candle, donate 13 coins, and circle the altar 13 times. Each woman places a statue of the saint upside down, to be turned over when she gets her man. There are around 250 statues hanging upside down around the wall, which means 250 women are waiting. Sit near the saint's room and watch the activities or go in and try your luck!
The food is tantalizingly delicious with an interesting mix of flavors - beef tenderloin tequila with red pepper and orange sauce ($9.90), breast of chicken topped with a fruity sweet and sour sauce ($9.50), Yucatan-style trout served with achiote sauce and red onions ($9.50), chili with poblano green peppers, cheese and shrimp ($9.90), and fish wrapped in a banana leaf with mushrooms, butter, onion and herbs ($9.90).
Atop one of the oldest buildings in Morelia, La Casa del Portal Restaurant provides wonderful views of the Zocalo (city square). Unique merchandise, folk art, and antiques surround you. Everything in each room is for sale, perhaps even the chair in which you are sitting!
It serves Mexican and American breakfasts - Corundas ($5.00), banana crepes ($6.00), omelets ($5.20), eggs Rancheros ($4.20), hot cakes ($4.20), and more. They also serve lunch and dinner.
Dine in a 17th century pink sandstone building converted into the Restaurante Los Mirasoles for international specialties of Mexico, Italy and Argentina. You have your pick of fifty different martinis, a choice of five salmon entrees ($9.50), six different pastas ($7.50), and chicken Milanesa ($10.00).
Each hotel has it's own colorful personality. One benefit of staying at the Hotel Juanino is being near all of the downtown attractions. Their La Azotea rooftop restaurant's outside terrace offers wonderful views of the cathedral and other historic buildings. It serves contemporary Mexican cuisine.
This older hotel that dates back to the 17th century, is called a "balcony to history" because some rooms have balconies facing the cathedral and a number of historic buildings. Wide hallways and stained glass windows are the norm at Hotel Juanino.
Hotel Casa de la Loma offers a more modern design than the other buildings in Morelia. Guests receive an all-you-can eat complimentary breakfast that includes yogurt, danish, cereal, fresh fruit, orange juice, and coffee.
La Casa de las Rosas Hotel's stylish modern decor is a surprising contrast to its historic setting.
Even Michoacan's attractions have that extra flair to them. The Museo del Dulce is more than just a candy store; they showcase candy with pizazz.
If you can, try to plan your trip to Michoacan during the International Musical Festival of Morelia. It was created in 1989 and is named after Mexico's famous composer, Miguel Bernal Jimenez. This annual festival features performances by musicians from all over the world and takes place in beautiful settings throughout Morelia.
There is so much to see that you will want to spend several days in Morelia, and if you have time, experience the "total difference" by touring other exciting areas of Michoacan. Watch for Part 2 of the Treasures of Michoacan to learn more.
Details
Getting There
Aero Mexico -(800)-237-6639; http://www.aeromexico.com,
From Las Vegas, flights leave daily at 7:45 a.m. If you fly from Tijuana, catch one of their 1 a.m. flights daily. The Los Angeles schedule offers a daily 7:30 a.m. flight with a short stop in Mexico City, reaching Morelia at 4:10 p.m. Nonstop flights from Boston land in Mexico City with connections to Morelia. You can also combine your Morelia vacation with a few nights in Mexico City. Aero Mexico has special rates for eight or more people traveling together.
Where to Stay


Hotel Villa Montana - Patzimba #201, Colonia Vista Bella, 58090. 314-0231. http://www.villamontana.com.mx, Standard - $160; Junior Suite - $220; Master Suite/1 bedroom - $270, Master Suite/2 bedroom - $350; Presidential Suite -$375. Offer rates for one or two persons. Private meeting rooms accommodate parties up to 160 people.

Hotel Los Juaninos - Av. Morelos Sur 39, Centro Historico C.P. 58000, 312-0036. Standard - $150; Junior Suite -$180; Master Suite - $260. Offers meeting rooms.

Hotel Casa de la Loma - Mozart # 380, Col. La Loma. 324-8901; http://www.casadelaloma.com, Standard - $138; Standard Superior - $144; Junior Suite - $170; Master Suite - $253.

La Casa de las Rosas Hotel - Guillermo Prieto #125, Centro Historico. 312-4545/ 3867.

Please Note: When calling Morelia, Michoacan, Mexico, from the U.S., dial (01) (52) (443) then the number.
Where to Eat
Hotel Villa Montana - See information under hotels.
La Casa del Portal Restaurant - Guillermo Prieto #30, Centro Historico, Int. 3, P. Alta; 317-4217/317-4899. Contempory Mexican cuisine.
San Miguelto Restaurante - Av. Camelinas s/n Contraesquina del Centro de Convenciones, Fracc. La Loma. 324-2300/ 324-4411; Mexican cuisine.
Restaurante Los Mirasoles - Av. Madero Poniente # 549, Esquina Leon Guzman, Centro historico. 317- 5775/317- 5777.
Onyx Restaurant & Bar - Portal Hidalgo #261, Centro Historico 317-8290/1. International, regional, and exotic cuisine - scorpion ($18.00), Arabian ostrich ($15.00), crocodile ($28.00), Australian deer ($29.00), Canadian buffalo ($22.00), and Somali wild boar ($23.00).
Attractions
Historic Buildings - Pick up your free city map at the Michoacan Tourist Promotion Office and choose from four self-guided walking tours around the downtown historic district and aqueduct.

Benito Juarez Zoological Park - largest collection of birds in Latin America.

Candy Museum & Factory - Museo del Dulce, Av. Madero Ote. #440, Centro Historico, Morelia. 312-8157. Free tours.
Entertainment


Dhadu Disco - Av. Camelinas, #58, Col. Lomas de Santa Maria. 340-5621.

Nox Disco - Av. Camelinas, #534, Fracc. Bosques de Camelinas. 324-7445.

Sr. Frog's Disco - Av. Camelinas, #1194, Fracc. La Loma. 315-3731.
Getting Around
Trolley cars are great for reasonable tours of the downtown historic district. You can get off and catch the next trolley for a set fee.
Emergencies


Hospital Memorial - Perlferico Paseo de la republica, #2111, Col. Camelinas. 315-7594/95.

Note: Most of the hotels have their own doctors on call.
Tourism Information


State of Michoacan Tourist Promotion - Av. Camelinas #676-A Fracc. La Loma. 340-1101 (800)-44-MEXICO. https://www.mexpro.com/blog/great-reasons-visit-michoacan

Notice: This information is current as of April 2004. It is recommended that you contact the numbers, and/or visit the websites above to determine any changes to the information.