Learn about Madrid, Spain, by reading The Capital of the World - Hemingway's Madrid by Gary W. Bloom, WTA Member and Leisure Traveler/Writer. It features all you'll need to know to plan your trip including how to get there, objective information on places to stay, and eat, and things to do. At the end of the article, we've provided a summary of the contact information for your easy reference. Enjoy! 
The Capital of the World - Hemingway's Madrid
by Gary W. Bloom, WTA Member and Leisure Traveler/Writer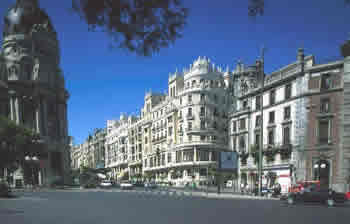 The Streets of Madrid, Spain
"Madrid is where one learns to understand," Earnest Hemingway wrote in his short story, "The Capital of the World." He first traveled to Madrid in 1923 and returned many times. The city and culture influenced his writing throughout his life. The reoccurring themes in his novels and short stories of man's struggle with life and death, his lust for life and his fascination with death are shared by all Madridians.
Madrid is situated on a plateau 2,200 feet above sea level, making it the highest capital in Europe. Its clear cobalt skies were an inspiration for Velazquez's paintings. The city has its share of beautiful palaces, museums and monuments. But Madrid is not an architectural gem or a historical find along the lines of Paris, Rome, or Istanbul. Its beauty is within, its style is its people, its history are those who have painted, written, or simply lived here. Madrilenos, as they are called, live each day as if it were the last. It is a city in a different time zone from the rest of the world. Lunch is at 2 or 3 in the afternoon; dinner starts at 10 and lasts well into the night.
Madrid may not be known for its architecture, but it is famous for one of the premier museums in the world, The Prado. According to biographer A.E. Hotchner, Hemingway entered the museum as if he were entering a cathedral. One of his favorite paintings here is Andreas Del Sarto's "Portrait of a Woman." Hemingway returned to The Prado and this portrait of a woman that he loved many times over the years. The Prado's collection of paintings, with over 7,000, is considered the best in the world. The museum is especially noted for its collection of El Greco's and Goya's.
Much has changed in Madrid since Hemingway was here, but the bullfight has not changed, nor the Spaniards fascination with death. Hemingway described the bullfight not as a sport, but as a tragedy. There was danger for the bullfighter, he said, but there was certain death for the bull. The Plaza de Toros is the largest bullfight stadium in Madrid. It also houses an interesting museum on the history of bullfighting. For a less formal introduction, there are many bars and restaurants in Madrid that contain collections of bullfighting memorabilia. One of the best collections is in the Antonio Sanchez Tavern at 13 Meson de Parades. This tavern was named for the founder's son, who was killed in a bullfight. The bullfighting memorabilia here includes the stuffed head of the bull that killed Antonio.
To really experience Madrid, as Hemingway did, you have to go on what is called a "tapas crawl," or Hemingway crawl, as it were, through the taverns and restaurants that were frequented by Hemingway and appeared in many of his stories. A night of bar hopping is so much a part of Madrilenos' lives that there is even a verb for it. To "tapear" is to spend the evening going from bar to bar and eating tapas, the hors d'oeuvres that usually include fried fish, olives, sausages, squid, and maybe even the tail of a bull or sauteed bull testicles. Many "tascas" or taverns have a house specialty - tapas that are their piece de resistance.
A good place to start on a tapas crawl is the Puerta del Sol. This public square is considered the center of Madrid and all of Spain. Kilometer 0 is marked here, and the distance from this point is displayed on highway signs throughout the country. No matter where you are in Spain you always know just how far you have to travel to reach the heart of Madrid. The taverns around this area are a favorite of matadors and aficionados.
Just a short distance from the Puerta del Sol is the Plaza de Santa Ana, where the Cerveceria Alemana was established a century ago. Hemingway and his friend, the famous bullfighter Luis Miguel Dominguin, once quaffed beers here. The tavern overlooks the small plaza that was the theatre and arts district in the 17th century and is now the center of Madrid's nightlife. A statue of playwright Pedro Calderon de la Barca stands in the plaza. The Cerveceria Alemana is one of Madrid's most famous tapas bars. Inside are marble topped tables that are still used as writing desks by fledgling poets and novelists. Not far from here, at the corner of Calle Cervantes and Calle del Prado, is the house where Miguel de Cervantes lived and died. The prolific playwright, Lope de Vega, also lived nearby, at 11 Calle Cervantes. Vega, called the Shakespeare of Spanish literature, wrote more than 1,800 plays.
Continuing on the Hemingway crawl, we come next to the Chicote at 12 Gran Via. The Chicote was the setting for Hemingway's only play , The Fifth Column. It is still a haven for artists and the literary crown.
Another Hemingway watering hole was the upscale Palace Bar located in the Hotel Palace at Plaza de las Cortes 7, facing the Prado Museum. This early century bar retains its Old World elegance and sophistication. It is the meeting place of writers, politicians, and the social elite. As A.E. Hotchner put it, at the Palace Bar "...every woman looks like a successful spy."
After an evening of tapas hopping, it may finally be fashionably late enough to eat dinner in Madrid. The Botin would make a good choice. The Sobrino de Botin, at 17 Calle de Cuchilleros, was immortalized by Hemingway in The Sun Also Rises. The restaurant was founded in 1725 and has changed little since then. Inside it looks like a "cuevas," a "drinking cave," what Madrilenos call their taverns. It is dark with low ceilings and exposed wood beams. The open kitchen has copper pots hanging from the ceiling and a tiled charcoal hearth. The ovens are fired with oak. The specialties are roast sucking pig and roast Segovian lamb. The Botin is said to be the oldest restaurant in the world. Francesco Goya worked as a dishwasher here before he became a famous painter.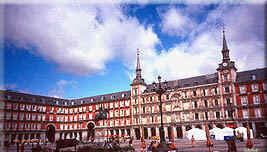 Plaza Mayor
The Botin is near the Plaza Mayor, which has an interesting history of its own. It has been the scene of beheadings, the public burning of heretics, royal marriages, and bullfights. The infamous Spanish Inquisition imposed the public punishments here. For all its bloody past, the Plaza today is one of the most beautiful public squares in Europe. The surrounding streets are named for the trades that were once practiced there, such as Calle de Cuchilleros, " knife makers street," and Calle de Botoneros, "button makers street." There are nine arched gateways leading into the Plaza Mayor and it is surrounded by more than 100 stately houses built in the 17th century.
"Nobody goes to bed in Madrid until they have killed the night," wrote Hemingway. The people of Madrid are called "gatos" or cats, because of their nocturnal habits. But by now, if it's three or four in the morning, you may be finally ready to go back to your hotel. Or you could watch the sunrise at a sidewalk cafe, watching Madrilenos on their way to their jobs. As Hemingway said, Madrid is where one learns to understand. What may be hard to understand is how the people of Madrid can keep up this pace.  
Details
Getting there:
The Barajas Airport is about 7 miles east of Madrid, served by major carriers, including American, Continental, Delta, Air France, Spanair, and Iberia. Flights leave New York, Miami, and Washington, DC and take about 7 hours. In May 2001, fares from NYC were around $400.
Where to eat:
Set your watch three hours ahead, and you might be on Madrid time. Things start late, with lunch around 2pm and dinner around 9pm.
The Sobrino de Botin is open every day and serves traditional Castillian cuisine priced from 4500-6000 ptas ($24 to $32 USD)
Cuchilleros 17, near Plaza Mayor, Call 011-34-91-366-4217.
The Cerveceria Alemana and the many other tapas bars serve a variety of food, such as sardines, olives, tortillas, fried fish, and mussels. Small servings usually come free with drinks, which cost about $1.50 USD, with the option of paying for a full meal. Tapas bars are one of the best ways to experience the many types of foods and drinks of Madrid without spending a lot. Most tapas bars have limited or no seating, however, and the prices are usually higher if you're seated.

Where to stay:

Note: Hotel rates vary by season, with the summer usually higher.
The Westin Palace Madrid has one of the best locations - directly across from The Prado Museum. Doubles are priced from around $290 USD. The hotel bar was a favorite Hemingway hangout and is still one of the most popular meeting places in Madrid.


The Palace
Plaza de las Cortes 7
Phone: 011-34-91-360-8000
Toll free: 800-325-3535
Hotel Villa Real is a small hotel of 115 rooms, located close to The Prado Museum and 10 miles from Barajas International Airport. The hotel is furnished with period furniture and embodies 19th century Spanish architecture. Singles run from PTA34,900 ($183 USD), Doubles from PTA 41,600 ($218 USD), and Suites from PTA50,000 ($263 USD).
Hotel Villa Real
Plaza de las Cortes, 10
Call:011-34-91-420-3767
Email: villareal@derbyhotels.es
The Reina Victoria, a four star Tryp hotel, is located between the Plaza Mayor and The Prado Museum. This historic landmark hotel was a favorite of Hemingway's and up and coming bullfighters. Doubles are around 30,000 PTA($158 USD) per night. Reina Victoria
Plaza De Santa Ana 14
Tel:011-34-91-531-4500
201 Rooms

When to go:
Spain is one of the most popular destinations for Europeans, so the summer months tend to be crowded, but more so along the coasts. In fact, Madrid can be relatively empty during August when many Spaniards take their vacation. But generally, the winter months are the least crowded and the cheapest, but temperatures can get down to the 30's. To avoid both the crowds and the winter cold, fall and spring are the best months to visit.
Getting around Madrid:
Madrid is compact enough to get around on foot easily, but taxis are relatively inexpensive and everywhere. The Metro costs only about 75 cents and runs from 6am to 1:30am.

Dollar value:
The currency unit in Spain is the peseta (PTA). Exchange rates are $1 US to about 190 pesetas. The dollar's continued strength against the peseta and the Euro has made Spain an excellent bargain. Just a few years ago the rate was 140 pesetas to the dollar.
Attractions:


The Prado Museum is open Tuesday to Saturdays from 9am to 7pm. They are closed Mondays, January 1st, Good Friday, May 1st, and December 25th. On other holidays, Sundays, and from December 24 to 31, the museum is open from 9am to 2pm. The museum costs 500 PTAs ($2.50 - 3.00 USD), but is free to those over 65 and under 18. Admission is also free on Saturdays from 2:30pm to 7pm and on Sundays form 9am to 2pm.
Prado Museum
Villanueva Building, Paseo del Prado
Call011-91-330-2900 for information.
The Plaza de Toros de Las Ventas, or Las Ventas for short, is Spain's premiere bullfighting ring. Prices range from 225 to 16,575 pesetas (about $1.40 to $105 USD) for tickets, depending on the seat in the arena. The season runs from March to October, on Sunday afternoons.
Plaza de Toros de Las Ventas
Alcala 231
Phone:011-91-726-4800

More Information:

Tourist Office of Spain, USA
Website: https://www.spain.info/en/outside/spanish-tourist-office-new-york-united-states/
Call the location nearest you: (212) 265-8822, (305) 358-1992, (312)
642-1992, or (323) 658-7188.

Notice: This information is current as of May 2001. It is recommended that you contact the numbers, and/or visit the websites above to determine any changes to the information.