Learn about the Bluegrass Region of Kentucky, by reading Bluegrass Region – An Odds On Favorite by Charlie Spence, WTA Member and Travel Writer. It features a mini, but thorough tour of the destination, plus all you'll need to know to plan your trip including getting there, objective information on places to stay and eat, and things to do. At the end of the article, we've provided a summary of the contact information for your easy reference. Enjoy!
Bluegrass Region—An Odds On Favorite
by Charlie Spence, Travel Writer and WTA Member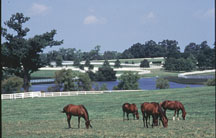 Thoroughbreds graze on lush pastures surrounded by
white fences that mark the Bluegrass Region.
Photo by Jeff Rogers, courtesy Lexington Convention and Visitors Bureau
Throughout five thousand years of domestication, no animal has had a more significant impact on the human race than the horse, and nowhere does an area have a greater impact on the horse than the Bluegrass Region of Kentucky. Approaching to land at the Bluegrass Airport or driving in on one of the tree-lined highways, the white fences and manicured pastures of the horse farms foretell a fascinating visit is in store. You're arriving at Lexington, horse capital of the world, noted for producing champion racehorses, burley tobacco, and fine bourbon.
Whatever your thoughts about bourbon, tobacco, and horse racing, a visit to Lexington is grabbing an exciting slice of life today and recalling the lives of Daniel Boone, Mary Todd Lincoln, and Henry Clay.
Louisville might have the Derby, Baltimore the Preakness, and New York the Belmont Stakes, but Lexington is where all of the dreams of horse racing begins. Even before those celebrated races began, Lexington was where the top racehorses were bred, born, trained, bought and sold, officially registered, retired and buried. In and around Lexington, you will see how they are made ready for their run to glory.
Before heading out to the farms, visit the Kentucky Horse Park, a thousand and thirty acres of information, education, and wonder of the world of horses. As you enter, your first sighting is a bronze statue marking the grave of the legendary Man o'War. A film, Thou Shalt Fly Without Wings, introduces you to the world of the horse. Then take a trip through the International Museum of the Horse. It is the largest and most comprehensive equestrian museum in the world. From mid-March through October, twice daily the show ring presents the Parade of Breeds. This half-hour presentation highlights some of the park's 40 different breeds.
Now you're ready to see the actual farms. There are three ways to do this. Some farms welcome visitors; some do not. Some accept only guided tours. Guided tour prices are in the $20 to $25 range for three hours. Horse farms might be just part of the itinerary, so it's wise to check with the company for what the tour includes before signing on. For a really luxurious tour, you have a choice of at least a half-dozen companies that provide private tours. Prices here range from about $65 to $150.
If you are really the adventurous type, book your own tour—but call ahead. Access to farms might vary from season to season. Most farms do not charge admission, but it is customary to tip if a farm representative spends much time with you.
Horse racing and mint juleps are natural partners in Kentucky, so you'll want to see how distillers produce bourbon, the only spirit native to America. Early colonists made whiskey from rye and used it for a medicine as well as an aid to well-being. When settlers moved west, corn was plentiful and by 1775 Kentuckians were making corn whiskey. Distilleries in Kentucky now produce 95 percent of all the bourbon. Three distilleries in the Lexington area offer free tours. Whether you are a teetotaler or enjoy a nip now and then, you'll find a splash of history tied in with modern production. Abraham Lincoln's father reportedly worked at a distillery owned by a relative of Daniel Boone. There is a lot of walking and stairs to climb so wear comfortable shoes.
The saga of making bourbon is but one of the abundant historic visits to make in and around Lexington. This Bluegrass Region was the first to be settled as colonists began the move west. Waveland State Historic Site is a pillar in the area's stories of the past.  Family tradition holds that the Bryan family came through the Cumberland Gap with Daniel Boone, who surveyed the area for his namesake nephew, Daniel Boone Bryan. A plantation Bryan built included a blacksmith's shop, a powder mill for producing gunpowder, gunsmith shop, grist mill, paper mill, Baptist church—and, of course, a distillery. Today, Waveland is a living museum where many personal effects of the 19th century lay undisturbed, inviting you to observe this segment of the past.
Mary Todd, who became Mrs. Abraham Lincoln, was born in Lexington in 1818, granddaughter of one of the founders of Lexington. The house on West Main Street, where she lived until she was 21, is open for tours from 10 a.m. to 4 p.m. daily except December to mid-March. Mary and Abraham Lincoln visited here many times. Today, family pieces and period items as well as Todd and Lincoln possessions are displayed in the Georgian style brick house.
Another home you will want to visit is Ashland, residence of Henry Clay, the statesman known as "The Great Compromiser." U.S. Senator, Speaker of the house, Secretary of State, and three-time presidential candidate, Henry Clay lived at Ashland until his death in 1852. You'll see much family memorabilia as well as the English parterre-style garden, a favorite of local artists.
About 35 miles west of Lexington, take a trip back to the Indian-fighting days as you tour Old Fort Harrod, a scale replica of Kentucky's first permanent settlement.
If you like to browse through museums, antique shops, or arts and crafts stores, the Lexington region is your cup of bourbon---er, your cup of tea. Right at the Bluegrass Airport is the Kentucky Museum of Aviation with aircraft from the 1920s to the present day. The museum has a fully equipped shop for restoration projects, a library with historic information, and a gift shop. Photos depict Kentucky's aviation Hall of Fame. A few other museums include:
Indian artifacts, giving an insight into the Indians that inhabited the Bluegrass Region as early as thousands of years ago.
Lexington Children's Museum has seven permanent galleries featuring exhibits about nature, geography, history, and science.
Alexander T. Hunt Civil War Museum provides a look at Kentucky's place in the "War Between the States." Kentucky was a divided state and many families were divided.
Medical Museum poses the question "was it medicine or quackery" as you look at medical instruments and other medical paraphernalia that were state of the art in the 18th and 19th century.


Just 45 miles away is Renfro Valley, country music capital of Kentucky. This center began in 1939 as network radio broadcasts. Now, the area offers ten different live shows where you see and hear some of the best performers of country music. Mid-March to late November is the best time to visit, as some attractions are unavailable during the mid-winter months. But whenever you visit, the Bluegrass Region can take away your blues.
Details
How to Get There

Bluegrass Airport at Lexington is served by four airlines: Allegiant Air, American Airlines, Delta Air Lines and United Airlines. You can check schedules on the airport's website, https://bluegrassairport.com. Or, if flying in, you might want to go to Louisville or Greater Cincinnati Airport, rent a car and enjoy some of the delightful scenery of Kentucky as you head for the Bluegrass Region. The drive from Louisville is about 79 miles, from the Greater Cincinnati Airport in northern Kentucky, about 85 miles.
Where To Stay

You have a wide variety of choices for accommodations in the Lexington area ranging from hotels, motels, bed and breakfasts, and inns. Rates often change during the different seasons and when special events occur.
WTA's Travel Access Discount Program serves up deeper discounts on hotels, car rentals, flights, and activities all over the world. Most of our travel deals are not available to the public, which means rates are much lower than what the average consumer can find online. Click here to start accessing for free today.

A True Inn B&B--in the heart of the historic district within walking distance to the Mary Todd Lincoln house. Rates about $129.
Marriott Courtyard North offers rooms and suites with rates starting in the neighborhood of $94, depending on season. Only about eight miles from the airport, four miles from the Kentucky Horse Park.
Marriott Courtyard South has no suites but, rooms have large sitting areas. Rates begin at about $105.
Embassy Suites offers bedroom and separate sitting room starting about $108.
Holiday Inn about five miles from Horse Park has 302 rooms, indoor pool with sauna, rates vary from $72 to $100 up.
Sunset Motel, between Lexington and Georgetown, is not super modern but offers clean accommodations starting at about $53.
You will also find other B&Bs, Motel 6, Sleep Inn, Quality Inns, Red Roof Inns, Sheraton Suites, Ramada Inns, and others, indicative of the numbers of persons who come to the Bluegrass Region for a myriad of reasons. 
You can check availability at the Lexington website.


Where To Dine


You will find many fine restaurants as well as the usual assortment of fast food places. Be sure to try some of the local favorites that include spoon bread, Derby Pie, Hot Browns and burgoo. During racing season restaurants become crowded, so call ahead for reservations. Here are a few of the places to dine:


Malone's.  Casual but upscale, great steaks with entrees $6 to $30.
Parkette Drive-In. A real 1950s drive in featuring "Kentucky Poor-Boy" burger. Entrees $2.50 to $4.50.
a la lucie. Continental cuisine. Bourbon marinated pork chops a specialty. Entrees $15 to $25.
Billy's Hickory Pit Bar-B-Q.  Western Kentucky style barbeque. Entrees $4.39 to $12.99.
Furlong's. Horse country atmosphere. Cajun cuisine. Entrees $6.95 to $24.95.
Cafe Jennifer. Regional cuisine like Bourbon-glazed Atlantic salmon. Entrees $10.95 to $20.00.
Homestead. A 1916 converted mansion. Specialties include caramelized roasted pork. Entrees $15.50 to $24.50.