Learn about Urumqi, China by reading Quick Getaways-Discovering Kazakh Tribe and Yurts by Sandy Zimmerman, Travel Writer. It features a mini, but thorough tour of the destination, plus all you'll need to know to plan your trip including getting there, objective information on places to stay and eat, and things to do. At the end of the article, we've provided a summary of the contact information for your easy reference. Enjoy!
Quick Getaways-Discovering the Kazakh Tribe and Yurts
by Sandy Zimmerman, Travel Writer and WTA Member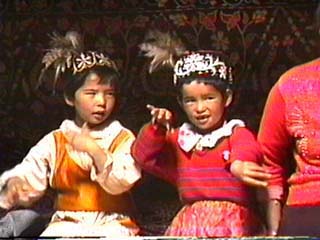 Inside yurt- 2 Kazakh children entertaining visitors

At first, I was excited to be invited on Marco Polo's Silk Road tour. Then I thought, "Why am I going to such a desolate desert area that is only visited by a small number of Europeans and even fewer Americans?" Well, the hotels and restaurants were first class, the sights unbelievable, and I will never forget the trip.

After landing in Beijing, we spent a few days there, and then flew to Urumqi (pronounced room key), the capitol and most modern city of the Xinjiang region. Located in China's far northwest frontier, Urumqi is influenced by its minorities. Visitors are startled at the striking similarity between Urumqi's streets and those inside many Arabic countries. Urumqi's Muslim women wear long dresses and veils to screen them from public view in the fashion of their religion. The men wear traditional skull caps (called "dopas ") embroidered according to each region. The modern and ancient worlds merge as farmers vie with traffic to lead their sheep across city streets. Urumqi is a new city by Chinese standards (1763).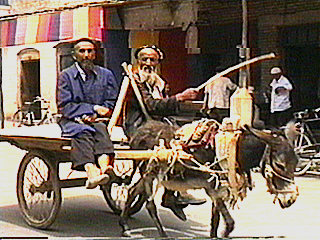 2 men riding in donkey cart on Urumqi street
Side Trips
Just 62 miles southeast of Urumqi, the lovely alpine Tianchi Lake (Heavenly Lake) in the cool Tianshan Mountains (Heavenly Mountains) (altitude of 6,000 feet) is a contrast to the desert scenery. One exciting stop is the Poplar Valley summer home of the colorful Kazakh herdsmen. From May to October, the Kazakh tribe brings their livestock (camels, horses, cattle, yaks, goats, and sheep) to the mountains to graze. These families settle in yurts along the shores of the Tianchi Lake and throughout the mountain region. The yurt is a round tent formed on a collapsible lattice of wooden frames and covered with stretched animal skins or felt. These skins form the yurt's outer walls using only one layer in the summer and three in the winter. Inside, the yurt is decorated with colorful hand woven rugs and blankets arranged along the walls and across the floor. The wood burning stove in the center of the yurt doubles for the purpose of cooking and keeping the tent warm. The flap across a hole in the ceiling opens and closes by the touch of ropes to allow ventilation and light. In keeping with the Kazakh's seasonal migrations, the yurt is easily dissembled, gathered together in a package, and carried on camel/oxen driven carts- along with their wives, children, and all the families possessions.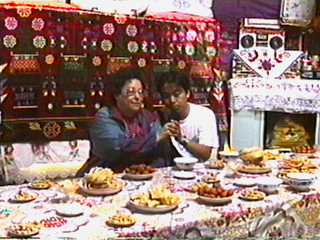 Inside yurt- Tasting the Kazakh's food
It was a thrill to watch the Kazakh people engage in their daily activities- racing horses, goat tussle, boy and girl chase on horseback, tending their flocks and herds, playing traditional folk games, dancing and posing for pictures. Not only can tourists observe the friendly Kazakhs, they are invited inside the yurts to experience their lifestyle! We sat on cushions on the floor while the Kazakh children entertained with traditional songs and dances. The women brought samples of home baked disc-like cakes, cheese, milk tea, lamb kebabs, and other delicacies to their guests. The Kazakh men are a striking picture dressed in fox pelt hats, sash, cloak and boots. Instead of just looking at the outside of the yurts and homes, we met the people and saw how they live! I rode a camel in Marrakesh, Morocco, and decided to try again here. Camels walk on each leg separately with a swimming motion. When I sat on the camel, he raised his right back leg first, then the left, finally repeating with his front legs.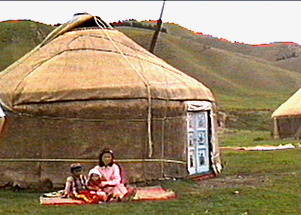 Yurt
Place To Stay
The Xinjiang Grand Hotel Urumqi (formally the Holiday Inn) stands out in the desert or anywhere else it would be located. It is more luxurious than any of the other Holiday Inns in the U. S. Elegant, modern, beautiful- the Urumqi Inn meets the needs of today's traveler. Adorned with a marble staircase and floor, the spacious lobby sets the stage for a pleasant stay. Choose from three restaurants: Muslim cuisine in a distinctly Uygur setting, the elegant Cantonese and Sichuan room, or western and international dining. We tried each restaurant and they were all great! Snooker, a health club, spa, hot and cold Jacuzzi, sauna, aquatic exercise machine, steam bath, mahjong room, video room, Karaoke lounge, disco, meeting rooms, business center, shops, beauty salon, bar.
Details
Getting There:
Xinjiang borders on Mongolia, Kazakhstan, Uzbekistan, Kirgizstan, Tajikistan, Russia, Afghanistan, Pakistan and India.
China Southern Airlines - Several daily flights from Beijing to Urumqi.
Air China

Place To Stay:
Xinjiang Grand Hotel - Rated 4 stars. It is a luxury resort with 383 rooms and 14 suites, conference room, business center, gym, and cocktail lounge. Located in the center of the city. No. 168, North Xinhua Road, Urumqi, (86-991)-281-8788, (8621)-3304-1061, (8621)-6322-3855.
Places To Eat:
Most of the larger hotels have several restaurants which feature western, Chinese, and Muslim cuisine. Street vendors sell tasty mini-lamb shish-ka-bobs, which are quite reasonable.
Tourist Information:
Members of the China International Travel Service (CITS) arrange invitations to a Kazakh yurt or wealthy Uigur family homes, provide information regarding horseback rides, nature hikes, and for the more adventurous tourists, a night in a yurt or camel rides! They will also advise you about tours. CITS also makes arrangements for your visas. www.citsusa.com
CITS - Los Angeles, 626-568-8993, 975 East Green Street, Suite 101, Pasadena, CA 91106
C.I.T.S - New York, 718- 261-7329, 71-01 Austin Street, Forest Hills, NY 11375
Notice: This information is current as of February 2005. It is recommended that you contact the numbers, and/or visit the websites above to determine any changes to the information.