Learn about Juneau, Alaska by reading Have You Ever Walked on a Glacier? by Sandy Zimmerman, Travel Writer. It features a mini, but thorough tour of the destination, plus all you'll need to know to plan your trip including getting there, objective information on places to stay and eat, and things to do. At the end of the article, we've provided a summary of the contact information for your easy reference. Enjoy!
Have You Ever Walked on a Glacier? - Juneau and Glacier Bay National Park, Alaska
by Sandy Zimmerman, Travel Writer and WTA Member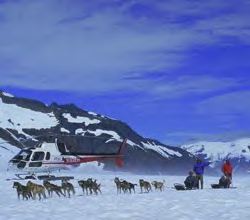 We soared across Juneau's wild back country as the helicopter dipped and turned above the stark ice glaciers. It seems as though we were flying so low that the helicopter could almost touch the mountaintops. Only 5 minutes from Juneau's airport, North America's fifth largest ice field blankets 1,500 square miles of land inaccessible by other means of transportation.
The Mendenhall Glacier is one many "rivers of ice" in southeast Alaska formed during the Little Ice Age around 3,000 years ago. Helicopters are perfect for flight seeing tours with 180-degree views from their rounded glass windows. They have the capability to fly backwards, sideways, rotate 360 degrees, hover motionless in the air, and pinpoint their movements.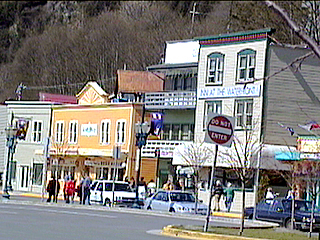 Historic downtown Juneau
This thrilling 40-minute ride takes passengers over 4 glaciers- Taku, Dead Branch, Hole in the Wall, and Norris Glaciers. Each glacier is different. Taku Glacier, the largest glacier on Juneau's ice field, has been moving forward, bulldozing trees and creating a wall of debris since 1890. The Dead Branch Glacier floats in its own melt water, ice falls cascade around the Hole in the Wall Glacier, while the Norris Glacier is retreating. Glacial ice is blue instead of white. Composed of a crystalline structure, which absorbs or reflects light when light strikes the ice surface, all colors of the spectrum are absorbed except blue, which is reflected back. Finally the helicopter lands on either the Taku or Norris Glacier and we are in another world! With each step our boots sink into 1-2 feet of snow. During the tour's 15-20 minute ice field trek, we explore this remote area's glacial streams, rolling ogive (waves on ice), and unique formations. The professional guide explains how glaciers are formed and affected by global warming.
Since we wanted more thrills, we met the mushers at the camp for an exciting dog sled ride. The dogs wait by small igloo-style huts as each musher decides which teams will be hooked up. Handlers say the sled dogs prefer cold, snowy days because the snow pads their feet while they run. Chilly winds keep dogs from getting too hot in their heavy coats. Just as the early people of the Arctic regions of Alaska, Canada, and Greenland used wooden sleds for transportation, we sit in an authentic dog sled being whisked across the mountain trails. The musher skillfully maneuvers the sled across the ice and snow with the help of a trained dog team. We learn common voice commands- "gee" for right, "haw" for left, and "whoa" to stop- and even experience the musher's job firsthand by standing on the runners of a dog sled to drive the sled. The musher gives instructions about controlling the sled and dogs. Their 6-8 yapping Alaskan huskies obediently stop when we step on the brake. Dog teams (4-20 dogs) can pull a sled for hundreds of miles as evidenced in Alaska's Iditarod Trail Sled Dog Race (1,049 miles from Anchorage to Nome). Depending upon their breed, each team's running speed varies from 8-25 MPH.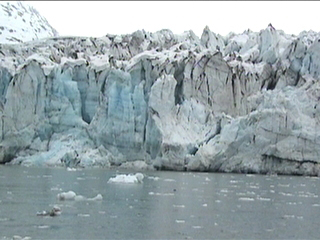 Glacier Bay National Park- glacier and chips
Glacier Bay is the largest National Park in southeast Alaska, the world's largest protected marine sanctuary and a world heritage site. At Glacier Bay and Gustavus, gateway to Glacier Bay's National Park, we can enjoy a sea lion's view of glaciers in a kayak, or from the comfort of a boat. Glacier Bay is an Ice Age time capsule, a microcosm of the Ice Age, which began 4,000 years ago, advancing and receding throughout the years. These glaciers have transformed Glacier Bay. Each glacier's face- incredible mammoth size walls of ice- is constantly changing as chunks of ice fall into the bay creating rivers of ice! The glaciers look still, yet are slowly moving, flowing downhill. From the top of the 15,320' Mt. Fairweather, enormous amounts of ice plunge 1,000' per mile down Margerie Glacier slicing 200-foot icebergs the size of 25 story buildings into the bay. The park includes 12 tidewater glaciers, some more volatile than others. John Hopkins Glacier sends such enormous volumes of ice that it is seldom possible to approach its ice cliffs closer than 2 miles. Huge icebergs may last a week or more, and provide perches for bald eagles, cormorants, and gulls. It is exciting to experience these active glaciers with walls that dwarf the size of cruise ships! The entire 65-mile-long bay is exposed as the meltdown continues. At 3 million acres, it's larger than the state of Connecticut. Glacier Bay is an experience we will never forget. These soft adventures are truly the wild side of Alaska!
After the thrills of visiting the glaciers, we took a leisurely self-guided tour around Juneau's historical buildings of the 1800's within their downtown's 7-block radius. There are 60 buildings from 1904, and 143 built before 1914. Free maps are available at most hotels, in tourist magazines, and at the Juneau Convention and Visitor's Bureau. Juneau, Alaska, even the name sounds exciting! Imagine bears actually wander into the city at times. We see eagles and other wildlife. A vacation in Alaska is different from the other states.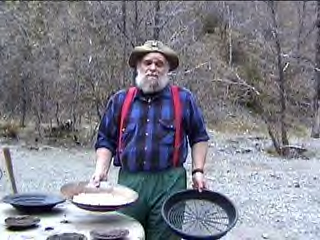 Pan for gold tour
Adventure is so close to you in Alaska. The Alaska Adventure Tours provide "real" Alaskan experiences! I feel this company knows Juneau and introduces us to a part of their world. They have some of the best tours I have taken. This is the original outdoor salmon bake, pleasing visitors for over 30 years. Their historic gold mining and panning adventure guarantees that you will find gold! We learn the history of Juneau's gold discovery, pan for gold near the site of the original gold strike 1880. Alaska Adventure Tours gives us a sea lion's view of the glacier while kayaking, or we can try the Mendenhall Glacier float trip. The Cold Creek salmon bake whisks you away to an old western setting. This is the original outdoor salmon bake, pleasing visitors for over 30 years. It is an "all you can eat" buffet of grilled Alaskan salmon, BBQ. chicken and ribs with entertainment. During this 1-? hour tour, we visit the remnants of the Wagner mine, try our luck panning for gold, and walk along Salmon Creek to see Salmon Falls.
Juneau offers everything from glaciers to a rainforest. Glacier Gardens rainforest adventure has 50 acres of eerie, beautiful, and unique vistas. Upturned trees act as baskets for hanging gardens. Guided golf cart tours provide views of Thunder Mountain, the Mendenhall Valley, Chilkat Mountains, Gastineau Channel, and downtown Juneau.
The Mount Roberts Tramway takes you 1,800 feet above Juneau's mountains for breathtaking views of the waterfront and city.
Details
Places to Eat
Chan's Thai Kitchen: Their small dining room is a local's hangout. Chan's does not have a liquor license.
The Di Sopra Restaurant: They serve an eclectic creative cuisine with a little taste of Italy, and the Fiddlehead Restaurant offers Alaskan cuisine. Their in-house carved Angus beef is aged for 60 days. Di Sopra is adorned with beautiful murals and a wonderful view of the city.
The Inn at the Waterfront: Is a small European-style hotel, specializes in steak and seafood.
Jovany's Restaurant: Offers eclectic Italian, Greek and Mexican cuisines.
Thane Ore Restaurant: The entrance appears as though we are going into a mine, but it is really the restaurant. Colorful, old western atmosphere, a museum, and good food make this a fun spot. Lunch- sandwiches & burgers. Dinner- all you can eat sockeye salmon, halibut, BBQ ribs, baked beans, cornbread, salad bar and soft drinks. 20th season.
Places to Stay
Established in 1913, the Alaskan Hotel is Juneau's oldest continuously operating hotel. Walk through the swinging doors into the famous Red Dog Saloon. There are displays of Wyatt Earp's gun, a walrus oosik, trophy wildlife mounts, historical posters, photographs, currency signed by miners, and other memorabilia.
As part of the downtown historic district, Alaska's Capital Bed and Breakfast Inn offers turn of the century elegance, contemporary comfort, and a convenient location. Built in 1906 by gold rush pioneer John Olds, this restored home still has that "grand" look as it did then. Capital is the winner of Arrington's Bed & Breakfast Journal's 2003 Book of Lists Award "Best In Alaska" and the Historic Preservation Committee's 2002 Award of Excellence for the restoration of the Inn. One of the events when you stay at a bed and breakfast inn is their breakfast! Everyone looks forward to the Dungeness crab eggs benedict, lemon souffle hotcake's and thick cut ham, sauteed apples in hot cinnamon sauce, or any of their 30 breakfasts. The home and all of its rooms are decorated with antique furnishings.
Best Western Grandma's Feather Bed 14 rooms with feather beds and in-room Jacuzzis.
The Driftwood Lodge is 1 block from the convention center and 2 blocks from the waterfront.
Goldbelt Hotel is Juneau's finest hotel and is located on the waterfront in downtown Juneau.
The Prospector Hotel was built in 1973, but it is located in historic downtown Juneau, and adjacent to the state Museum, business and government centers.
Glacier Bay National Park offers several types of accommodations in all price ranges- National Park concessionaire, bed & breakfast inns, cabins, lodges, full service hotel-style inns, and apartments.
Details
Getting There
Airlines
Alaska Airlines - 4 daily non-stop flights from Seattle to Juneau American – Juneau to Gustavus route runs from June 5-September 10, 1 flight per day. 800 426-0333.
Wings of Alaska Their 25 minute flights run all year with bush-style planes holding 8 passengers. The number of flights and schedules change seasonally. We had to walk on the plane's wing and crawl through the small window in order to board the plane. 907-789-0790 (Juneau), and 907-697-2201 (Gustavus).
Driving
Although Glacier Bay National Park is located only 50 miles northwest of Juneau, you can only travel by air or boat.
Boats
Juneau-Gustavus ferry sails daily for a scenic 2-? hour trip to Glacier Bay ($69- 1 way). Once in Gustavus, you may choose to remain aboard for the Icy Strait Wildlife and Whale Watching Cruise. Many people stay at Glacier Bay Lodge or nearby hotels and take the bush plane back. Every day except Wednesday, starts May 20- Sept. 11. 1 way includes 4 hour wildlife cruise $103.95, round trip- $149. 800-820-2628.
Glacier Bay Cruise Line offers 4 boats, 8 day/7 night cruises ($2,800-4,000), Seattle to Juneau begins April 27, Juneau to Seattle until September 10, Juneau to Glacier Bay and return. 800-451-5952.
Side Trips
Alaska Travel Adventures: Glacier View sea kayaking ($79), Mendenhall Glacier Float Trip ($99), Historic Gold Mining and Panning Adventure ($45), and Gold Creek Salmon Bake Tours ($32). Tours: May 1-September 30. 9085 Glacier Highway, Ste. #301, Juneau. 800-791-2673.
ERA Helicopter Flight Seeing Tours: We were impressed with their expertise and professionalism on this exciting, action packed tour. Four Glacier tour -40 minutes sightseeing, 20 minutes walking on the glacier ($229), Four Glacier Tour with Dog Sled ride- 40 minutes flight seeing, 1 hour on a dog sled ($410). Tours: May 9-September. 800-843-1947.
Glacier Gardens Rainforest: 907-790-3377
Goldbelt Tramway: 888-461-TRAM.
Temsco Helicopter Glacier Tours: The Mendenhall Glacier Tour combines 50 minutes of flight seeing and 30 minutes on the glacier ($199). The Pilot's Choice tour takes you flight seeing for 50 minutes and then you spend 30 minutes on the glacier, with 2 landings ($299). Tours May-September. 1650 Maplesden Way, Juneau, 907-789-9501.
Places To Eat
Chan's Thai Kitchen: ($9-13) You will need a car, as Chan's is 20 minutes from town, across from the Auke Bay boat harbor. 11820 Glacier Highway, Juneau, 907-789-9777.
The Di Sopra Italian Restaurant: pasta (from $16), rack of lamb dijon painted with Dijon mustard and Italian bread crumbs ($26.95), Sicilian fisherman's stew with fresh clams, prawns, salmon & halibut in a fennel scented broth with fresh tomatoes, garlic, leeks and olive oil ($26.95), and much more. The Di Sopra Restaurant ($14.95-24.95) upstairs, and the Fiddlehead Restaurant ($13.95-24.95). 429 W. Willoughby Avenue, Juneau. 907-586-3150 Across from the Alaska State Museum.
The Inn at the Waterfront: upstairs, 455 S. Franklin Street, Juneau, 907-586-2050.
Jovany's Restaurant: ($12-$20) 9121 Glacier Highway, Juneau, 907-789-2339.
Thane Ore House Mining: museum, all-you-can-eat salmon bake, halibut, BBQ ribs, salad bar, corn bread ($22.50). 907-586-3442, 4 miles south of Juneau, free shuttle. Open April-September.
Places To Stay
Alaskan Hotel & Bar: This three-story Victorian hotel ($50.00-$80.00) is located in the historic district. No elevator. 167 South Franklin Street, Juneau, 907-586-1000.
Alaska's Capitol City B&B: ($99- 275), 113 West Fifth Street, Juneau, 888-588-6507.
Best Western Grandma's Feather Bed: ($99.95-$159.95). 2358 Mendenhall Loop Road, Juneau, 907-789-5566.The Driftwood Lodge: ($48.00-$85.00) 1 block from the convention center, and 2 blocks from the waterfront. 435 Willoughby Ave., Juneau, 907-586-2280.
Goldbelt Hotel: ($95.00-$149.00), 51 Egan Drive, Juneau, 907-586-6900.
Prospector Hotel: ($97.00-$143.00) 375 Whittier Street, 907-586-3737.
Glacier Bay National Park Glacier Bay Lodge: Offers standard rooms- $185, water view $205- and a restaurant. Open May to September. 888-229-8687.
Tourist Information
Notice: This information is current as of February 2005. It is recommended that you contact the numbers, and/or visit the web sites above to determine any changes to the information.