Japan-Land of the Ancient Buddhist Temples and Shinto Shrines! -- Part 1
By Sandy Zimmerman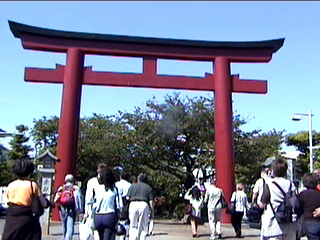 Shinto Shrine
With over 1,000 years of history, Japan is steeped in the traditions of its culture. Even when walking around some sections of ultra-modern Tokyo, you have the feeling that time stood still. Edo, the original name of Tokyo, was a small castle town during the time of isolation when Japan was ruled by the Shogun (1615-1868). The term Torii Gates describes the exotic religious symbols at the approach and entrance to shrines. They contain 2 vertical wooden posts with a curved post across the top.
When our guide announced we were stopping at the Oedo Onsen Monogatari Japanese Bath House (Greater Tokyo Hot Springs Story), everyone was surprised! Yes, Oedo is a traditional communal bath of the Edo period, but so much more. This costumed theme park offers an experience in which you become a part of the past. In fact, everyone must wear yulkata kimonos in order to enter. Choose any of 19 beautiful kimonos decorated with Ukiyoe prints (stylized pictures of geishas, courtesans, Sumo wrestlers, Mt Fuji). Male and female baths are separated. In Japan, public baths are for relaxing and enjoying the hot mineral springs, not for scrubbing your body. Choose indoor or outdoor baths. Oedo combines the traditional bath experience with a touch of entertainment, shopping, and dining. Try a Western restaurant or Japanese izakaya pub. You'll see beautiful young ladies dressed as geishas, men with swords and samari-style haircuts. It's like a movie set of an ancient Japanese village. Oedo's co-ed footbaths are a series of wading pools in a romantic setting surrounded by flowers and trees. Hold the kimono up as you walk in knee-deep water. Each path is designed with different size stones, which stimulate your foot's pressure points. Following your bath, relax or nap in the Relaxation Zone in extra-comfortable lounging chairs. Have an after bath party for 6-72 people in a Tatami room with mats and low tables. The Ohiroma Room has 210 Tatami mats. There is a salon for beauty treatments, foot and body massages. Oedo also offers the Galbanum healing sauna, Sunaburo sand, and steam baths. This is one of Japan's largest Onsen hot spring resorts.
Temples, Shrines, and Ancient Sites
Tokyo's oldest temple, the awesome Asakusa Kannon Temple or Sensoji Temple has a main entrance through Gate of the God of Wind and God of Thunder (Kaminarimon Gate) or the smaller gate (Nitenmon Gate). We are amazed by the skilled craftsmanship of its curved roof and decorated building. The red walls glow in the sunlight. Followers wave incense sticks around themselves becoming surrounded by smoke. They perform these prayer rituals in front of large bronze incense burning urns. The main building, Kannon-do was originally chosen as the site to enshrine a small gold statue of the Goddess of Mercy caught in a fisherman's net. Check your fortune by shaking a box until a stick falls out. Each stick has a number and the clerk finds the corresponding fortune. If you don't like the fortune, just pay a small donation and keep trying! A beautiful 5-story Pagoda stands within this temple's courtyard. Sensoji is located in the colorful downtown old Edo section of Tokyo.
The Meiji Shrine is dedicated to the spirits of Emperor Meiji and Empress Shoken (1853-1912). He was considered the father of modern Japan, during the time when the power of government switched from feudal system to the emperor. A simple cedar Torii marks the entrance to the temple's grounds. Meiji is set within a 175 acre park filled with 100,00 trees. You walk across an extremely wide gravel path to a larger Torii leading into the inner gardens. These large gates to the shrine are made from Japanese cypress and is said to be over 1,700 years old. See the picture gallery, sports facilities, and treasure museum displaying a private collection of the Emperor and Empress. The empress spent time in her beautiful 75-acre Jingo Gvoen (Iris Garden) now blossoming with 100 varieties of irises. A special ring-entering ceremony is performed at the temple when sumo wrestlers have been promoted to the exalted rank of Grand Champion. You may catch weddings on weekends the couples wear traditional costumes.
Sengakuji Temple is dedicated to Lord Asano Naganori In Edo castle; Kira Yoshinaka chided Asano to draw his sword. This act was considered an insult deemed punishable by self-disembowelment. Asano's 47 Samurai followers avenged his forced ritual suicide (1702), brought Kira's head to the temple and placed it on Asano's tomb. They were then sentenced to disembowel themselves. The museum houses their armor and possessions.
Yasukuni Shrine is considered new under Japanese standards (1869), yet designed in classic Shinto-style. View the cherry blossoms or snow from their Torii Gate.
Zojoji Temple is one of the largest temples of the Jodo sect of Buddhism (600 years old). At the main gate, Sangedatsumon, General Grant planted the large pine tree, when he visited Tokyo.
The Imperial Palace, formerly Edo Castle, is home to the Emperor and Empress of Japan. This 250-acre fortress is surrounded by its original innermost moat, gates, old guard towers, and was built with 15" thick walls. You are allowed to visit the East Garden (Higashi Gyoen) or Plaza Double Building depending upon the time of year. Enter from the picturesque Nijubashi Bridge (Two Tiered Bridge). The East garden was first designed 300 years ago, as a garden-within-a-garden. Only on January 2 (New Year's Greeting) and December 23 (emperor's birthday) visitors are able to enter the inner palace grounds and see the members of the imperial family who make several public appearances on a balcony.
To pay respects at Shinto Shrines, dress appropriately, walk through the Torii Gate, and rinse your hands and mouth using water from the stone basin. Do not touch the dipper with your lips directly. Then proceed to the Main Shrine building. If you wish to show respect in front of the main shrine, bow twice, then clap your hands twice, and bow again.
Attractions

Asakusa Entertainment Hall - see Rakugo (comic storytelling), Manzai (comic dialogue), Mandan (comic monologue), acrobatics, magic, and mimic shows.
Asakusa Hana-Yashiki - 150-year-old amusement park.
Museum of Traditional Art Crafts - near the Asakusa Temple.
Nakamise Shopping Center - Adjoins the Asakusa Kannon Temple, a long double row of 90 shops and stalls selling a variety of goods and souvenirs.
National Diet Building - House of Parliament.
Taiko (drum) Museum - in the Asakusa Temple district.
Tokyo Tower - Modeled after the Eiffel Tower in Paris but 13 meters taller, (333 meters high) this is the world's tallest self-supporting steel tower (1958). Now functioning as a television/radio broadcast antenna and tourist attraction.

Traditional Tokyo
Delicate half-and-three-quarter-size wooden or porcelain figures perform Bunraku with the help of puppeteers at the Classic Puppet Theater. Some 300 years ago, storytellers and puppeteers traveled around the country to entertain the people. These two skilled art forms joined together and Bunraku was born. Each puppeteer stands in full view of the audience. Three puppeteers control each principal puppet. One holds the puppet's back and manipulates the puppet's right arm. The second operator moves the puppets left arm, while the third moves its legs. Each puppet's eyes, mouth, and eyebrows move. The Joruri narrator tells a story, conveys emotion, and reproduces the sound of rain and wind. Shamisen players change the tempo of music with the action. Their repertoire of plays was written in the 18th century. Currently there are four performances each year at the National Theater in Tokyo and Osaka plus a yearly traveling show.
You can thrill to classical Kabuki Theatre in the neon-lit Ginza. Originally started by a female group (1608) but banned as being immoral. Kabuki has been performed by an all-male troupe to this day. In the beginning, this was deemed the choice of entertainment for the townspeople, not the upper classes. But even though noblemen and members of the higher ranks were not allowed to attend, they did anyway. Kabuki plays are about historical events, moral conflict, love relationships and are accompanied by ancient Japanese instruments. Shows include dancing, singing, costumes, brightly colored makeup, trapdoors, sword fighting, flying actors, a revolving stage, classical musicians, and a footbridge leading into the audience.
A different style of theater than Kabucki, Noh Theatre has been performed for over 700 years. It is symbolic and rooted in ancient Shinto rites. The actors wear masks along with beautiful white costumes and perform on a stage under a Shinto Shrine-style roof. They are also seen at torch-lit temple ceremonies. Noh were the choice of the upper classes.
The Takarazuka Theatre is the female's answer to the Kabuki Theatre, an all-female cast presenting spectacular, romantic musical revues.
If you would like to experience a traditional Japanese music concert in the United States, try to attend one of Yukiko Matsuyama's concerts. She plays the Koto, an instrument, which became popular in the 7th and 8th centuries for entertaining at court. The Koto has 13 strings and measures 6 feet long. Yukiko has composed several numbers on her new CD album Tsubomi (Blossom) and explains, "I composed these songs with love from my heart. Every moment of our lives is full of possibilities. Choose to make those moments blossom beautifully. Dream and believe." The other instruments appearing on the CD- Kaiki drums, keyboards, guitar, bass, drums, and percussion.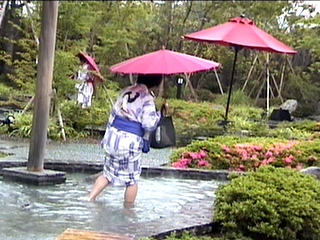 Foot Bath in Bath House
Geishas - The "Gei" (performance) "Sha" (people) are professional hostesses. These girls are trained in the arts of entertaining, playing instruments, ancient dance, singing, flower arrangement, tea ceremony, calligraphy, conversation, and serving; this honored status can be traced back to the women who danced for warriors during the 11th century. Contact the JNTO about Geisha tours.
Participate in the ancient art of the Tea Ceremony (Chanoyu) at several Tokyo hotels. Zen Buddhism influenced this formal ritual of preparing and drinking tea. Each step, each hand movement must be learned exactly. Most tea ceremonies usually take from 30-45 minutes and use Matcha green tea made of powdered tealeaves.
Dating back to ancient times, Sumo Wrestling is still popular today. Their largest champion, Konishi weighed 625 pounds. Mainoumi, the lightest- 359 pounds, did not meet the height requirements until he had several silicone implants on his head. He later married a 90-pound model. Visit the Sumo amphitheater in the nearby town of Ryogoku Kokugikan (National Sumo district) to attend a bout. The Dohyo-iri (entering ring) ceremony is exciting. This area is devoted to Sumo champions with shops and restaurants filled with wood clogs, kimonos, and supplies. At the Sumo museum displays from the Edo period to the present are found.
Food Theme Parks and Museums are unique attractions. You can stop for a snack, meal, or just to learn about their type of food.
Do you like curry? The Yokohama Curry Museum offers a curry restaurant food court and exhibits featuring the history of curry, and curry around the world.
The Shin-Yokohama Ramen Noodle Museum reproduces a scene from old Japan. Sample ramen noodles from different areas of Japan. Ramen is one of Japan's popular dishes. The management says, Ramen fans, ramen connoisseurs, and certifiable ramen maniacs all come to their museum. Ramen consists of Chinese style noodles served in a soup with various toppings. Every ramen cook has developed it's own soup. This is a historical theme park and specialty restaurant mall.
Ikebukuro Gyoza Stadium has over 20 Gyoza shops. Prices are reasonable, so you can sample different types of Gyoza dumplings. You will enjoy walking around the streets inside the stadium.
Cruises
Similar to an upgraded ferry system, just go to any of their ports. You don't need reservations. The Tokyo Cruise Ship Company (boats are called suijo-bus in Japanese) offers service to the following:
Tokyo Sea Life Park Line - beach, aquarium, bird sanctuary, ferris wheel, and Tokyo Sea Life Park. Each ticket comes with a discount coupon for a Ferris wheel ride.
Odaiba Line - Odaiba district, Seaside Park, restaurants, cafes on the waterfront, amusement parks.
Harbor Cruise Line -night cruise.
Museum of Maritime Science, Shinagawa Aquarium Line - Nature/Science Experience Tour, Museum of Maritime Science built in an out-of-duty-passenger boat, National Museum of Emerging Science and Innovation, Shinagawa Aquarium - simulated undersea walk in glass tunnel and dolphin/seal shows. Discount tickets for Museum of Maritime Science and aquarium are available.
Sumida River Line - Old Edo, downtown Tokyo- Asakusa, Hamarikyu Gardens, 12 unique bridges.
Zeal Dining Cruises - lunch, sunset, dinner, and bbq excursions.
Symphony Cruises - serves Italian and French cuisine, state of the art facilities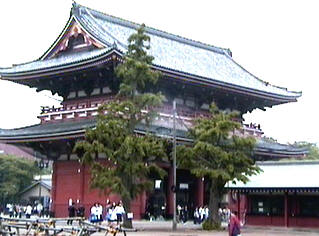 Typical gateway entrance
Side Trips
Just one hour from Tokyo and you are in another world! The ancient town of Kamakura (1192) is like an open-air museum with 119 temples and 41 shrines. Kamakura was the former capitol of Japan from 12-14 century. You will need a day to really see Kamakura. Some places that you should make sure to visit while in Kamakura are:
The bronze Great Buddha (Daibutsu) was cast in 1252 weighs 122 tons and seems to reach up to the clouds (37 feet). How could this have been built without our modern equipment?
Hasedera Temple (721) exhibits the largest wood sculpture in Japan, the Goddess of Mercy. Each of its 11 faces is different. Carved out of one piece of camphor wood. Stroll around tree lined paths to see low-ceilinged caves, gardens, revolving library, and several ornate buildings. Hasedera sits atop a mountain with viewing areas of Sagami Bay.
Tsurigaoka Hachjimangu Shrine - Shinto shrine, 100-year-old gingko tree.
Kenchoji Temple - oldest Zen temple in Japan, unpainted wood buildings.
Zeniarai Eniarai Benton - small shrine inside several hillside caves. Visitors wash their coins and bills to be able to gain more wealth.
In Yokamana, there are two places to visit - Tokyo Disneyland and Tokyo Disney Sea. Tokyo Disneyland is in the Maihama district, which is 30 minutes by train. Tokyo Disney Sea is next to Tokyo Disneyland and features 7 theme ports and a gigantic flame spewing volcano.
Places to Stay
Almost everything is different in Japan; they have their own slant on life! Accommodations are available in all price ranges, and you can take advantage of their traditional-style Japanese lodging.
Ryokan or Japanese Inn - It will seem as though you are back in the Edo era of Japan. You sleep on futon bedding in a large room with only a rice-straw tatami floor covering, low table, and sliding shoji screen doors. They supply blue and white cotton kimono (yakata) lounging wear. Many of these Ryokans are hot-springs resorts known as Onsen. Take communal baths, separate sex bathing. Remove shoes at entrance to the Ryokan, and wear slippers. You can only walk on tatami mats with stocking feet or barefoot. Japanese baths are for soaking, not scrubbing. Chat with friends, family, or strangers while bathing. Price includes 2 meals and simple breakfast. The maid brings each meal to your room. There are 65,000 Ryokan accommodations in Japan.
Minshuku Guest Homes - you rent a room in a families' home. Price includes 2 meals dine family style.
The no frills business hotels are near train stations.
Western-style hotel.
Grand Hyatt Tokyo - Luxury at its finest! 10 world-class restaurants, fitness center, Nagomi Spa, Business center, Grand club, 13 convention/ meeting rooms. Ultra-modern, new hotel. Next to Roppongi Hills city-within-a-city entertainment and shopping center.
Places to Eat
Tokyo has more than 300,000 restaurants - ramen, noodle, and dumplings, to the finest international dining - and 7,000 sushi bars. Although many restaurants do not have an English speaking staff, plastic food displays and photos help you make meal choices.
Night Clubs/Discos
Roppongi, Akasaka, and parts of Shinjuku are popular nightlife districts. Typical places of entertainment include karaoke bars, discos, live music places, and bars with live music.
Acaraje Tropicana - Brazilian restaurant and bar.
Blue Note Tokyo - featuring jazz.
El Cafe Latino - dancing in pre-Columbian decor, 2 dance floors, Latin music, tropical drinks.
Fiesta International.
Hard Rock Cafe.
Lexington Queen - international discotheque, model and celebrity hangout.
Tourist Information
Japan National Tourist Organization - offers free information regarding restaurants, attractions, hotels (western-style, business, Ryokan Inns, and Minshuku guest houses), tour itineraries, and tips for budget travelers. They have a Tokyo Walking Guide with 15 courses. JNTO hopes you discover both sides of Tokyo - ancient and modern. Booklets are available for other Japanese cities. Whatever information you need, JNTO can help find it!
Experience Japanese life with the people who live it. The Tokyo Metropolitan Government and JNTO run the Home Visit System. Spend a few hours chatting and having tea. Apply in person at JNTO's TIC at least one day before your intended visit.
Information System - at railroad stations or downtown, red question mark with the word information.
Goodwill Guide Program - 47,000 bilingual volunteers ready to assist foreign visitors- housewives, students, and retirees. Free, just pay for their travel expenses and admissions to tourist facilities, meals.
Details
Getting There


Air Canada - All flights via Vancouver, Canada, 888-247-2262.
American Airlines - new 777 luxury jets offer daily non-stop flights to Tokyo's Narita Airport from Los Angeles, along with Chicago, Dallas/Fort Worth, New York, and San Jose, California. International coach passengers are served beef tenderloin steak! Business class meals include -Teriyaki beef appetizer, choice of filet mignon seasoned with fresh sage in a Port wine demi-glaze, seafood risotto topped with goat cheese sauce, or lemon thyme chicken. Japanese dinners- sushi, beef tataki, Hassun dish, braised duck, and fillet mignon enhanced by garlic soy sauce with Shiitake mushrooms. First class passengers are served salmon appetizers, lobster tail and claw salads, and the same main courses as business class. The flight attendant prepares an ice cream sundae at your seat. Business and First Class meals are similar to those in gourmet restaurants, a continuous serving of extras, and choice of liquor.
For ticket information call 800 -433-7300, http://www.aa.com/
Japan Airlines - daily flights from Los Angeles, San Francisco, Chicago, and New York.
Singapore Airlines - daily from Los Angeles, 800 -742-3333.
Entry Requirements
U. S. citizens are required to have a passport. When you arrive a Temporary Visitor's Visa for a stay of 90 days or less is provided.
Where to Stay


Ryokan or Japanese Inn - $120-200 includes 2 meals, (03) -3843-2345
Japanese Inn Group - 80 inns for budget travelers.
Minshuku Guest Homes - family run lodging, $65-90 include 2 meals, served family style, (03) -3216-6556.
Western-style hotel - $150-300 for 1 person; $250-450 for two people. 311 member hotels in the Japan Hotel Association.
Grand Hyatt Tokyo - (03) -4333-1234 in Japan, 888-591-1234 from the U.S.
Business hotels - close to train stations. $55-100. No frills.
Call the JNTO for information about all types of accommodations, in Los Angeles 213-623-1952, in Tokyo (03) -3201-3331.
Getting Around


The train and subway lines have an interlocking network that covers most of the city.
Japan Railways (JR) - 6 railway companies covering the entire country making stops at 15 - minute intervals during peak periods. The Bullet Trains, Shinkansen, are ultra fast throughout Japan. Purchase tickets at vending machines at each station, and approach the green striped windows for different class tickets. Japan Rail Pass: 7 days- $28.30, first class $37.80. 14 days-$45, first class $61. 21 days-$57.70, first class $79. Tokyo Free Kippu (ticket) holders make unlimited travel within 1 day in Tokyo on JR, TRTA, and Metropolitan subway- $15. Each of JR, Metropolitan subway, bus, and TRTA subway offers 1-day open ticket for unlimited rides within Tokyo for $7. JNTO has information about transportation within Japan.
Subway information - (03) -3837-7111.
Narita Airport Express - airport train to Tokyo and other cities.
Airport Limousine Bus - door to door to most hotels, (03) -3665-7220.
Rikshaw Ride - Asakusa, 10 minutes-$20. 30 minutes-$50. 1 hour- $90. East building, 3f, 1-20-4 Asakusa, Taitoku, (03) -5806- 8881.

Night Clubs/Discos


Acaraje Tropicana - B1 Edge Building, 1-1-1 Nishi Azabu, Minato-ku, Tokyo, (03) 349-4690.
Blue Note Tokyo - Raika Building, 6-3-16 Minami-Aoyama, Minato-ku, (03) -5485-0088.
Fiesta International - $30 admission, includes 3 drinks and karaoke. 5F, Taimei bldg, 3-11-6 Roppongi, Minato-ku, (03) -5410-3008
El Cafe Latino - open daily, Win Roppongi Building, 3-15-24 Roppongi, Minato-ku, (03) -3402-8989.
Hard Rock Cafe - Tokyo-Roppongi, Tokyo-Uyeno; 5-4-20 roppongi, minato-ku, (03) -3408-7018
Lexington Queen - international discotheque, free drinks all night, except Thursdays, Admission: Men-$30, Women-$20, includes 1 dish. Monday & Thursday- Ladies night, free admission, 2 drinks free. Model and celebrity hangout. Daily, 8-5. B1-f, 3rd Goto Building, 3-13-14, Roppongi, Minato-ku, (03) -3401-1661.

Traditional Entertainment/Arts/Sports


Oedon Onsen Japanese bath house - foot bath-11:00 am - 10:00 pm, open-air bath- 11:00 am - Midnight and 5:00 am -8:00 am, indoor bath- 11:00 am - 8:00 am the next morning.
Entrance fee- 11:00 - 6:00, Adult-$28. Child- 4 yrs up-$15; After 6:00 pm, discount, adult- $8, child-$15. Fees include kimonos, bath towels, and use of facilities.
Indoor bathing- 4 hour limit during weekends & holidays, additional fees will be charged, except if you enter after 6:00 pm. Last entrance at 2:00 am. No tattoos are allowed. After bath party rooms are available, from 6-72 tatami mats. Relaxation rooms- nap, body and foot massages, beauty treatments. 2-57 Aomi, Koto-Ku, Tokyo, (03) -5500-1126.
Kabuki-za Theatre - plays change monthly, $25-168. Only $5-10 to see one act. Rent an English audio earphone translation tape for the whole show only. Matinee- 11:00 -4:00, Evening- 4:30-9:00 4-12-15 Ginza, Chuo-ku, Tokyo, (03) -5565-6000.
National Kabuki Theatre- Eight or nine Kabuki performances per year, each running about one month. $15-92. English translation audio earphone tape is available, (03) -3230-3000.
Takarazuka Theatre - 1-1-3 Yurakucho Chiyoda-ku, Tokyo, https://kageki.hankyu.co.jp/english/index.html
Tokyo's National Theatre - 4-18-1 Sendagaya, Shibuya-ku, Tokyo, (03) -3423-1331, https://www.artelino.com/articles/noh_theater.asp
Tea Ceremony - Japanese garden Happo-en, bonsai trees; Tea Ceremony (Sadoh) Take part as a guest, observe the ceremony, and enjoy a bowl of foamy powdered green tea.
Sumo Amphitheater - $36-113 January, May and September.

Shrines/Temples/Ancient Sites


Asakusa Kannon Temple, or Sensoji Temple - 6:00 - 5:00, daily, free. 2-3-1 Asakusa Taito-Ku, (03) -3842-0181, http://www.asakusa-e.com/rekisi/senso_e.htm
Great Buddha (Daibutsu) - Admission 200 yen (extra 20 yen for entering inside the statue) 7:00 - 6:00 (April-September) 7:00 - 5:30 (October-March).
Hasedera Temple - 8:00 - 4:30 daily, 3-11-2 Hase, Kamakura city, Kanagawa Prefecture, (04)-6722-6300, http://www.shaav.com/travel/japan/hasedera.htm.
Meiji Jingu Shrint - Open from sunrise to sunset, shrine free. Treasure Museum: Adult $5 Student $2 children free. Saturday and Sunday 9:00 - 4:30. Closed every third Friday of the month. Shrine: Free.1-1 Joyogi Kamizono-cho, Shibuya-ku, Tokyo (03) 3379- 5511.
Sengakuji Temple - Adult $2 Child $1. Hall- 9:00 - 4:00, 2-11-1 Takanawa, Minato-ku, Tokyo, (03) -3441-5560, http://www.japan-guide.com/e/e3000.html.
Yasukuni Shrine - 24 hours, Inner gardens- 6:00 - 7:00, free. Museum 9:00 - 5:00, $3 adults $2 high school, $1 child. 3-1-1, Kudan Kita, Chiyoda-ku, Tokyo, (03) -3326- 8326.
Zojoji Temple - free. 4-7-35, Shiba Koen, Minato-ku.

Attractions


ASakusa Hana Yashiki - 150-year-old amusement park.10:30 am - 6:00 pm, 2-28-1 Asakusa, (03) -384208780.
Asakusa Entertainment Hall -see Rakugo (comic storytelling), Manzai (comic dialogue), Mandan (comic monologue), acrobatics, magic and mimic shows. 11:40 am -9:00 pm, daily, (03) -3841-6545
Museum of Traditional Art Crafts of Downtown Edo-free, 10 am -8:00 pm, daily. 111-0032 2-22-13, Asakusa, Taito City, (03) -3842-1990.
Nakamise - shops next to the Asakusa Kannon Temple. 6:00 am -5:00 pm (6:30 pm, October-March), daily. Between Kaminarimon and Hozomon, (03) -3842-0181.
Taiko (Drum) Museum -$3 adults; $1.50 child. 10:00 am -5:00 pm, closed Monday, Tuesday, during Bon, the end and beginning of year. 111-0035 2-1-1, in Unosuke Miyamoto Shop, Nishiasakusa, Taito City, (03) -3842-5622.
Tokyo Globe - reproductions of Shakespeare plays.

Side Trips


Tokyo Disneyland, Maihama district 30 minutes by train, Yokohama.
Tokyo Disney Sea - Next to Tokyo Disneyland, Yokohama.

Food Theme Parks and Museums


Ikebukuro Gyoza Stadium - 10:00 am - 10:00 pm, $3 adult, $2 child. 3-1-3 Higashi Ikebukuro Sunshine City World, Import Mart 2F Namco Nanja-town, (03) -5950-0765.
Shin-Yokohama Ramen Noodle Museum - Admission $3. Or 3 month pass- $10, 6 month pass- $15. Around $9 per bowl. 11:00 am - 11:00 pm, last admission 10:00 pm. Closed Tuesdays, except for national holidays. 2-14-21 Shin-Yokohama, Kohoku-ku, Yokohama, (04) 5-471-0503 (Japanese) "Ramen dial": (04) 5-471-0943 (Japanese). 45 minutes from Tokyo, http://www.bento.com/phgal3.html.
Yokohama Curry Museum - 11:00 am - 10:30 pm. 7-8F, 1-2-3 Isezakicho, Naka-ku, Yokohama-shi, Kanagawa-ken, (04) 5-250-0833.

Cruises


Zeal Dining Cruises - (03) -3454-0432, https://www.zeal.ne.jp/en.
Symphony Cruises - $30-lunch cruise, 11:50 am; $15-afternoon, 3:00 pm; $30-sunset, 4:30 pm; $38-dinner, 7:10 pm, Price does not include food.
Gourmet meal and cruise -$50-200. Sea Line Tokyo Co., Ltd., 2-7-104, Kaigan, Minato-ku, Tokyo, (03) -3798-8101.

Other Information


American Embassy - Akasaka, Minato-ku, (03) -3224-5000.
Currency - American money and traveler's checks are not accepted except at the larger hotels. You have to use credit cards or Yen.
General Information - Multi-Lingual - (04)-5671-7209.
Tokyo Tourist Information
Japan National Tourist Organization (JNTO) - Los Angeles: 213-623-1952, New York: 212-757-5640, Chicago: 312-222-0874. Tokyo: (03) -3201-3331, Monday-Friday, 9:00 am - 5:00 pm. 10th floor, Tokyo Kotsu Kaikan Bldg, 2-10-1, Yurakucho, Chiyoda-ku, Tokyo. The JNTO is also at the Tokyo International Airport, Narita- Terminal 2- Main, Terminal 1- Branch, 9:00 am - 8:00 pm, daily. https://www.japan.travel/en/us. Contact the JNTO regarding the Goodwill Guide Program, to visit Japanese homes, or for all tourist information.
Information System - at railroad stations or downtown, (03) -5321-3077

Emergencies


Ishikawa Clinic - Dr. Ishikawa, Azabu Sakurada Hitsu, 2F. 3-2-7 Azabu Minato-ku, (03) -3479-0081 24 hours: 03-3401-6340.
Tokyo British Clinic - Dr. Symonds day time only. Daikan Yama Y Building 2-13-7 Ebisu-Nishi Shibuya-Ku, (03) -5458-6000.
Tokyo Metro Health and Medical Information Center - 24 hour medical instructions. (03) -5285-8181,(03) -5272-0303.
Amda International Medicine Information Center - Tokyo, (03) -5285-8088.
Tokyo Clinic - Dental office, No. 31, Mori Building, 3-4-30 Shiba Koen Minato-ku, (03) -3431-4225.
Ambulance - 119, English: (01)-2046-1997.
POLICE - 110, English: (03) -3501-0110.