Learn about Oahu, Hawaii, by reading Hawaii - Touring the Island of Oahu by Amy Bednarcik, WTA Staff Member. It features a mini, but thorough tour of the destination, plus all you'll need to know to plan your trip including how to get there, objective information on places to stay and eat, and things to do. At the end of the article, we've provided a summary of the contact information for your easy reference. Enjoy!
Hawaii - Touring the Island of Oahu

by Amy Bednarcik, WTA Staff Member

A view of Honolulu and the Island of Oahu from the top of Diamond Head
In the early days of flight, the 2090 miles from San Francisco to Honolulu were among aviation's greatest challenges, the longest unbroken stretch of open ocean between any two points on earth. Pan Am's giant flying boats began carrying passengers - just eight at a time - from Alameda in Oakland Bay to Pearl Harbor on Oahu in 1935. Today almost everyone arrives by air, mostly on American, United and Continental.
Summer is high season in Hawaii, even though the weather can be warm and humid. Winter gets more rain, but it's also the season to see more whales and other migratory denizens of the sea. And while summer waters are more placid, winter is the time to surf the Banzai Pipeline, the curling, 30-foot waves made famous by the film, The Endless Summer.  Any time of year, Hawaii is sure to be lovely.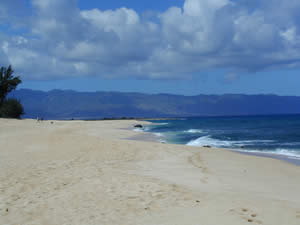 Tranquil Sunset Beach on the North Shore of Oahu in the summertime.
It's anything but tranquil during the winter and Banzai Pipeline season
My husband Mike and I went out for three weeks in August, not nearly enough time to see everything in a chain that reaches from the Big Island to once-strategic Midway, 1500 miles to the west.  But, we did our best, visiting Oahu, Maui, Kauai, and the Big Island of Hawaii (read Touring the Outer Islands of Hawaii for an account of our visits to these islands).
We spent most of our time on Oahu. We have friends with the Army who live in Honolulu, "the world's most remote city" which is the population and commercial epicenter of the chain.  There are so many people in its immediate environs - from Diamond Head to Waikiki and around Pearl Harbor - one can barely walk between the houses.
The area offers some wonderful attractions, though - gorgeous beaches, great stores, hotels and restaurants, spectacular sightseeing and every kind of activity. You can paddle an outrigger canoe, surf, swim, golf, sail, fish, windsurf, run, ride horseback, dive, snorkel, ride a bike or go kayaking, all in this small corner of the island.
The ocean wasn't quite as warm as we expected, but still in the 70's, and the bluest blue.  We saw sandy beaches of every color: black, green, and brown.  The black beaches are soft volcanic ash, not coarse lava with a risk of cutting or abrasion.  White beaches are almost everywhere, but some are on such rugged coastline they are accessible to most only by helicopter or boat.
While we had the luxury of our own personal tour guides and transportation (through our friends), there are other easy ways to get almost everywhere, including many excellent tour bus services. Honolulu and Oahu are both fairly easy to navigate. Honolulu possesses a busy city center. Expect heavy traffic in and around the city. There are numerous highways around Honolulu and the island that makes navigation easy.
The total island of Oahu is less than 600 square miles, perhaps three times bigger than Martha's Vineyard, but infinitely more varied. Partly due to the topography, which like most of the Hawaiian Islands is seriously vertical inland and around much of the perimeter, it's easy to feel suddenly very remote and rural at a turning of the road, and many of Oahu's quaint towns reflect that sense of isolation.
All islands have a windward and leeward side, and the windward side gets more rain. On a mountainous island like Oahu, that sometimes means you can drive in 15 minutes from a beautiful sunny day into a gray, murky, misty one, and then back out again.
While by far the most commercial and congested of all of the Hawaii islands, there are many attractions to visit. High on the list is the moving and impressive Arizona Memorial right in Pearl Harbor. Just around the island's southeast corner is Hanauma Bay, a marine preserve in a volcanic crater famed for its snorkeling. And the gorgeous North Shore, site of the world's largest ocean waves in wintertime, includes famed Sunset Beach, and the excellent golf courses at Turtle Bay Kuilima.
Another kind of island attraction, especially for diners, dancers, and crossword puzzle lovers, is the luau. Oahu offers several that are world class, especially the one at Paradise Cove. At  $60-80 per person, they aren't cheap, but that includes entertainment and dinner, and it's worth every cent.
It isn't always possible, when traveling to popular tourism destinations, to find places or things that allow you to make them all your own. We were lucky in finding one such location across the street from Waikiki Beach.  The Hyatt Regency Hotel overlooks the beach and surf, and its elevated outdoor terrace bar turned out to be a great place for a quiet drink before dinner, especially on a Friday night. Unlike most other beach hotels, there's no cover charge and none of the usual pressure to keep ordering (most bars require a two drink minimum). Plus, it features local Hawaiian talent. Waikiki faces southwest, scene of all the best celestial action at sunset, and from this vantage the view also includes the famous, elegant, and surprisingly intimate Royal Hawaiian Hotel right down the beach.
Another memorable take is Diamond Head, the extinct volcano forming the promontory at the beach's southeast end.  It's a National Park, open from 6 to 6, and you'll want to go early because it gets very crowded and hot, especially in summer. It's a rigorous and at times narrow walk over dirt, boulders and ancient lava flow - literally up the side of the volcano (including 170 stairs to climb!) - so take water, a flashlight (you walk into the side of the mountain at times so it gets very dark), and a $1 entry fee per person.
For snorkeling, Hanauma Bay is a popular spot. There is an entry fee of $3 per person, reasonable but a sore point with native Hawaiians like our hostess, who grew up in an era when all the islands' natural delights were free. Snorkeling gear runs $6 per person, and the reefs truly do offer great snorkeling. If you're content to just sit in the shallow water, you won't need the gear to see incredible reef fish of every stripe and hue, flitting tamely in and out of your limbs. Be sure to get there early as it gets very crowded and they will stop entry if they reach capacity. Be prepared for a lengthy and steep walk down to the beach (and back up at the end of the day!) so keep this in mind with what gear you take to the beach (there is a tram you can take at a $1 per person, too, if you're not up for the walk.)
On your way from Hanauma Bay, drive southeast for about 2 miles on Kalanianaole Highway and visit Sandy Beach Park. The waves are great for surfing and boogie boards, and with its steady breeze, is perfect for kite flying. About 1 mile before the park, is the Halona Blowhole where we watched swimmers sit next to the blowhole and as the surf comes in, the water blows up through a small hole in the rocks, pushing them up and out into the surf. Looked like fun, but tricky.
Another place to drive through is the public area of Bellows Air Force base and Waimanalo. The base's beach, Bellows Beach, has some of the most beautiful sand and surf in the world and many native Hawaiians live in Waimanalo - a unique snapshot of native Hawaii.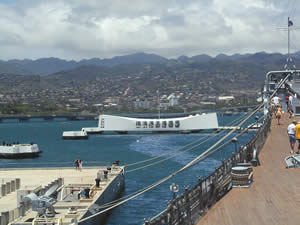 A view of the USS Arizona Memorial from the deck of the USS Missouri
The USS Arizona Memorial is among the most visited sites, and deservedly one of the most famous. It is open 7:30 - 5:00 year round, except major holidays, with the last tour starting at 3:00. The 90-minute tour is free, and highly recommended. It starts with a 22-minute movie (again, the key is to go early, or else the wait to see the movie can be up to 90 minutes), then you board a ferry for a 15-minute visit to the shallow grave of the sunken battleship. Even if you were born long after World War II, looking at the wall of names of the 900 men who died with the great ship and realizing they lie entombed below your feet is a compelling and unforgettable experience.
The battleship, USS Missouri, which fared much better in the Pacific War, is now also open to the public. Owned by a private foundation that charges a $14 fee, and accessible by tram from the Arizona, the Mighty Mo's surrender deck displays the documents that put an unconditional end to World War II. The two ships are near enough to include both in the same picture, with the wartime home of the High Commander of the Pacific just behind the Arizona.
About an hour north of Honolulu is Haleiwa, a terrific quaint Hawaiian town. On your way here you'll see the Hawaiian countryside with its pineapple fields. To or from, you can stop at the Dole Pineapple Pavilion for a tour. We breakfasted at the Haleiwa Cafe that offers great food and prices and is a real surfers haven. Walk around town and be sure to stop into the Wyland Art Gallery. You've probably seen Wyland's work if you've seen any of his life-like whale murals in cities across the U.S. When you're ready for a break, stop in at Matsumoto's Store for a shaved Ice - a real treat. Outside of Haleiwa is the famed Sunset Beach, home of the Banzai Pipeline mentioned earlier - well worth the visit.
If you're looking to spend a day at the beach, you can go to Waikiki Beach in Honolulu. Or, about 30 minutes east of Honolulu is Kailua Beach Park. It's on the windward side of Oahu with beautiful sand and calm water. You can rent outriggers and kayaks and paddle out to a reef.
Aloha is the famous word of welcome and farewell, and Mahalo is thank you. Hawaiians love tourists, and the island hospitality is deservedly a legend. You'll hear both of these words everywhere. And you'll say them both when it's time to leave.
Details
Getting There
Airfare can be expensive depending upon time of year and the economy. Shop for airfare sales - this is where a travel agent comes in handy or use WTA's Travel Access Discount Program.
Where to Stay
There are a number of hotels and resorts throughout Oahu. Since we stayed with our friends, we didn't stay in any of them, but utilize travel guides like Fodor's for good recommendations, then use WTA's Travel Access Discount Program to check hotel rates and make reservations.
Where to Eat
Haleiwa Cafe
Main Street
Haleiwa, HI
Matasumoto's Store
Main Street
Haleiwa, HI
Haleiwa is a small town, so you won't miss either of these two eateries!
Paradise Cove Luau
808-973-5828
A bus picks you up from one of six or so Waikiki hotels to a remote, picturesque spot 25 miles or so out of Waikiki. Reservations are a must and expect a huge crowd – 1,000 or more! Luau starts at 5:30 p.m. daily. $60-80 per person.
Ask the locals for recommendations of other places to eat.
When to Go
Spring and fall offer the best weather with warm days (70s and 80s) and nights without the humidity. Summer is nice without much precipitation, but humidity and higher temps are to be expected. Winter is the rainy season and usually much cooler, but the migratory animals are present in Hawaiian waters and the surf is very active and dramatic versus other times of the year.
Getting Around
A rental car is recommended (use WTA's Travel Access Discount Program). Other options include tour companies such as Polynesian Adventure Tours (808-833-3000), E Noa Tours (800-824-8804), Home of the Brave Tour (808-391-8112), Honolulu Time Walks (walking tour – 808-943-0371), Chinatown Walking Tour (808-533-3181), Old Trains of Hawaii (808-681-5461), or use the Waikiki Trolley (800-824-8804).
Dollar Value
Expect the price of most goods and services to be higher than what you pay on the U.S. mainland, mainly because Hawaii has to import much of their products. Gas, food, lodging, and clothing are especially high.
Attractions
USS Arizona Memorial
808-422-0561
7:30 a.m. – 5:00 p.m. (last tour at 3:00); open year round except for major holidays; free
USS Missouri
808-423-2263, www.ussmissouri.com
$14 for adults; can take a self-guided or paid tour of ship; can take a tram from the Arizona Memorial parking area that runs every 15 minutes.
Hanauma Bay
7455 Kalaniana'ole Hwy
808-396-4229
$3 per person; $6 per person for snorkeling gear
Dole Pineapple Pavilion
64-1550 Kamehameha Hwy
808-621-8408
Open daily from 9 a.m. – 6 p.m.; Free
Diamond Head National Park
Monsarrat Avenue
Open daily 6 a.m. – 6 p.m.; $1 per person
Other Information
Hawaii Visitors & Convention Bureau
808-932-1811; www.gohawaii.com
Oahu Visitors Bureau
888-464-6665; www.visit-oahu.com
Notice: This information is current as of August 2000. It is recommended that you contact the numbers and/or visit the web sites to determine any changes to the information.