Learn about Cape Cod by reading Falling in Love with Old Cape Cod by Henry Scammell. It features things to do on the Cape, places to stay and eat, and much more objective information that you can immediately put to use in planning your trip to the Cape. At the end of the article, we've provided a summary of all of the places Scammell recommends for your easy reference. Enjoy!
Falling in Love With Old Cape Cod
by Henry Scammell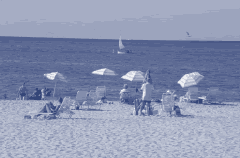 A summerís day in Harwich Port, on Cape Cod
For almost 400 years, Cape Cod has been a world-class getaway destination. The richly historic, scenic peninsula that extends 40 miles from the Massachusetts mainland out into the Atlantic, then another 40 miles north to form the bottom boundary of the Gulf of Maine, is one of those rare places that seems to offer something for everyone: serenity for the spiritual pilgrim, sanctuary for the fugitive from the Here and Now, an intense dose of raw nature for the overcivilized, spectacular recreation for the underexercized, and every kind of activity for the serious pleasure seeker.
Although the Cape is best known as a summer resort, more and more savvy vacationers are taking advantage of rate drops at 4-star accommodations of 20-40% and higher after Columbus Day, when the crowds have left but the warmth still lingers. And renters who donít need to meet school schedules often find two-week bookings on either side of Labor Day combine peak-season amenities with roomier beaches and more relaxed departures.
Thanks to the National Seashore Park, a huge patchwork of protected beaches, swamps, marshes and highlands stretches from the elbow to the tip, continuously re sculpted by the wind and sea but virtually unchanged in its natural beauty from before the arrival of humans - the earliest evidence of which dates back some 6,000 years. The Founding Fathers landed here on their way from England to Virginia and were so impressed by the Cape Cod combination of natural beauty and oceanic power that they settled in the place they named Plimoth.
The famous Canal came three centuries later. The modern traveler by car crosses over on the bridge at either Sagamore or Bourne. There are several small airports along the Capeís flexed arm, from the Race Point dunes which form the hand-like tip in Provincetown (P-town locally) to Chatham on the elbow and to Falmouth at the scapula; the commercial hub in Hyannis offers service to New York, Boston and the islands. The nearest international airports are T. F. Green in Providence and Logan in Boston, each an hour from the canal by rental car.
The entire Cape, except for most of the outside of its forearm, is riddled with inlets ranging from small tidal rivers to full-fledged seaports, from P-Town to Woodís Hole. Ferry service (no cars) from Boston to P-town runs daily May-September. Day trips to Nantucket and Marthaís Vineyard are available year round from Woods Hole and Hyannis (cars carried), and seasonally from Harwich Port (no cars.) High-speed service from Hyannis (year-round) and Harwich Port (summers) cuts the three-hour Nantucket trip to an hour.
Anyone arriving on a summer Saturday - the traditional rentersí changeover day - is familiar with the delays that can occur at the two bridges. But donít take false hope from the ubiquitous bumper sticker "permits" for the Cape Cod Tunnel or Nantucket Bridge. Theyíre a hugely popular insiderís joke, and no such tunnel or bridge exists.
The recreation potential of Cape Cod is phenomenal. For hunter-gatherers, itís natureís supermarket. Cranberries (wild and cultivated), beach plums, grapes, and blackberries abound along its shores. Clams, mussels, quahogs and the fabled Wellfleet oyster teem in its shallow waters. Pollock, cod, blues and stripers cruise the rips off Momomoy and Race Point and the eddies of the Canal, with bonita, dolphin, shark and tuna off the coast. There are actually more geese and wild ducks in the Capeís marshes or along its shore today than in 1620.
The Cape boasts an enormous fleet for whale watching and charter sport fishing at P-town, Barnstable, Hyannis and elsewhere, and numerous rental liveries. The Audubon Society in Wellfleet and Cape Museum of Natural History in Brewster offer walking and birding tours, including the sanctuary on wild, uninhabited Monomoy Island. Other day trips from Harwich Port and Chatham take visitors to within virtual touching distance of the vast Monomoy seal herd.
There may be fewer lobsters now than three centuries ago, but there are still plenty to go around. Served "in the rough" with fries and slaw at lobster shacks throughout the Cape, they are also found in supermarkets, fish stores, and on the menus of Cape Codís best restaurants, from the Chart Room in Bourne to Chillingsworth in Brewster or the Barley Neck Inn, Orleans. Brax Landing in Harwich Port is one of the few waterfront dining facilities on the Sound. Other good takes in the same town are OíNeilís Seafood and New Moon, both on Harwich Portís scenic Main Street.
P-town remains the areaís best known art colony, but galleries such as Trees Place in Orleans have spread the center of gravity, and the Cape Museum of Fine Arts is located in Dennis.
A walkerís paradise, the Cape offers miles of safe, well-maintained trails for hiking and biking through cedar swamps, around high dunes, and beside miles of still virgin shores. Public and private golf courses abound.
Ditto for theaters, notably summer stock and community playhouses. The Cape Cod Melody Tent in Hyannis books a steady supply of world-class talent all summer, and the famed Cape Cod Symphony performs intermittently throughout the year.
The most popular Cape pastime may be the least advertised: picking a comfortable, scenic sanctuary and simply "vegging out" with a book or crossword puzzle, or perhaps with nothing at all, and soaking up Godís blessings on this favored place.
Places to Stay, Eat, and Other Contact Information

WTA's Travel Access Discount Program serves up deeper discounts on hotels, car rentals, flights, and activities all over the world. Most of our travel deals are not available to the public, which means rates are much lower than what the average consumer can find online. Click here to start accessing for free today.
Notice: This information is current as of March 2000. It is recommended that you contact the numbers, and/or visit the web sites above to determine any changes to the information.