Learn about The Bahamas by reading The Bahamas—Oceans of Joy by Charlie Spence, Travel Writer. It features a mini, but thorough tour of the destination, plus all you'll need to know to plan your trip including getting there, objective information on places to stay and eat, and things to do. At the end of the article, we've provided a summary of the contact information for your easy reference. Enjoy!
The Bahamas—Oceans of Joy
When planning to go to the Bahamas, the first big decision is deciding which of the many delightful places to visit. There are more than 700 islands spread throughout 100,000 square miles of Atlantic Ocean, offering everything from quiet, restful retreats, beaches and coral reefs, and amazingly clear water to hotels and resorts in areas abounding with entertainment, casinos, and active surroundings. And, it starts only 50 miles off the coast of the United States.
Unless you have actually seen the waters here you can't believe its clarity. Here is the only place on earth where water is so clear it has visibility of more than 200 feet. It is in this setting that you can explore the coral reefs, scuba dive, snorkel, or check out the relics of ship wrecks. Spot the dolphins or be amazed at the beauty of schools of colorful fish.
Apparently fish like the waters around the Bahamas as much as do humans. Those attracted include bonefish, wahoo, and blue marlin to name only a few of the most sought-after varieties fishers will find. Whether fly-fishing or on a deep-sea charter, you will find the many fish attracted assures you some will be waiting for your baited hook.
You might not be into fishing but would enjoy exploring the habitats of the fin families. Take a sea-kayak. Go along the shores at your own pace. Explore the caves, mangroves, and bonefish flats. Be among the blue herons and egrets. Explore the uninhabited cays and isolated beaches. The shallow waters along the shores and cays make kayaking the ideal way to explore the beauty of the out islands. If the mood strikes while exploring the white sand beaches, hop into the water and do some snorkeling along the reefs.
The out islands hold a particular attraction for me. Eleuthera, Harbour Island and Spanish Wells is a particularly pleasant place to either stay active or roll up in a restful, quiet atmosphere. These islands are steeped in history. Eleuthera, what residents of Spanish Wells and Harbour Island call "the mainland," was founded more than 300 years ago by English adventurers in search of religious freedom. The name "Eleuthera" is the Greek word for freedom. In 1647, Spanish Conquistadors sunk the first well on land that has been named Spanish Wells and made this a port to take on gallons of potable water before starting the long, arduous trip to take their riches from the new world back to Europe. Later, as the colonists on the North American mainland sought their independence from England, Loyalists from the Carolinas settled on the island and many residents today trace their ancestry back to those who preferred to be English subjects.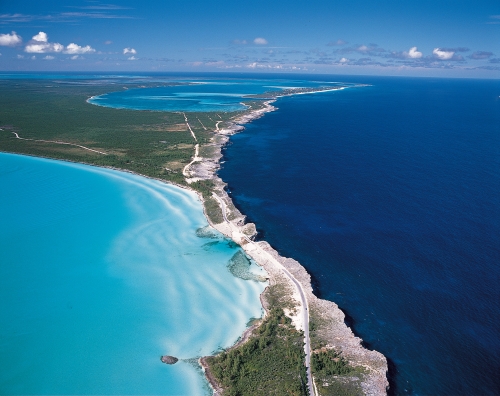 Eleuthera is 110 miles long, but only two miles wide, meaning you are not far from any of the pink-and-white sand beaches. Visit any of the colonial villages or some of the pineapple fields. A fine airport welcomes private aircraft and commercial carriers.
Maybe you think water is only for drinking and bathing and want something different for your get-away. You can find it in the Bahamas. Nassau is the capital city of the Bahamian Commonwealth and has a wealth of things to make your stay exciting, entertaining, and yes, perhaps even profitable. Two casinos offer a variety of gaming opportunities: blackjack and poker tables, craps, hundreds of slot machines, and sports betting.
With a heritage part British, part Spanish, and part West African, Nassau emits a cultural vibe all its own. Residents like to party and this is evident in the local night spots and at the special festivities. Visitors are always welcome. Throughout the year there are many reasons to party. There is a weekly fish fry, a Junkanoo to celebrate the new year with Mardi Gras-style costumes and dancing in the streets, Fox Hill Day celebrations in August with two weeks of street parties and dancing, or Boxing Day, to name a few.
Nassau/Paradise Island is well known as a duty-free shopping center. Boutiques, gift shops, straw markets, or the convenient shops in your hotel all offer popular jewelry, perfumes, watches, cameras, electronics, and more. You'll also find hats, bags, wood carvings, gift items and other souvenirs to take home as reminders of your happy visit.
Paradise Island was originally known as Hog Island, but in 1961, A&P grocery chair heir Huntington Hartford II convinced the government to change the name. He built the exclusive Ocean Club and on the site developed a garden inspired by the Versailles garden of King Louis XIV. It is a spot to take in for beauty. Seven grassy terraces climb half-mile up the hill from the resort's pool with each level exhibiting sculptures.
Only guests of the Ocean Club are permitted to walk the gardens, but others may view them from the vantage point across the street. This is the Cloister, a 14th century Augustinian monastery William Randolph Hearst, the publishing magnate, purchased it in France and had it brought to Florida in the United States where it stayed in crates for some 40 years until Hartford bought it and had it erected on Paradise Island.
Another stop on your itinerary should be to see Government House, the official residence of the Governor General of the Bahamas. It is a pink and white building dating back to 1801.
Golfers will take one look at the championship fairways and greens and begin thinking of reasons to return for future visits to the Bahamas. The challenging courses were designed by golf architects Robert Trent Jones Jr., Dick Wilson, and Greg Norman. Some holes are on the edge of Emerald Bay with tifdwarf grass for a faster putting surface and ocean winds and tight fairways to make the round even more challenging.
In the Bahamas the coldest winters reach about 70 degrees Fahrenheit so this can be a year-round destination for a memorable get-away for rest, excitement, fun, or adventure. Each island has its own charm and its own features for luring you back with temptations on each visit to try your stay on one of the other islands.
Details
How to Get There
Getting to the Bahamas is easy. From the United States many airlines fly to the various islands, Non-stop service is available from about a dozen U.S. cities. Air taxi and water taxi services are available from some Florida sites. Internationally, direct flights are available from many nations. Some ships stop at The Bahamas as part of a cruise to different ports, other lines offer cruises specifically to the Bahamas.
Where to Stay
Where to stay will depend on what you want to do on the islands. Plush hotels offer all the amenities with some including casinos, spas, beaches, and guides for local tours. You can select smaller hotels, inns, or bed and breakfasts. When making your reservations it is wise to know just what kind of activities you will enjoy most as there are many from which to choose.
WTA's Travel Access Discount Program serves up deeper discounts on hotels, car rentals, flights, and activities all over the world. Most of our travel deals are not available to the public, which means rates are much lower than what the average consumer can find online. Click here to start accessing for free today.
Where to Dine
Dining can be a delight at any of the fine restaurants, including those at most hotels. Be sure to try some of the places featuring ethnic cuisine.
Notice: This information is current as of July 2010. It is recommended that you contact the numbers, and/or visit the websites above to determine any changes to the information.