Learn about the Isla Mujeres, Mexico, by reading How Would You Describe Paradise? Isla Mujeres, Mexico!by Sandy Zimmerman, Travel Writer. It features a mini, but thorough tour of the destination, plus all you'll need to know to plan your trip including getting there, objective information on places to stay and eat, and things to do. At the end of the article, we've provided a summary of the contact information for your easy reference. Enjoy!
How Would You Describe Paradise? Isla Mujeres, Mexico!
by Sandy Zimmerman, Travel Writer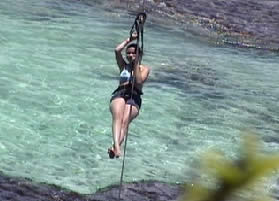 The "Zip-line" at El Garrafon National Park
The Isla Mujeres (pronounced ees-lah moo-hair-ayce) translates to "Island of Women" and is the closest I can find for an idyllic sanctuary from the world. Escape to this quiet Mexican Caribbean Island, just 20 minutes by boat from the busy city of Cancun. The Isla Mujeres is so close to Cancun, yet it is a different world! There is a feeling of being isolated even though you have everything to calm your nerves and soothe your body. Look at the Caribbean's sparkling turquoise waters, such dramatic shades of blue that artists try to copy it. Anyone exploring Isla Mujeras will be surprised at how much fun is packed into a little island less than 1/2 mile wide and 5 miles long. Rent a golf cart, moped, bike, or car and see it all!
Isla Mujeres' El Garrafon National Park is the only natural reef park in the Mexican Caribbean. When you enter the park at the top of the mountain, you will be thrilled by the breathtaking views of the sparkling blue green water and rugged black coral reefs. The reefs are 1,050' long and extend 40' from shore.
El Garrafon is a beautiful playground for the usual as well as some unique water sports. Go beyond snorkeling and try "Snuba" - a type of diving without the heavy tank. You breathe through an air hose connected to a tank above you on a small inflatable raft. Another exciting possibility is "Sea Trek," a stroll 13' underwater wearing a diving helmet fed by compressed air. Then there is reef snorkeling, scuba diving, swimming, a climbing tower, kayaking, crystal see-through canoes, sea boards with reef viewing windows, and diving trips to "Sleeping Sharks Cave." Ride the zip-line right above the Caribbean with several over-water stops.
If you dare, gather your courage and experience Dolphin Discovery. Yes, you are right in the Caribbean swimming with the dolphins! These gentle creatures swim next to you and are so close that you can touch them as they hug and kiss you. You wear life preservers and float while they do their water dances. It is truly a once in a lifetime experience.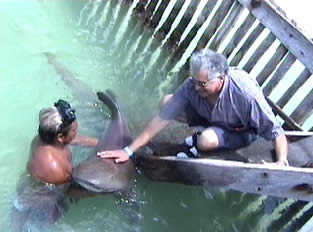 Man petting nurse shark at Sharks Playa Lancheros
Take a photo with sharks! At Playa Lancheros, nurse sharks will reluctantly pose with you while their trainer holds them. You are allowed to touch them. These sharks have 7 rows of teeth and weigh up to 1,100 pounds.
Isla Mujeres' Turtle Farm (Tortugranja) is dedicated to the protection, study, and breeding of sea turtles. Walk around the indoor tanks and outdoor water pens along the beach or take a tour with their biologist. The farm houses hundreds of turtles weighing 6 oz. to 600 pounds. From May to September, sea turtles lay their eggs in the sand and around 6,000 turtles are hatched. These eggs are placed in pens to keep them safe from predators.
Hacienda Mundaca is the remains of the former mansion of 19th century Basque slave trader/pirate Fermin Mundaca de Marechaja. You can see a guardhouse, rusted cannon, arch, well, small zoo (monkeys, birds, crocodiles, pythons, jaguars), and gardens. His mansion originally covered almost 40% of the island. Sr. Mundaca's ill-gotten spoils didn't bring him happiness. He built this luxurious mansion to impress a young girl, but she spurned him. Not giving up hope, Mundaca went mad while waiting for her change of heart.
Mayan Temple & Lighthouse (Santuario Maya a la Diosa Ixchel) is a partially restored Mayan temple dedicated to the Goddess Ixchel, the Mayan Goddess of Fertility. The walkway takes you around the ruins to a natural arch where you'll see views of the ocean, Bahia de Mujeres (Bay of Women), and Cancun. This historic site is adjacent to a lighthouse. I heard that the lighthouse keeper can be persuaded to allow people to climb to the top.
Be sure to spend some time at Isle Mujeres' beaches (playas). The palm fringed Playa Norte is a beautiful setting for fun in the sun. With calm currents, white sand, and Palapa restaurants, this is one of the most popular beaches. You can wade 40 yards in waist-high water. Topless sunbathing is allowed. Rent jet-skis, sailboards, three-wheeler water bikes, and umbrellas.
It's fun to plan your trip during one of their events. For instance, their Carnival is in February and their Music Festival is the second week in October. At other times of the year there are regattas and fishing tournaments.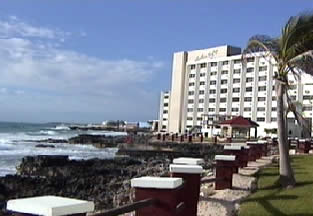 Avalon Reef Club Resort
You can find hotels in just about any price range, from luxury, to bed and breakfast, to smaller accommodations. One of the most beautiful settings on the island is at the new, 5-star Avalon Reef Club Resort. Nestled on a private islet connected by a bridge, it is perched on a reef that separates the Caribbean Sea and the Gulf of Mexico. Even if you are not staying here, visitors are allowed. Its attractive white villas along the coast are reminiscent of scenes of the harbor at Mykinos, Greece. The pyramid tower soars into the Mayan sky. One swimming pool has in-water chaise lounges while the other is perfectly formed by natural rock formations. Imagine, exciting black coral reef formations, a 360-degree panorama, and nature all around you! Plus, it is conveniently located within walking distance from the shops and downtown. (I've included other accommodations in the Details section below. Note that I haven't personally reviewed those properties at the time that this article was written.)
The Reef Club also features sports and activities in their all-inclusive plan - Mexican fiestas, B. B. Q. rock parties, Spanish lessons, dance lessons, garden grill parties, Monday night football, talent shows, outdoor games, chef's class, and a cocktail class to name a few. Hotel guests can join all-inclusive activities shared with other Avalon properties.
What a great selection of restaurants! Try some of the local hotel restaurants and discos. When you walk around the colorful little town of El Pueblo, just listen for the music and follow your taste. Choose from sidewalk cafes, discos, bars, and some restaurants with live music - Hidalgo between Morelos and Abasolo Avenues, also Plaza Isla Mujeres at Ave. Hidalgo and Guerrero.
Although the Avalon Reef Club is an all-inclusive resort, the public is invited to dine and dance here. The romantic Terrace Restaurant jets out over the beach with wonderful views. Eating the tasty Asian delicacies by candlelight is unforgettable! How fresh is their lobster? When the lobsters enter the traps along the resort's beach, the staff immediately brings them to the kitchen to become the special of the day. Specialties include crusty sea bass marinated in oyster and honey sauce, chicken satay, rack of lamb in herbs and coconut milk with Xtabentun liquor, and sushi. There's even a strolling guitar.
Indulge your passions for the finest meal in Mexico at the Reef Club's Porterhouse Restaurant. This 5-star restaurant serves mega-size cuts of tender Angus beef - 25 oz porterhouse, 40 oz porterhouse (free if one person can eat the whole thing), 20 oz NY strip, 20 oz cowboy, 18 oz rib eye, as well as rack of lamb, duck marinated and seared in sweet berry sauce, coconut shrimp with Mango and habanero chutney, lobster tails, salmon seared with orange almond soy beurre blanc, and other delicacies. Executive Chef Christopher Belou explained, "We don't broil steaks as our competitors do. All steaks are grilled with the fire on the bottom marking each steak. This keeps the meat juicy and more flavorful." His culinary experience in New Orleans brings French touches to the menu. Special tableside preparations include caesar salad, bananas foster, liqueurs flambe, and more. Teasing your palate and indulging in a magnificent dinner is its own entertainment!
Porterhouse is also located inside the Avalon Grand Resort in Cancun. Reef Club's all-inclusive plan allows guests three all-you-can-eat meals at two restaurants every day. They also have a "stay at one Avalon, dine at another Avalon" plan. (I've included other restaurant alternatives in the Details section. Note that I haven't personally reviewed those at the time of writing this article.)
Some of the night spots around town include the new Caribbean Cafe which features live music, while Kokonuts Cafe features disco and pool tables. The Leopard Lounge is a tropical outdoor restaurant and palapa bar serving sushi, teriyaki beef, with live music. (I haven't personally reviewed these particular night spots as of the writing of this article.)
The Isla Mujeres will make you feel young again, energized by the beauty and tranquility of the surroundings. This is an "off the beaten path" eco-adventure not to be missed!
Details
Getting There

Aero Mexico offers three daily flights from Las Vegas, four daily flights from Phoenix, and eight daily flights from Los Angeles; (800) 237-6639.
American Airlines offers three daily flights from Las Vegas, three daily flights from Los Angeles, and four daily flights from Phoenix; (800) 433-7300.
Getting Around
From the Cancun Airport take a taxi or shuttle to the Ferry Landing at Puerto Juarez, 15 minutes north of downtown Cancun. Bargain with the taxi for your fare. The boat takes 20 minutes to Isla Mujeres.
Ferry schedule from Puerto Juarez-to Isla - every 1/2 hour from 6 a.m. - 6 p.m.; enclosed 30 passenger vessels. Schedules are subject to change so you should check at the docks.
Car ferries are located in Punta Sam, 5 miles to the north of Puerto Juarez. Arrive around 45 minutes ahead of time as the ferry can only accommodate 25 cars.
Rent golf carts, bikes and mopeds:
Prisma Golf Cart Rentals. Av. Rueda Medina;
Moto Rent Kan-kin - bikes & mopeds. #15 Av. Abasolo.
Where to Stay

WTA's Travel Access Discount Program serves up deeper discounts on hotels, car rentals, flights, and activities all over the world. Most of our travel deals are not available to the public, which means rates are much lower than what the average consumer can find online. Click here to start accessing for free today.
Avalon Reef Club Resort - Walking distance from shops and downtown. Located on the island's north beach. Standard rooms with ocean views, villas on the ocean, 1-2 bedroom apartments, satellite T. V., telephone. Calle Zazil Ha s/n Int.7, Islote Yunque. (888)-497-4325.
Cabanas Zazil Ha Bed & Breakfast - Avenue Zazil Ha, # 129, 52 987 70045.
Hotel Playa la Media Luna - Located on the northern end of the island, a two-minute walk to the reef–protected North Beach. 18 rooms, air conditioning, ceiling fan, and refrigerator. Rooms have a balcony or terrace overlooking the ocean and fresh water swimming pool. Continental breakfast is included in room rate.

Where to Eat


All Natural Cafe - Vegetarian meals, juices, and salads. Centro Hidalgo, Plaza Karlita; (998)-877-0720.
Brisas del Caribe - Near the ferry dock. Avenue Rueda Medina.
Municipal Market (Mercado Municipal) - Cooking booths. Avenue Guerrero, next to the post office.
Nauti Pete's - Their specialty is tuna steak and grilled meats. Watch your favorite game on their American satellite T.V. Avenue Hidalgo.
Rolandi's - Pizza, pasta, calzones, seafood. This chain is also in other Mexican cities. Avenue Hidalgo, between Avenues Madero and Abasolo.
Velazquez - Yucatan specialties like "tikinchic" or fish marinated in sour- orange sauce and achiote paste, wrapped in banana leaves, cooked over an open flame. Avenue Rueda Medina, 2 blocks northwest from the ferry docks; no telephone.
French Bistro Francais - Coq au vin, T-bone steak, filet mignon, shish-ka-bobs, fresh lobster, giant shrimps.

Where to Eat With Entertainment


Avalon Reef Club - Just a short walk from downtown. Calle Zazil Ha s/n Int.7, Islote Yunque. (888) 497-4325.
Caribbean Cafe - Avenue Hidalgo.
Kokonuts Cafe - On Avenue Hidalgo, between Morelos and Abasolo Avenues.
Leopard Lounge - Plaza los Almendros, between Avenues Hidalgo and Guerrero, at Avenue Matamoros; (998) 877-0679.

Entertainment


Avalon Reef Club Resort - The Castaway Night Club offers shows and dancing.
Slices - Disco with all types of music from 8:00- 11:30 p.m. They offer a welcome drink. Check for times and dates of other hotels entertainment.

Attractions


El Garrafon National Park - 1-1/2 miles S. E. of Playa Lancheros; near shark attraction and Turtle Farm. (998) 883-3233; www.garrafon.com.
Sharks Playa Lancheros - Not far from El Garrafon National Park and the Turtle Farm.
Turtle Farm - On Sac Bajo; 52-998-877-0595; Drive from Avenue Rueda Medina south of town, 1 block S. E. of Hacienda Mundaca, take the right fork, smaller road that loops back north, entrance is 1/4 mile. Near the El Garrafon National Park and shark attraction.
Hacienda Mundaca - East off Avenue Rueda Medina. Take main road southeast from town to S-curve at the end of Laguna Makax, turn left onto dirt road. No telephone.
Mayan Temple & Lighthouse - Tip of the south end of the island, where the road turns northeast into the Corredor Panoramico. 1/2 mile southeast of El Garrafon National Park.
North Beach - Go north on any north-south street.

Other Information


U.S. Consulate- The closest consulate is located in Cancun at Plaza Caracol, 24-hour service. (52) 998 883-0272.
Emergencies
Health Center (Centro de Salud) – 24-hour emergency care. Avenue Guerrero 5, on the plaza; 998/877-0117.
Red Cross Clinic - British doctor; pay by donation. Colonia La Gloria, south section of island. 998/877-0280.
Pharmacy - Farmacia Lily; 24-hour service. Avenue Francisco Madero 17. 998/877-0116.
Police - 998/877-0082.
Notice: This information is current as of October 2003. It is recommended that you contact the numbers, and/or visit the websites above to determine any changes to the information.