Learn about Milan, Italy by reading Simply Marvelous Milan by Gary W. Bloom, Travel Writer. It features a mini, but thorough tour of the destination, plus all you'll need to know to plan your trip including getting there, objective information on places to stay and eat, and things to do. At the end of the article, we've provided a summary of the contact information for your easy reference. Enjoy!
Simply Marvelous Milan
by Gary W. Bloom, Travel Writer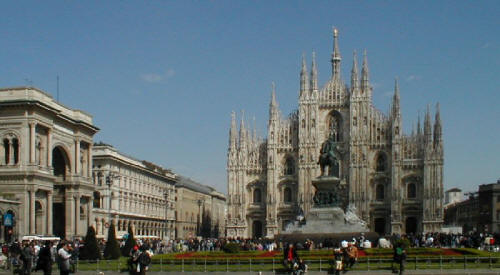 The Il Duomo di Milano cathedral, Milan's most famous landmark.
Milan, some people say, is not part of Italy. The laissez-faire attitude is missing. So is the breath-taking architecture of other Italian cities. Blame the stark fascist architecture on Mussolini, and the hard-working, business-minded people on their Teutonic heritage. The Lombards, a warring tribe from Germany, ruled Milan for two centuries. They left behind the eponymous northern region, Lombardy, that is Italy's most populous and prosperous.
This is where Italians go to make money. Like a stern mother, Milan holds sway over Italy's finances and dress code. It's Italy's business center, and arguably the world's fashion and design center. Milan is more about money and style than churches and museums. Its financial district has been Italy's banking center for centuries. Italy's stock exchange was founded in Milan by Napoleon and the world's first shopping mall was built here in 1878.
But Milan is a true Renaissance city. Like Leonardo da Vinci, who adopted Milan as his home, it exhibits a wide variety of interests, from the scientific to the cultural. La Scala, the most famous opera house in the world, calls Milan home. And speaking of da Vinci, one of his most famous paintings happens to be on the wall of a small church here.
The Duomo, or Cathedral, is one of the few Gothic buildings in Milan, but one of the largest and most beautiful churches in the world. This pink marble masterpiece, begun in 1386, took nearly 500 years to complete. It is Milan's spiritual center in a city of high finance. But with 135 spires and 2,000 statues lining its exterior and views of the Alps from its dome, the Cathedral is as much a display of opulence as any in Milan.
Beneath the Duomo are the remains of the basilica of Santa Tecla and Roman baths from the first century BC. For a history of the Cathedral, check out the Museo del Duomo, in the section of the Palazzo Reale that was home to Milan's rulers for centuries. The museum contains Duomo artifacts and 14th century statues and gargoyles.
You don't have to wander far from the Duomo to begin your Milan shopping experience. Next door is the Galleria Vittorio Emanuele, a large complex of elegant shops and cafes that opened in 1878 and was the predecessor to today's shopping malls. Known as the Salon of Milan, the glass-roofed arcade is a great people watching and shopping experience, two of Italy's most popular pastimes. Inside are bookshops, restaurants, the famous hat shop, Borsalino, and the Prada, where Mario Prada began selling walrus-leather travel trunks to the rich in 1913.
And just north of the Duomo is the Golden Rectangle, a shopping mecca of Italian proportions, including the Armani super mall. Near the rectangle is the 10 Corso Como megastore, another must stop for shopping aficionados. But it's the small, personal shops, and not the super malls, that really set Milan apart. It seems there's a store for nearly every item, no matter how small, from paper to perfume, truffles to tights.
If you want to do your shopping downtown, there is the Navigli district, where discount shops and the Laura Biacjiott boutique await your wallet. The Quadrilateral is another area for shopping and people watching, located around Via Montenapoleone. For women's clothes, try Corso Buenos Aires.
Spending money builds a powerful thirst, and Milan's nightclubs are only too happy to slake that thirst. The Garibaldi district has some the chicest clubs, including Casablanca and Hollywood. Other hotspots include Cafe Roma in the Brera district and Club Karma in Borgo del Tempo Perso. The club scene is seasonal, however, with many bars and cafes outdoors, shutting down during the winter months.
After you just can't shop or eat anymore, and you've had all the Armani, Versace, and Gucci you can stand, visit the old central district of Brera, now Milan's center of art galleries and studios and the location of the famous Brera Art Gallery. The museum opened in 1809 with art that was taken from northern Italy's churches and monasteries under orders from Napoleon. It now contains the finest collection of Northern Italian paintings to be found anywhere.
Though Milan is not noted for its churches, besides the Duomo, there are a couple others worth visiting. The basilica of Sant' Amborio is one of the most interesting. It was first built around 380 AD and enlarged in the 9th century. The church of Santa Maria dele Grazie is a more modern structure, a mere 530 years old. The church is best known for the adjoining Dominican convent. Painted on a wall in its refectory is perhaps the greatest and best known painting in Milan, if not the world. The Last Supper, da Vinci's masterpiece, was painted around 1494 using an unusual technique of tempera and oil varnishes on a plastered wall. It has gone through many restorations over the years, with the latest restoration attempting to remove the previous restorations. But it is still an awe-inspiring site, worthy of a visit for anyone who travels to Milan.
The recently renovated La Scala, near the Duomo, is another cultural icon in Milan and a mecca for opera lovers. One of the largest theaters in Europe, it is famous for its excellent acoustics. It opened in 1778 and has had a series of famous operas performed here, including Puccini's "Madame Butterfly, which premiered at Le Scala. You can find exhibits of costumes, instruments, and other opera artifacts at the La Scala Museum.
A few other museums are also worth noting. The museum at Castello Sforzesco has an eclectic mix of sculpture, paintings, musical instruments, and armor. The last work of Michelangelo is on display here. The Museo Poldi Pezzoli, near La Scala, has paintings by Tiepolo, Guardi, and others, along with a collection of books, clocks, watches, and guns. The Leonardo da Vinci National Museum of Science and Technology, housed in a former Benedictine monastery, is a great place to bring your kids. Inside are scale models of da Vinci's many drawings, from submarines to self-propelled cars. This is one of the world's best collections of historic scientific and engineering innovations.
But don't go to Milan for the Italian cultural experience. You'll leave disappointed. Come here to shop, eat, drink, and shop some more. You won't leave disappointed, just a lot poorer.
Milan Details
How to Get There
Milan's main airport, Malpensa (www.sea-aeroportimilano.it) is about 31 miles (50km) northwest of the city. There is bus and express train service to the city. Milan's other airport is Linate, about 6 miles (10km) from the city center. A flight from New York is about 9 hours. Airlines offering direct service from New York include Continental, Delta, and Alitalia.
Where and What to Eat
People in Milan are too busy making money to really appreciate food, southern Italians are fond of saying. It's true, the leisurely 2-hour lunch is not common here, but the food is still outstanding, with more of an international flavor than provincial cities. Milan was even the location of Italy's first vegetarian restaurant. Lombardy is Europe's main rice producer, and many of the dishes include this key ingredient. When one thinks of Italian food, rice does not usually come to mind. Don't worry, there are still plenty of pasta dishes to be found. But do try the Risotto alla Milanese, a rice, meat broth, and saffron dish popular in Milan. Fegato alla Veneziana, thinly sliced calf's liver with yellow onions, is another regional specialty. Northern Italy is also known for their fine cheeses and cured hams.
Rigolo
Via Solferino, 11, at Largo Treves
Milan
Tel: 39 02 864-63220
Rigolo is the place to go for Milanese and Tuscan cuisine. A casual yet elegant place with white linen tablecloths and attentive service. The prices are reasonable.

Tano Passami l'Olio
32/a Via Vigevano
Milan
Tel: 39 02 839-4139
Web: http://www.tanopassamilolio.it/
This restaurant, whose name means "Tano, pass me the oil," is a cozy place where you'll likely be greeted by Tano or his wife Nadia. They serve a variety of dishes, including suckling pig, almond and mint crusted lamb, and beef in chestnut cream.

Caffe Cova
8 Via Montenapoleone
Milan
Tel: 39 02 760-00578
In the heart of the Golden Quadrangle shopping district, this historical cafe is known for its hand-made chocolates and tiramisu, a delicious dessert. This is one of the hippest spots in Milan, frequented by models and fashion aficionados.

Where to Stay


Hotel Casa Mia
Viale Vittorio Veneto 30
Milan
Tel: 39 02 657-5249
Web: https://hotel-casa-mia-milan.hotels-milan.info/en/

Small, budget hotel in an ideal location near the Piazza Duomo and the central district. Doubles are around 90 Euro depending on the season.

Golden Tulip Hotel Manin
Via Manin 7
Milan
Tel: 39 02 659-6511
Fax: 39 02 655-2160
First class accommodations centrally located near the railway station, the Duomo, and shopping. Rooms go for around 200 Euro.

Four Seasons Hotel
Via Gesu, 6/8
Milan
Tel: 39 02 77088
Toll free USA: 800- 819-5053
Fax: 39 02 7708 5000
Web: http://www.fourseasons.com/milan/
A former 15th century monastery that is now anything but austere, the Four Seasons Milan is one of the most luxurious and romantic hotels in the world. There are marble bathrooms and antique furniture, with most rooms overlooking a courtyard. You're likely to run into an Italian opera, movie, or fashion star in the lobby. Rates are around 580 Euro.
You can check rates and book your room and rental car with WTA's Online Travel Service. Hotel and rental car savings can be significant.
When to Go
The most comfortable months to visit Milan are during the late spring and early fall. January can be very cold and July very hot, but January and July are the months to go if you want to buy the latest fashions on sale, with discounts of up to 50 percent. The sales usually begin mid-month, but check with the Italian Tourist Board or the Milan Chamber of Commerce for exact dates. January is also a good month to find airfare and hotel rooms at reduced rates.
Getting Around Milan
Milan's Metro, streetcar, and bus system are efficient and inexpensive. Taxis are expensive; it's best to wait for them at marked stands.
Dollar Value
Italy, like most of Europe, now uses the Euro as its currency. The US dollar has declined against the Euro recently, and prices have been rising accordingly. As of August 2006, one USD was equal to about .78 Euros. As a financial and fashion center, hotel and restaurant prices tend to on the expensive side, though bargains can be found on clothing and accessories.
Attractions


Duomo (The Cathedral)
Piazza del Duomo
Milan
Tel: 39 02 7202-2656
Web: http://www.duomomilano.it/
Hours: 7am – 7pm Daily
Admission: Free for the Cathedral. Admission to roof is 4 ˆ using the stairs, 6 ˆ for the elevator. Museum admission is 6 ˆ

Castello Sforzesco
Piazza Castello
Milan
Tel:39 02 8846-3700
Web: https://www.milanocastello.it/it
Hours: Castle is open daily from 9am - 6pm. Museums are open from 9am to 5pm and are closed on Mondays.
Admission: Free for the castle. The museums are 3 ˆ

Leonardo da Vinci National Museum of Science and Technology
Via S. Vittore 21 – 20123
Milan
Tel: 39-02-485-55200
Web: http://www.museoscienza.org/
Hours: Tuesday-Friday: 9:30am – 5pm. Weekends and holidays: 9:30am – 6:30pm.
Admission 7 ˆ

Tourism Information


Notice: This information is current as of August 2006. It is recommended that you contact the numbers, and/or visit the websites above to determine any changes to the information.