Learn about Mazatlan, Mexico by reading Experience Tropical Days and Romantic Nights by Sandy Zimmerman, Travel Writer. It features a mini, but thorough tour of the destination. Enjoy!
Experience Tropical Days and Romantic Nights - Mazatlan, Mexico
by Sandy Zimmerman, Travel Writer and WTA Member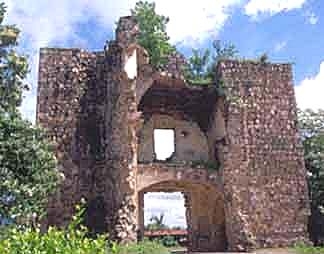 Ruins abound in Mexico. Here are the ruins of a church.
Photo courtesy of Sandy Zimmerman.
Once you have discovered Mazatlan, you will not have to look any farther for places to visit! I was surprised that there were so many unique sights in and around Mazatlan.
We spent a few hours exploring historical downtown Mazatlan. Home to one of Mexicoís oldest and largest historic districts known as El Centro historical, this area consists of a 180 block district containing 479 buildings all designated historical landmarks. There is entertainment in the plaza and the streets are closed to traffic on weekends.
Walking along the Malecon boardwalk, just steps from the ocean, we were thrilled by the brave cliff divers. Each man must watch the waves and know the exact moment to dive into the shallow waters. The Malecon also has unique sculpture benches carved into different shapes.
Side Trips
Mazatlanís nearby mining and magic towns look as though they were untouched by the world. Our Colonial Country Tour brought us into the Sierra Madre Mountains to nearby small villages whose historic buildings and narrow cobblestone streets havenít changed in hundreds of years. During one stop in Malpica, we watched a "one man tile factory" as he worked at his home. The man pushed down very hard, using all of his strength on the 100-year-old press in order to make the imprint on each tile. He totaled 300 tiles a day. Next we drove around the village of Concordia, founded in 1565 by the Spanish. The Colonial Church of Saint Sebastian was built in the 18th century in baroque style carved in red stone. We saw the French-style City Hall, constructed between 1905-1910. This entire village has been dedicated to the manufacture of handmade furniture, bricks, and pottery since the Colonial period.

The 400-year old mining town, Copala, is very picturesque.
Photo courtesy of Sandy Zimmerman.
Our tour stopped for lunch at the Restaurant Daniels in Copala, a 400 year old mining town. Daniels even offered donkeys for a tour of the village but everyone opted to walk. We could imagine the early times when the mines were working and this now sleepy picturesque village was busy. We saw the Saint Sebastian Church, old prison, rustic bakery, San Jose Church, town square, and quaint red roofed colonial style homes.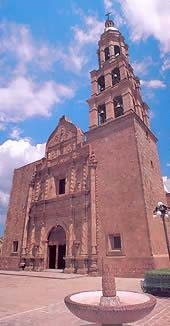 Our Lady of Rosarito Church has the only all gold alter in Mexico.
Photo courtesy of Sandy Zimmerman.
The next day we were ready to take the Rosario Golden Tour to a different part of the country, 50 miles from Mazatlan. Rosario, founded in 1655, was the richest town in northwest Mexico with the most important silver and gold mines over 150 years ago. Their mines were so rich; "Our lady of Rosario Church" has the only all gold altar in Mexico! It was designed with real gold and said to be worth over a million dollars. When we walked into the Baroque-style stone church, the altar seemed to shine! The ruins of the old El Rosario Church are near a beautiful lagoon. We drove through a welcome arch to the colonial village El Quelite and dined at El Meson d los Laureanos. You have to try their cactus salad! Tourists can stay at their B&B to take traditional Mexican cooking classes, learn to speak Spanish, and go bird watching or hiking in the mountains. Another stop was at the largest rooster ranch in Mexico, housing 6,000 roosters.
The Blue Agave Tequila Tour took us to "La Vinata", to visit an 18th Century Tequila Distillery just a one-hour drive northwest of Mazatlan. We were shown the early as well as the latest methods of producing Tequila. Everyone refreshed themselves with complimentary tasting of several varieties of Tequilas after the tour.
Where To Stay
Just one resort may not satisfy you, so why not enjoy the pleasures of four resorts at the same time? Yes, it is possible, at the beautiful five star El Cid Resorts! Their all-inclusive plan gives you privileges at the El Cid Castilla Beach Resort, El Cid Marina Beach Resort, El Cid Granada Country Club Resort, and El Cid El Morro Beach Resort. With a free shuttle to whisk you away to each of the resorts, your only decision is where to go next! If you want to discover Mazatlanís nightlife, it is right here at the El Cid Resortís El Caracol Disco Club.
All meals, and unlimited house brand drinks are included in your all inclusive package. Eat breakfast at the Marina Resort, lunch at the Castilla, and dine at the Granada for dinner. The next day try a new combination of restaurants. Each restaurant provides a different experience. Just wear your ID bracelet and you will be welcomed at all of the participating restaurants, pools, and activities. I love all-inclusive resorts because they offer more than the regular hotels.
Would you like to enjoy a massage in a tropical ocean front hut as you hear the ocean waves and feel gentle breezes caress your body? These huts have openings for you to see the palm trees, beach, and ocean. Or try a massage at night under the moon and stars.
Their wide variety of beach and pool activities will keep you busy- step aerobics, yoga, stretching, pool volleyball, aquaerobics, darts, bingo, jazz, casino time, Tae Kwon Do, water polo, and so much more. Learn how to prepare Mexican cuisine, take salsa classes, make a tropical cocktail, or learn Spanish. Workout in the fitness center, then relax in the steam room or sauna. Day and night the El Cid Resorts will entertain you! Choose from their all-inclusive or European plan (without meals).
One day we rented a boat at the marina for a view of the city from the ocean. Our guide maneuvered the boat while pointing out the sights including El Cid Resortís private island for snorkeling and scuba diving tours. There were sea lions sunning themselves on the rocks, dolphins playfully jumping out of the water, and oyster divers taking a big breadth before disappearing under the sea.
For further information about hotels and tourism in Mazatlan, contact the Association of Hotels and Tourism in Mazatlan, 800-525-1925, www.gomazatlan.com.
Notice: This information is current as of January 2007. It is recommended that you contact the numbers, and/or visit the websites above to determine any changes to the information.