Learn about Cranbrook, British Columbia by reading Year-Round Mountain Playground by Sandy Zimmerman, Travel Writer. It features a mini, but thorough tour of the destination, plus all you'll need to know to plan your trip including getting there and things to do. At the end of the article, we've provided a summary of the contact information for your easy reference. Enjoy!
Year-Round Mountain Playground - Cranbrook, British Columbia, Canada
by Sandy Zimmerman, Travel Writer and WTA MemberA
Although Cranbrook's population is under 20,000, its location near several resort towns offers visitors lots of mountain activities from which to choose! The choices are an outdoorsman's dream - snowmobiling, snow shoeing, dog sledding, cross country skiing, down hill skiing, white water rafting, fly fishing, nature trails, bird watching, heli tours, horseback riding, mountain biking and climbing, adventure tours, museums, historic Fort Steele or even a Broadway-style show.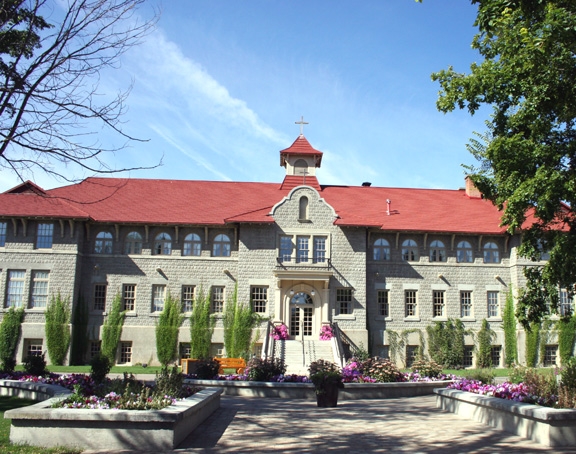 Historic turn-of-the-century former St. Eugene Indian Mission School is now a resort.
Photo courtesy of Sandy Zimmerman
Owned by the Ktunaxa (pronounced "k-too-nah-ha") First Nations Aboriginal Indian Nation, the St. Eugene Resort's restored historic mission building, turn-of-the-century furnishings, and 125 guest rooms will please even the most discerning traveler. The St. Eugene Resort has been named "One of the Top Three New Golf Courses" by Golf Digest, holds Canada's select 4-? stars rating, and a 3 Diamond rating with AAA/CAA. Today their beautiful stone building brightens the country setting, and is a place for relaxation, with an 18-hole golf course, fine dining, fitness center, cocktail lounge, and 19,000 square foot Casino of the Rockies. Most of the resort's brickwork is original. Still honoring their past, three traditional canvas teepees are available for guests.
I enjoyed walking through the historic building and seeing the photos of the original school and the children who attended the classes.
Executive Chef Cliff Huck's original creations are cooked with early Pacific Northwestern techniques in which salmon is cooked on a cedar plank instead of in a pan. The plank is placed in the oven or on the grill and the result is a very moist, tender fish. His rum soaked cedar plank salmon is marinated in rum and served with maple glazed sea scallops and prawn brochettes. The maple flavor goes well with the cedar and rum. He uses local wild honey for his halibut's glaze. The Rocky Mountain marinated bison kabobs are prepared on rosemary skewers, which are pulled off when it is served. Buffalo meat is leaner and healthier than other meats. Chef Cliff purchases Triple A Sterling Silver top quality beef that has been aged for 30 days and butchers their own meat. They also select Free Range chicken, which has been raised without pesticides. I must mention their scrumptious warm sticky date pudding topped with an Alberta whisky caramel sauce and vanilla ice cream.
Surrounded by the famous St Mary's River, the Rocky and Purcell Mountains, St. Eugene's Resort is a beautiful setting for weddings, parties, family reunions, retreats, and business conferences.
Cranbrook has more sunshine hours and the best weather in British Columbia. If you want a romantic evening for two or unique party there are three tepees available for the guest's enjoyment. They light a bonfire, wheel the BBQ grill over, and you can eat while watching the sunset. Other possibilities include their Chief David Banquet Room, which is connected to a terrace in case they want to combine an indoor and outdoor party. Many couples prefer the courtyard with the cobblestone promenade in front of the historic Mission Building. Brides have some of the best ideas themselves and know what they want.
There are six banquet rooms totaling 4,000 square feet of meeting facilities and an additional six tents to expand our space. The meeting rooms offer natural light, a white board, projection screen, audio and visual equipment.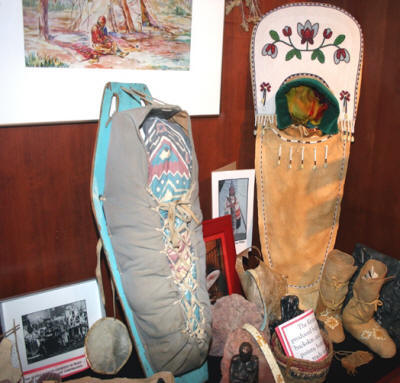 Exhibits at the Ktunaxa Nation Interpretive Centre include clothes, artifacts, a papoose and ceremonial objects.
Photo courtesy of Sandy Zimmerman
Visitors can learn about the heritage of the Ktunaxa Nation at the Interpretive Center inside the St. Eugene Resort and Casino. Part of the thrill of visiting the Canadian Kootenay Rockies was experiencing the culture of the Ktunaxa (pronounced "k-too-nah-ha") First Nations Aboriginal Indian band. Walking into their Interpretive Centre was a journey back to the early days of these Aboriginal people. The Indian guide, Marisa Phillips, discussed the details of the Ktunaxa Nation's history, mythology, and explained their exhibits. The Ktunaxa people lived a nomadic lifestyle following vegetation, hunting and fishing throughout their territory. Their traditional economy included production of high quality tobacco, buckskin, and flint, which were exported to neighboring tribes.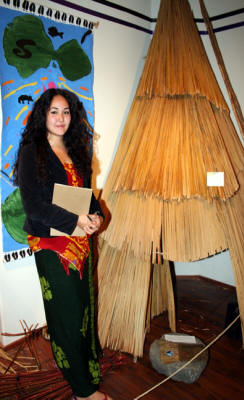 A First Nation's Aboriginal Indian guide gives the tour at the Ktunaxa Nation Interpretive Centre.
Photo courtesy of Sandy Zimmerman
Each of the Interpretive Centre's displays showed artifacts and different aspects of Aboriginal Indian life. The ornate cradles, designed for carrying a baby (papoose) on the woman's back, looked heavy. Another scene displayed a traditional ceremonial fur and buckskin dress decorated with porcupine quills, feathers, and many beads. This dress weighs 10 pounds. It took one year to complete and was colored from the roots of plants.
All of the displays were interesting. The unique sturgeon nose canoe is narrow on each end and was used to travel through the rapids.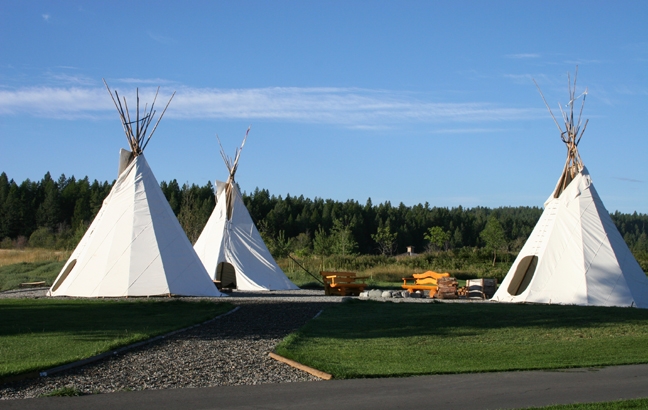 At St. Eugene Mission Resort, teepees are available for private dinners.
Photo courtesy of Sandy Zimmerman
We learned more and more about the Indians as we walked around the Centre. Marisa explained, "These wooden teepees were folded in order to carry them from place to place." The public is invited to visit the Interpretive Centre at no charge.
You could spend an hour or more talking to the guide and touring all of the exhibits! Join their special free nature tours to identify the local plants and learn how they are used. There are also tours of the hotel, which tell stories of the past. Tours are available for two or more people and groups up to 30, but they have to be arranged in advance. Marisa learned how to skin, tan, and stretch hides when she was a young girl.
Cranbrook Details
Getting There
Only a 4-? hour drive from the Calgary airport, Cranbrook is in the Kootenay Rockies. This is one of the most beautiful settings in the Southeastern corner of British Columbia, Canada. These mountains are easy to drive without extreme hills and horseshoe turns.
Airlines
Air Canada, 888-247-2262, www.aircanada.com.
Where To Stay
St. Eugene Resort & Casino, 866-292-2020, www.steugene.ca, www.ktunaxa.org.
Notice: This information is current as of May 2007. It is recommended that you contact the numbers, and/or visit the websites above to determine any changes to the information.