Learn about Cairo, Egypt, by reading Clamorous Cairo by Gary W. Bloom, WTA Member and Leisure Traveler/Writer. It features a mini, but thorough tour of the destination, plus all you'll need to know to plan your trip including how to get there, objective information on places to stay and eat, and things to do. At the end of the article, we've provided a summary of the contact information for your easy reference. Enjoy!
Clamorous Cairo
By Gary W. Bloom, WTA Member and Travel Writer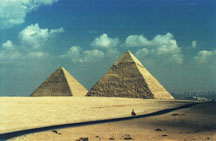 The Great Pyramids near Cairo
Cairo is a feast for the senses. From the roofs of mosques comes the haunting cry of the muezzins' call to prayer. The skyline is pierced by hundred of minarets rising above the round domes of mosques. The cacophonous street noise and the loud banter of street vendors negotiating with their customers never stops. There are the smells of tobacco smoke wafting from water pipes and lamb roasting on spits and the tastes of skewered rabbit and exotic spices.
My wife, Wang, and I immersed ourselves in Cairo's sea of humanity. With 15 million people, rush hour seems to go on from early morning until late at night. Horns are always blaring and pedestrians always running from the paths of speeding cars. At night, many Cairenes drive without their lights on, reserving them for flashing at cars and pedestrians who dare cross their path. Cairo once had the distinction of having the world's highest per capita motor vehicle fatality rate.
This is not the place for a relaxing vacation. We found this out soon after getting off the airplane when tour guides offering their services accosted us from all sides. We finally gave in to one half-day tour, and found out later that we paid twice the going rate. Taxi drivers and paid guides take you to papyrus, perfume, and souvenir shops, whether you want to go or not. We were ushered in to many shops, sat down, given tea or coffee, and held captive while the proprietor hawked his merchandise. The drivers, of course, take a cut of the profits of anything you buy. When we didn't buy anything we noticed a definite change in the driver's attitude. Cairo is not a place for the meek.
Was the hassle worth it? Without a doubt. This 1,000-year-old city, called "The Mother of the World," is at the center of all routes to and from the continents of Asia, Africa, and Europe. Like most strategic landmarks, Cairo's history and culture runs rich and deep. No other country has as long a history as Egypt. And Cairo, whose Arabic name means Egypt, continues to be its center of commerce and culture.
The pyramids were the way Egyptians buried their leaders. Common Cairenes were buried in Cairo's Northern and Southern Cemeteries, which are separated by the fortress like Citadel. You can tell a lot about a city's culture and traditions from the way its citizens bury their dead.  Cairo's cemeteries are perhaps the only ones in the world where there are permanent residents. What better reflection of a city whose population is so out of control that the last telephone directory was issued in 1961. But more importantly, a reflection of how comfortable Egyptians are with death. The ancient sultans used their family tombs for elaborate parties. The festivities included archery contests and horse races. The tradition continues today, with Cairenes visiting their family tombs on Holidays for picnics and celebrations. The burial place consists of 2 or 3 rooms with the body placed beneath the floor, interred on its side and facing Mecca.   Although some squatters have taken up residence in unused tombs, many of the residents are caretakers of the family tomb. The Northern and Southern cemeteries are home to a half million people. Chickens, cats, dogs, and children roam about the dirt roads between the tombs. Laundry hangs from lines strung between cenotaphs. This is truly a "City of the Dead," complete with running water, electricity, phone service, schools, shops, and bus stops.
Between the Northern and Southern cemeteries is the Citadel. This grand fortress was built on a limestone hill that rises 245 feet above the city. Within its 30-foot high walls are mosques and museums. The site was known for its cool breezes as well as its obvious military advantages. The Citadel was a haven for Egypt's rulers from the 13-century until the British Occupation. The location offers the modern tourist the same advantages it afforded the sultans - a reprieve from the heat, clamor, and congestion of the city below it. The Khan al-Khalili Bazaar near the Citadel may be Cairo at its most clamorous. Anything and everything is sold here, from copperware to carpets. The familiar refrain of "Do you want to see my shop?" is shouted from both sides of the narrow lanes.
The much more sedate Egyptian Museum, housed in a building befitting its priceless contents, was completed in 1922. Inside are the treasures of Tutankhamun, including the king's chariots, his bows and arrows, and the golden mask.  The mummy room includes the mummy of Ramses V, showing his smallpox scars, and of Pharaoh Seti I, who had six toes on each foot. The mummy of Pharaoh Seqenenre II, who died fighting the Hyksos, reveals a skull riddled with wounds, a tightly clenched fist, and a mouth caught for eternity in a terrifying scream.
Early on the morning of our third day in Cairo we took a taxi to the Camel Market in the suburb of ImbWTAh.  Hundreds of camels are bought and sold here, mostly for food. The camel drovers, dressed in white turbans and long gowns called galabiyyas, drink tea while prices are negotiated with the butchers. The camels are less than affable after making the long journey across the desert from the Sudan or Somalia. They have one leg tied up at the knee but can still move quickly and without regard to anyone in their way. Fortunately there were no stampedes that morning and we wandered about freely after paying an inexpensive tourist "entrance" fee.
In Cairo, you are never far from the Nile. With almost 95% of Egypt's population living in the Nile Valley, neither are most Egyptians. The river was not only a means of transportation and commerce for the city, but its annual floodwater enriched the surrounding farmland. An annual rainfall of less than an inch made the floodwaters essential for farming. As with most bureaucracies, the ancient Egyptian government had to find a way to measure the largess and levy taxes. The Nilometer is on the southern tip of the island of Rawdah. Built in 861, it is the oldest Muslim structure in Cairo. Every government through the British Occupation used the Nilometer to measure the height of the floodwaters. This measurement determined land taxes, since higher waters meant a better harvest.
When Herodotus visited the pyramids of nearby Giza in the 5th century B.C., he declared them one of the Seven Wonders of the World. Twenty-five hundred years later, it would be hard to argue with his assessment. Even the most jaded world traveler steps back in amazement on viewing these grand temples to the dead.
The Great Pyramid of Pharaoh Khufu was completed around 2600 B.C. The pyramid, at 481 feet in height, is still one of the largest buildings in the world. Medieval thieves chiseled a hole into the north side of the Khufu Pyramid looking for treasures. Instead, they found a maze of corridors that leads to the "King's Chamber." I had to crouch down to make it through the long, narrow tunnel that eventually reaches the Grand Gallery, a spacious chamber 28 feet high and 154 feet long. The Grand Gallery's beautiful corbelled roof was designed to evenly distribute the tremendous weight from above. Another passage leads to the King's Chamber where there is a granite sarcophagus.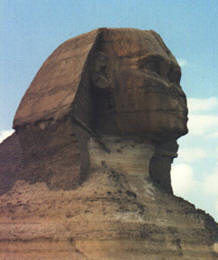 The Giza Necropolis is made up of the pyramids of Khufu, Khafra, and Menkaura, and the Sphinx. The pyramid of Khafra, Khufu's son, is slightly smaller than the Great Pyramid, while that of Menkaura, Khufu's grandson, is much smaller. With the sculptured head of Khafra, the half pharaoh and half lion Sphinx stands guard nearby.
Near the pyramids are huge boat-shaped excavations. The Necropolis was a port from which the pharaohs departed for the afterlife. These excavations in the rock symbolized the ships used for the trip. Sometimes real boats were buried. One such boat was excavated in 1954 and is on display at a museum near the pyramids. The remarkably well-preserved cedar wood boat was probably used during Khufu's funeral procession and then buried for his use in the afterlife.
Camel vendors are ferocious near the pyramids. If you insist on taking a camel ride, as I suppose every visitor to Egypt must, negotiate the price before climbing onto the camel, but don't pay until the camel has kneeled down and you can get off. Some unscrupulous camel vendors try to add a "departure" fee after they've already been paid.
Late in the afternoon of our last day in Cairo, I walked to a small outdoor cafe on a back street near our hotel. I was seated at an outdoor table, a water pipe placed at my feet, and bought a cup of Turkish coffee. Although treated as an oddity, since the cafe was far from the tourist sites, the waiter was friendly and spoke some English, as many Cairenes do. He had the now familiar bruise on his forehead, called a "raisin," sustained from forcefully bowing his head to the ground during the five times a day prayer of devout Muslims. Egyptian politicians are said to have self-induced these bruises before important public appearances. Even in a place as foreign as Egypt, some things remain the same.
Across the street a couple of men were playing backgammon on a small table set up on the sidewalk while another man was feverishly negotiating the price of a side of beef hanging outside a shop. I settled back in the wood chair, sipped the strong Turkish coffee, smoked the smooth tobacco from the water pipe, and watched the never-ending street show that is Cairo.
Details
Getting there
Cairo International Airport is located about 15 miles northeast of the city. The cost of a taxi to the city should be under $10, but you may have to bargain. A better alternative may be the limousine service, which is also around $10. The limousines are lined up near the airport arrivals exit.

EgyptAir is the flag carrier. Other airlines offering non-stop flights from the US include Delta and TWA.  The cost for a round-trip ticket from New York to Cairo, depending on season and schedule, is around $900 (based on fares at the time of this article in 2000).
When to go
Cairo has a desert climate, with summer days very hot, but evenings pleasantly cool. Fall, winter, and spring are the best seasons to visit Cairo, with generally mild temperatures. Hotels charge slightly more during the winter months.
Where to stay:
Cairo Marriott
Saraya Al Gezira Street
Zamalek, Cairo, Egypt
Phone: 20-2-735-8888
Built around a former palace, the Cairo Marriott is surrounded by six acres of lush gardens. One of Cairo's most beautiful hotels, it is decorated with antiques, murals, and Oriental rugs. Many fine restaurants in the hotel. Doubles are about $95 to $205, depending on type of room and season.
Zamalek Atlas Hotel
20 Gameat al Dowal al Arabia
Mahandesseen, Cairo, Egypt
Phone: 20-2-346-6569
Small hotel with 74 rooms, some with good views of the city.  Prices from around $76 to $94.
President
22 Taha Hussein St.
Zamalek, Cairo, Egypt
Phone: 20-2-340-0718
A small, inexpensive hotel on Zamalek Island with a rooftop restaurant and bar. Located in a quiet residential area where many foreign embassies are also situated. Doubles from around  $50 to $90.
Where and What to Eat
Egyptian cuisine has been influenced by what has been called "tent cooking," food that could be made quickly and transported easily by desert nomads, and has borrowed from Turkey, Syria, and Persia.  Lamb kebab, grilled beef and chicken are common items on restaurant menus. Appetizers, called mezze, consist of flatbread, olives, anchovies, and stuffed grape leaves. Traditional Egyptian food is simple, filling, and inexpensive.
Estoril
12 Talaat Harb St.
Phone: 20-2-574-3102
Moderately priced Egyptian food in downtown Cairo. The Estoril's decor is vintage 1950's.
Khan el Khelili restaurant
2 El Badisgtan Lane Khan El Khelili St.
Phone:  20-2-590-3788
Historic restaurant frequented by writers, artists, and tourists; this restaurant is located in the market district that shares its name. Traditional Egyptian cuisine priced around $15 (58 LE) for a main course.
Cafe Riche
17, Talaat Harb Street, Downtown Cairo.
Phone: 20-2-392-9793
Recently reopened, this restaurant has served Egyptian movie stars, painters, politicians, revolutionaries, and writers, including Nobel Prize winning author Naguib Mahfouz, since 1908. The atmosphere is early 1900s Cairo, with Continental and Arabic food priced around $5 (20 LE).  Open 9:30 am – 1:30 am.
Getting around Cairo
Cairo has a small rail transit system called the Metro, with limited but good service. Taxis can usually be found no matter what time or location. Many drivers also serve as guides. It is best to get the cost to a destination up-front to avoid arguments. If you are leaving from your hotel, ask the concierge to get a fixed price before getting into the taxi.  But don't expect the driver to know where he's going, unless it's one of the more popular tourist attractions. Many drivers know less about the city than you do. 
Dollar value
The Egyptian pound, abbreviated as LE, is the unit of currency and is divided into 100 piastres. As of July, 2001, one US dollar was equal to about 3.95 Egyptian pounds. With the current exchange rate, restaurants and hotels are relatively inexpensive
Attractions
Egyptian Museum
Maydan El Tahrir, Cairo
Phone: 20-2-574-2681
Web: http://www.swan.ac.uk/egypt/
E-mail: emuseum@idsc.gov.eg
Open daily 9am-5pm.
Entrance fee is LE20 (about $5) for adults, LE10 (about $2.50) for children. Mummies and the treasures of King Tut are among the highlights of the world's greatest collection of Egyptian antiquities.
Solar Boat Museum
Next to Cheops Pyramid, Giza
Phone: 20-2-385-7928
Open daily 9am-5pm
Entrance fee is LE20 (about $5)
This museum houses King Cheop's boat, found buried next to the Pyramid of Cheops. Other exhibits include ancient boat building techniques.
Islamic Museum
352 Ahmed Maher Square, Bab El-Khalq, Cairo
Phone: 20-2-390-9930
Open daily 9am-4pm
Entrance fee is LE16 (about $4)
With over 80,000 items, this is one of the world's greatest collections of Islamic art, including ceramics, coins, and textiles.
More Information
Egyptian Tourist Authority
630 Fifth Avenue, Suite 1706
New York, NY 10111
Phone: (212) 332 - 2570
Fax: (212) 956 - 6439
E-mail: info@egypttourism.org
Egyptian Tourist Authority
645 N. Michigan Avenue, Suite 829
Chicago, IL 60611
Phone: (312) 280 - 4666 or (312) 280 - 4693
Fax: (312) 280 - 4788
E-mail: egyptmdwst@aol.com
Egyptian Tourist Authority
8383 Wilshire Blvd., Suite 215
Beverly Hills, CA 90211
Phone: (323) 653 - 8815
Fax: (323) 653 - 8961
E-mail: egypt@etala.com
Office De Tourisme
Du Gouvernement Egyptien
1253 Mc Gill College Avenue, Suite 250
H3B 2Y5 Montreal, Canada
Email: eta@total.net
Web: http://www.egypttourism.org/
Notice: This information is current as of August 2001. It is recommended that you contact the numbers, and/or visit the
above to determine any changes to the information.