Learn about British Columbia, Canada by reading Meet the Aboriginal People of British Columbia, Canada by Sandy Zimmerman, Travel Writer. It features a mini, but thorough tour of the destination, plus all you'll need to know to plan your trip including getting there, objective information on places to stay and eat, and things to do. At the end of the article, we've provided a summary of the contact information for your easy reference. Enjoy!
Meet the Aboriginal People of British Columbia, Canada
by Sandy Zimmerman, Travel Writer and WTA Member
Among the beautiful scenery and exciting attractions, British Columbia's real treasure is their First Nation's Aboriginal People. We have the opportunity to step back in time, to enter the Pit Houses and interact with these descendents of the ancient ones. Archaeologists have uncovered artifacts carbon-dated from 5,000-9,000 years of age. This is a very different British Columbia that few people see. We began our adventure in Vancouver, rented a car, and spent 10 days visiting their cultural centers, restaurants, resorts, museums, and pow wows throughout British Columbia.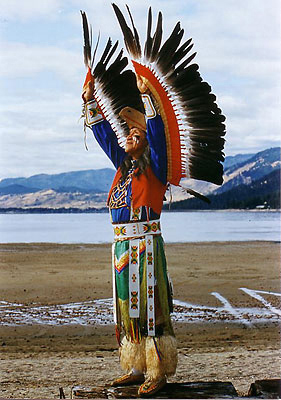 Ernie Philip, a full-blooded Canadian Shuswap Indian
and award-winning professional native dancer.
Photo courtesy of Quaaout Resort
Members of the Tsleil-Waututh Nation, the "People of the Inlet," recreate the experience of their ancestors. Takaya's canoe tour introduces us to the world of the Aboriginal peoples while they beat their drums and sing ancient songs.
Within a 1-1/2 hour drive from Vancouver, Mission has a large number of astonishing archaeological finds. The Stolo (stah-low) Aboriginals sing and dance for visitors at the Xaytem (hay-tum) Longhouse Interpretive Centre. We can explore the remains of this 9,000 year-old Coast Salish village and are allowed to walk down into the 2 underground pit houses. These pit houses are one large room with a 12-sided circular design, cedar timbers, a smoke hole in the ceiling, and fire pit in the center of the room. The houses are made of dirt with cedar wood beams. Each measures around 900 square feet and housed 3 families.
The city of Mission offers so much: Westminster Abbey (Benedictine monastery), the Fraser River Heritage Park, Mission Museum, hiking trails, and fishing. Bird watchers will be thrilled to see eagles soaring overhead.
Just a 1 hour flight or 4 hour drive from Vancouver, Kamloops is an exciting town: Aboriginal pow wows, white water rafting, helicopter tours, cruises, ATV adventures, horseback riding, and fishing await you. Kamloops' local magazines will surprise you with over 101 things to do.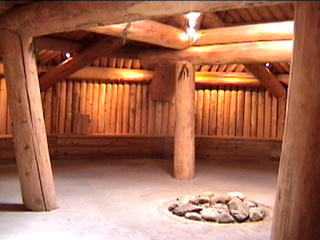 Ancient Pit House - The First Nations Aboriginal People lived underground.
Photo courtesy of Sandy Zimmerman
The Secwepemc Museum & Heritage Park has trails leading through the archeological remains of a 2,000 year-old Shuswap village with 4 winter pit houses, botanical gardens, and a smoke house.
The Sunmore Ginseng Spa is unique, the only facility of its kind in North America that uses ginseng in EVERY health, beauty, food, and massage application in the spa. Their 4 fantasy suites have Chinese, Japanese, European, and Thai themes.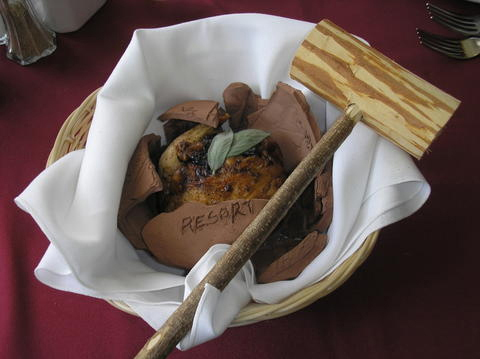 Ancient Aboriginal style of cooking
Photo courtesy of Quaaout Resort
The Shuswap Aboriginal band (tribe) welcomes everyone to the Quaaout (pronounced kwa- out) Resort. Hear the Legends, Feel the Spirit! Enter the world of the First Nations people, a chance to learn their ancient traditions, taste the food, and enjoy their native music. As they say, "Retreat from the daily grind to a natural sanctuary where your worries float away on gentle breezes." Nestled along the shores of the little Shuswap Lake, visitors enjoy a 2,400' beach, all-inclusive activities, and native interpretive areas including teepees and a kekuli (traditional winter pit house). Ernie Philip, a full-blooded Canadian Shuswap Indian walks around the resort in his full native regalia. He entertains us in the dining room with an ancient drum ceremony, and invites us to ask questions about his people. Join Ernie's fascinating guided tours as he tells the legends of the past and explains their history. The cornish hen and salmon filet are each wrapped in clay and cooked in the oven. When the waiter brings the large hardened clay ball to the table, we watched him crack it with a heavy wooden mallet to uncover our meal. Quaaout means "Where the sun's rays first touch the water." Visit the sweat lodge, the First Nations Aboriginal people's sacred place. It acts in the same manner as a sauna but has more heat. Ernie says, "You will feel good and come out on Cloud 9." Inside the sweat lodge, the Aboriginal people pray and ask forgiveness.
Although you may not have heard of Campbell River, their magazine 72 Things To Do In Campbell River has activities for everyone. Campbell River offers one of the few opportunities in the world to snorkel in a river with thousands of salmon around you. Float down the Campbell River about 2-3 feet above the salmon while they make their way up the river to spawn. Another eco-adventure tour takes us along the Inside Passage to see bears, eagles, deer, wolves, dolphins, sea lions, and seals as they play in the wilderness. Travel 50 mph in a 24' Zodiac, a boat that can get close to shore. The Whale Watching Tour spots pods of 10-100 Orcas during the 45-minute trip. Because of their unusual currents and tides, the Shoot the Rapids Tour travels through narrow gaps channels between islands. The Arron Rapids, just north of the town of Campbell River, takes you across 10' standing waves and bubbling whitewater. There are also guided fishing boats, sunset cruises, horseback riding, biking, helicopter/ plane sightseeing tours, and kayaking.
Try your luck at traditional Tyee fishing (First Nations Aboriginal word for large salmon) at Campbell River. Tyee fishing is not like any other fishing. It is difficult for one person to catch and land a salmon that weighs over 30 pounds all by himself. The rower guide slips the rowboat into the currents and eddies of the tide pools, allowing the angler to concentrate on the action of his lure. Some people have tried for 10-15 years before finally succeeding.
British Columbia Details
Some of the unique stops along our trip included:


Liliget Feast House Restaurant- Vancouver
Listel Hotel- Vancouver
Fairmont Hotel and Fairmont Airport – Vancouver
Fleur de Sel French Country B&B Inn – Mission
Painter's Lodge- Campbell River
South Thompson Inn – Kamloops
Quaaout Resort- Chase

Tourist Information



Getting There
Air Canada offers the most non-stop flights to Canada from the U.S., South America, Europe, Asia, and the South Pacific.888-247-2262, http://www.aircanada.com/.
Notice: This information is current as of March 2006. It is recommended that you contact the numbers, and/or visit the websites above to determine any changes to the information.