Learn about historic spots in Alabama by reading Alabama Bound by Charlie Spence, Writer and WTA Member. It features a mini, but thorough tour of the destination, plus all you'll need to know to plan your trip including getting there, objective information on places to stay and eat, and things to do. At the end of the article, we've provided a summary of the contact information for your easy reference. Enjoy!
Alabama Bound
by Charlie Spence, Travel Writer and WTA Member
"Alabama Bound" had been a traditional song in the South for years and in 1924 lyricist Bud Green and composer Ray Henderson made the thought into "Alabamy Bound," a ragtime tune that became a standard in vaudeville and to this day invites visitors to this hospitable state. And, one of the best places to start your visit is Tuskegee, Montgomery, and the surrounding area where you can step back into a hundred years of history and view the links with the past, the core of the Civil Rights movement, and modern life.
The Tuskegee Airmen trained at Moton Field where you will find exhibits, historic buildings, audio-visual programs, and guided walks to let you step back in time to this Tuskegee experience. In July 1941, a program began to train black Americans as pilots in the army air corps. Tuskegee was the home of Tuskegee Institute, now Tuskegee University. The men received their ground school training at the Institute's Division of Aeronautics and basic flight training at Moton Field, then moved on to nearby Tuskegee Army Field. In all, 992 men graduated from training at Tuskegee, 450 of whom went into combat. Approximately 150 lost their lives while training or in combat.
These men—who fought a war on two fronts, one against the Nazis and one against racism—distinguished themselves in combat. They flew more than 15,000 sorties, destroyed more than 1000 German aircraft, and earned 744 air medals and more than 150 Distinguished Flying Crosses. Plan to spend plenty of time at the Daniel "Chappie" James Aerospace Center to learn much more about the legendary airmen.
You will find fascinating history at the institute, which began as a normal school where Booker T. Washington became the first principal. He later hired individuals like George W. Carver to help develop the institute to its world-renowned status. You will see the legacy of these men preserved in the historic campus district where original buildings, built by the students and faculty, still stand. Visit "The Oaks," the home of Booker T. Washington. Check out the amazing works of George W. Carver, the pioneering scientist at the nearby George Carver Museum.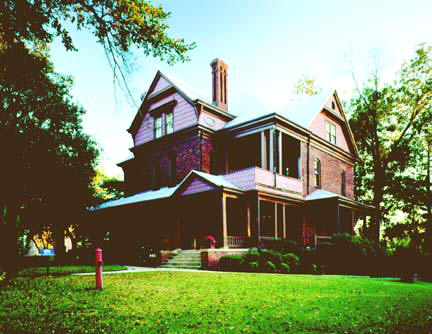 "The Oaks" Home of Booker T. Washington.
Photo courtesy of the Alabama Bureau of Tourism & Travel
A visit to the Tuskegee area sets the stage for traveling back in history to experience firsthand the life and landscape of an era when slavery was a part of the fabric of American Life and a setting for achievements of African-Americans in later years. Tuskegee was the home of Rosa Parks, the "Mother of the Civil Rights Movement," before she moved to Montgomery. Alice Coachman, the first black woman to win an Olympic gold medal made her home in Tuskegee. She went on to win 34 national titles in track and field.
This area of "Alabamy" has much more than history. The Tuskegee National Forest covers 11,054 acres giving nature lovers a variety of options. The Bertram National Recreation Trail offers hiking through an 8.5-mile trail of secluded woodland. You can enjoy 14 miles of horse trails. Visit a replica of Booker T. Washington's boyhood cabin.
Now drive over to Montgomery, just a short distance west of Tuskegee. From Civil War to Civil Rights, Montgomery has played important roles and today combines the qualities of the Old South with the vibrancy of the twenty first century. Montgomery has the only state capitol that is designated a national historic landmark. It is the place where Jefferson Davis took the oath of office as the president of the Confederate States of America.
In one day you can cover a lot of the city and personally experience where many events that you've read about actually occurred. Start the day at the Alabama Department of Archives and History. At this free museum you will see artifact collections documenting Alabama history from early Indians to Civil Rights. You might be tempted to stay and enjoy the two hands-on galleries—"Grandmas Attic" and "Discovery Boxes"—but much of the city awaits your discovery.
Still in the Civil War mode, take a tour of the first Confederate White House, the home of Jefferson Davis. Open Monday through Friday, the admission is free and you will see period furnishings and many of Davis' personal belongings.
Walk in the footsteps of achievement by African-Americans in this birthplace of the Civil Rights movement. Visit the Dexter Avenue King Memorial, which was the first pulpit of Martin Luther King, Jr. The church was the center of the bus boycott. Here you will see a mural depicting King's civil rights crusade from Montgomery to Memphis.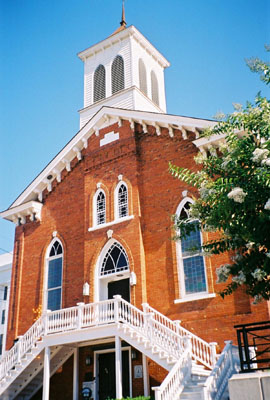 Dexter Avenue King Memorial—the first pulpit of Dr. Martin Luther King
Photo courtesy of the Alabama Bureau of Tourism & Travel
Plan at least two hours to enjoy Old Alabama Town. Stretching six blocks along the heart of historic downtown Montgomery, you will see a collection of authentically restored 19th and 20th century structures. These structures reflect the lives of the people who settled central Alabama. The Gallagher House was Old Town's first restoration. It stands on the original site of the original building and includes kitchens and slave quarters. For contrast, go over to Lucas Tavern. Originally located east of Montgomery, Lucas Tavern was a stage stop for travelers. An admission is charged but senior and AAA discounts are honored. Best way to get around the downtown area to the tour spots and to avoid the parking hassle is on the unique trolley system. A $1.00 pass lets you use the system all day.
Now, let's start looking for some relaxation from our historic travels. A good segue is a visit to the Hank Williams Museum on Commerce Street to see the singer's 1952 Cadillac, saddle, guitars, records, and photos. For old time Rock ?n Roll try Carrera's where they have live bands every weekend, or drop in at the Metro on Dexter Street. Metro is a mid-size night dance club with a French theme. The Montgomery Brewing Company—The Brewpub to locals—offers good food and features live entertainment Friday and Saturday evenings.
From history to high times, from grits to gourmet, a visit here will reward you being Alabamy Bound.
Details
Getting There
Arriving by scheduled airline, use Montgomery Airport, served by major carriers. The usual rental car services are available. Tuskegee is about 50 miles west of the airport. Take I-65 N to I-85 to exit 38.
Where to Stay
Accommodations are best found in Montgomery where you have a wide choice and range of prices found in any metropolitan area. Several bed and breakfast facilities are available. A few suggestions:
Baymont Inn and Suites--$56 - $119
Courtyard by Marriott--$69 - $117
Diplomat Inn -- $34 - $42
Residence Inn by Marriott--$75 - $145
Colonel's Rest B&B--$60 up
Sweetnin' House B&B--$95 - $105
WTA's Travel Access Discount Program serves up deeper discounts on hotels, car rentals, flights, and activities all over the world. Most of our travel deals are not available to the public, which means rates are much lower than what the average consumer can find online. Click here to start accessing for free today.
Notice: This information is current as of February 2004. It is recommended that you contact the numbers, and/or visit the websites above to determine any changes to the information.