Learn about Acapulco, Mexico, by reading Acapulco is the Real Mexico! by Sandy Zimmerman, Travel Writer and fellow WTA member. It features a mini, but thorough tour of the destination, plus all you'll need to know to plan your trip including getting there, objective information on places to stay and eat, and things to do. At the end of the article, we've provided a summary of the contact information for your easy reference. Enjoy!
Acapulco is the Real Mexico!
by Sandy Zimmerman, Travel Writer and WTA Member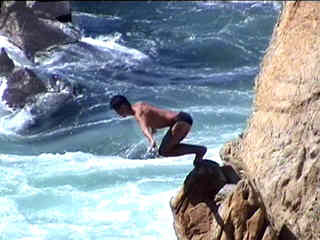 A brave cliff diver faces the dangerous currents of La Quebrada.
Known as the "Queen of the Mexican Riviera," people enjoy the unique flavor of Acapulco. Its wild tropical wilderness suddenly appears and disappears at every turn of the road. Once a sleepy fishing village, Acapulco was discovered by Hollywood during WWII. In what is now called the traditional historic area, Acapulco became Hollywood's favorite vacation destination. Studio's shot Johnny Weissmuller's Tarzan films, Humphrey Bogart and Katharine Hepburn's African Queen, Rita Hayworth's Lady from Shanghai, Elvis Presley's Fun in Acapulco, Sylvester Stallone's Rambo II, and many others here.
Nature designed Acapulco with stunning, natural beauty reminiscent of Hong Kong and the French Riviera. The Pacific Ocean on one side and the Sierra Madre Mountains on the other frame its crescent shaped bay. Acapulco's community grew along the bay from the traditional old town to the exciting Golden Section and later added a Beverly Hills-style Diamond Section. The Golden Section holds most of Acapulco's resort row, restaurants, discos, and stores. The exclusive Diamond Section transports you away from the crowds to a secluded tropical setting dotted with luxury hotels, fine restaurants, and homes of the rich and famous.
Acapulco is such an exciting city; you will have difficulty choosing from the wide variety of attractions, tours, and entertainment.
Attractions
From the beginning, as Acapulco blossomed into a jetsetter's resort (1930s), the brave cliff divers faced the dangerous currents of La Quebrada. They must watch carefully and jump at the exact moment the waters reach a certain level. The jump coincides with the incoming waves that cushion their impact and protect the divers from landing in shallow areas. Jumping a little earlier or later could mean broken bones or worse. They jump from 120 foot cliffs into a narrow inlet with 18 feet of water daily at 1:00, 7:30, 8:30, 9:30, and 10:30 P. M. During the evening shows the divers carry flaming torches. The famous Raul Garcia made his last dive at the age of 69 and holds several records for around 37,000 dives. At first, the all male Acapulco Cliff Diving Union argued that cliff diving is very dangerous for women because of their breasts. Finally they relented to allow the first woman to compete.
A great spot to watch the cliff divers is from the El Mirador hotel. The first hotel to be built in Acapulco (1933), El Mirador is nestled on top of La Quebrada cliffs with great terrace and restaurant vantage points. Stroll around their walls of celebrity photos, handprints, and other memorabilia.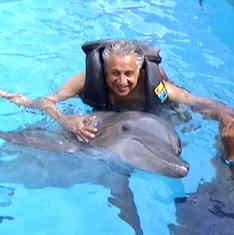 At C.I.C.I. Acapulco Magico you don't just watch dolphins, you can swim in the tank with them!
Don't just watch dolphins, swim in the tank with them! C.I.C.I. Acapulco Magico allows you to have a close-up experience of actually touching their skin, feeding them, letting them kiss you, and enjoying the dolphins as few people can. Their aquatic park has several different water slides, a wave pool, rides, and restaurant. They say the Sky Coaster simulates the feeling of being a cliff diver-jumping 100 feet down at 80 MPH. C.I.C.I also features a live seal and dolphin show daily.
One of the biggest thrills is taking the Shotover Jet Boat Adventure inside the jungle! Just don a life preserver, step into the jet boat, and in a few moments you are inside the eerie world of the Puerto Marques Lagoon. As the boat zooms through the swamp at 75 MPH, it moves in and out of the dense underbrush and around giant Mangrove Trees. Suddenly the driver motions and everyone holds on for a 365-degree spin! A few minutes later he yells, "Watch your heads!" maneuvering through such narrow passageways that there is hardly enough room for the boat. This is the home of alligators, boa constrictors, parrots, flamingos, tarantulas, and other wildlife. Several Tarzan films were shot here. The company has been in business since 1970, with Shotover locations in New Zealand, Fiji, and Acapulco. Their skilled drivers are required to undergo a rigorous 120 hours of intense training.
Bay Cruises
Cruise around Acapulco's beautiful bay and see the sights from Yates Fiesta and Bonanza fun cruises. Their 11 A. M. cruise includes a live band, dance party, swimming, tour, and all-you-can-drink open bar. The romantic 4:30 P. M. sunset cruise includes a live band on one deck and recorded music on the other, dance party, a complete tour around the bay featuring homes of the rich and famous, and an open bar. The 10:30 P. M. moonlight party cruise offers a disco, dance party, international show, and open bar. Seeing Acapulco sparkling with lights at night is breathtaking.
Tours/Daytrips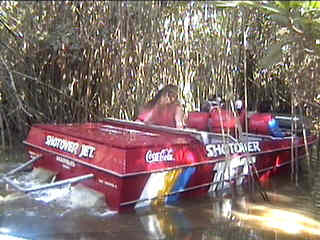 One of the biggest thrills is taking the Shotover Jet Boat Adventure inside the jungle!
Just being in Acapulco is not enough without a tour! As you walk around the old section, hear the stories of the pirates, the Aztec Indians, the people who fought to settle in Acapulco. Maritur has expert guides to take you to the bullfights, deep-sea fishing, sailing, horseback riding, scuba diving, snorkeling, boat excursions, nightclub tours, and an all day tour to Taxco or Mexico City. Their city tour brings you close to the divers at La Quebrada, and to some of the most breathtaking views of the city. Maritur offers convention /meeting services, audiovisual/sound equipment rentals, destination management services, event decoration and staging.
One of the most fascinating tours transports you away from Acapulco, off the beaten path to the Coyuca Lagoon. It is a wonderful day with nature, surrounded by a tropical wilderness. You ride a long flat gondola-style boat with palapa roof into the lagoon with stops for mudpack facials and an all-you-can-eat lunch. Constellation Services offers tours to Coyuca Lagoon, deep sea fishing, shopping, sailing on a 55-foot yacht, and day trips to Taxco. They are a destination management company arranging convention and meeting services, theme parties, event planning, private yachts, and much more!
Take a kayaking or snorkeling tour on the Island of Roqueta with SDA, the Swiss Divers Association. SDA supplies snorkeling gear, drinks, lunch, zoo entry fee, professional guide, and transportation. They have diving courses and snorkeling trips by boat.
Pueblo Bravo Acapulco schedules rafting and camping excursions along the Papaya River's class 2 and 3 rapids. They also offer kayaking, rappelling, and a climbing wall. No experience is required. Bravo supplies all of the gear. Children 7 years and older are allowed.
Hotels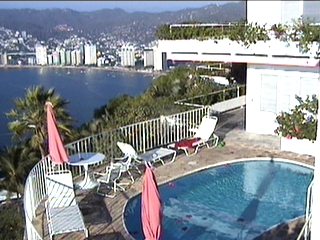 A view of Acapulco from a casita at the Las Brisas Resort
Even though Acapulco is known as a jetsetter's resort, you can find hotels in all price ranges. Sitting on one of Acapulco's most beautiful beaches, you can't miss the 5-star Avalon Excalibur Resort - the tallest, largest and first resort in the beginning of the Golden Section of Acapulco's hotel row. Acapulco and the Avalon Excalibur are an unbeatable combination. Acapulco offers everything you are seeking in a vacation while the Excalibur has everything you could want in a resort! They care about guests and want them to feel welcome.
The Avalon Excalibur is located on Acapulco's main street, across from the La Gran Plaza shopping mall, and walking distance to discos, restaurants, movies, and attractions. Excalibur offers Mexican and International shows along with dance music. Their activities director is ready (9 A.M.-5 P.M.) with stretching, exercises, water aerobics, beach walks, handcrafts, contests, volleyball, and games for adults and children. Let the Wild Things Club keep your kids happy while you relax and unwind (9 A.M.-4:30 P.M.). Kids (4-10 years old) learn to write their names in ancient Mayan script, watch videos, collect seashells, play at the jungle pool, and participate in games.
All of the Avalon Excalibur's 405 large modern rooms, 1-2 bedroom suites have balconies with either ocean or mountain views. With 20 stories and plenty of public space, they are ready for meetings, weddings, and divorce celebrations. The Excalibur can handle everything from Hawaiian, casino, Caribbean, or special themes, to convention services for 400 persons. Avalon's motto "Paradise Found" is the perfect description for this hotel chain. Once you have stayed at an Avalon resort, you will want to return or try their other locations.
Restaurants
A number of Acapulco's 160 restaurants are designed with romance in mind! Dine under the stars, in secluded hideaways, or overlooking the ocean. You will find international, continental, nouvelle, Mexican, Italian, Mediterranean, Argentinean, Japanese, Chinese, French, vegetarian, and other cuisine.
The Avalon Excalibur Resort's romantic, island-style El Cocotero Restaurant is located on the beach. With a palapa (thatched palm frond) roof and open sides, look at the ocean and enjoy your drinks or meal. And what a meal! The chef has created interesting ways of preparing and presenting food. The seafood salad is served on half melons filled with shrimp, fish, clams, or octopus, in a tangy cocktail sauce. Pergola Rice is fried with onions, garlic, green peppers, shrimp, octopus, fish, and soy sauce. Try the spicy baby shark quesadillas, Arrachera asada (Mexican steak), or other tasty dishes. Each restaurant cooks fish, chicken, or beef the way you like it!
The Excalibur's Bella vista Restaurant is your balcony to view the beach and ocean, offering a choice of all-you-can-eat buffets or menu. The sumptuous breakfast buffet includes chicken, beef and other dishes as more of a brunch. The menu features tender filet mignon, fajitas de pollo (chicken), Hawaiian or Mexican pizzas, pastas, and hamburgers. Watch out, the shrimp Diablo is hot! Sir Lancelot Lounge overlooks the beach, next to the pools. Relax under one of the forty-four palapa-style umbrellas in front of the hotel. Guests who are on the ALL INCLUSIVE plan may have complimentary drinks from 10 A. M. to 10 P. M. - liquor, wine, beer, and tropical drinks. The plan includes breakfast, lunch, and dinner in all three restaurants.
Another good choice is the La Perla Restaurant, located inside the El Mirador Hotel. You can dine and dance to live music, plus catch a view of the La Quebrada cliff divers.
Discos/Entertainment
Acapulco's nightlife includes the Hard Rock Cafe, Planet Hollywood, and others listed below. Some hotels have special discount tickets and VIP line passes for local discos. These are good to use because many of these nightspots charge a cover charge that can run $10 to $60 per person. Some include your drinks, but some do not. Also, some are rather exclusive, so you may need a VIP line pass to get in. So, it's a good idea to check these things out with your hotel concierge before hand.
A fun spot is the Baby O's, a disco and concert hall in a caveman setting. Its motto is, "There is only one Acapulco, and there is only one Baby O's."
Nina's is a late nightspot with live music, a tropical spectacular show at 1 A.M., along with nightly salsa, Cuban, and merenge rhythms. Nina's is a Copacabana-style club.
The Palladium is the largest disco in Acapulco, accommodating 5,000 people at one time. It offers view of the bay.
Senor Frog's keeps you singing, laughing, and even entices dancing on the table. It has cliffside dining, and a fun party atmosphere.
The Siboney piano bar is romantic with a mix of Latin and American music. Join in the sing-along.
You can dance to the music of the 70s-80s-and-90s at Zucca.
Avalon Excalibur Resort offers Mexican and International shows along with dance music, and seasonal, live bands in their bar. (See information under hotels.)
As you can see, you won't be at a loss for things to see and do in Acapulco!
Details
Getting There

By Air
Check any of the major airlines, but American Airlines has nonstop flights from Dallas and Chicago, with connecting flights from New York. 1-(800)-433-7300. www.aa.com.
Aero Mexico offers a hassle-free trip from Las Vegas and a great, fast zoom through customs when you return. Complimentary liquor, and one of the few airlines that still serves food. Their tasty sandwich, salad, and dessert are a welcome change from other airlines' peanuts and crackers. Daily flights from Las Vegas to Acapulco at 6:45 A. M., 11:50 A. M., 1:10 P. M. They offer direct flights from Los Angeles, New York, and Chicago, with connecting flights from Atlanta, Chicago, Houston, Miami, and Orlando. For information call Aero Mexico 1-(800)-237-6639. www.aeromexico.com.
A great combination trip would include the excitement of Mexico City with your Acapulco vacation; certain flights have a stopover in Mexico City.
By Car
Highway #15 runs from Tucson, Arizona, through the border town of Nogales, Mexico, along a coastal route to Mexico City, then take #95 D to Acapulco. The drive from Mexico City to Acapulco is around 3-1/2 hours.
Entry Requirements
U.S. and Canadian citizens are not required to have a passport to enter Mexico. However, they must show a certified birth certificate accompanied by a government issued photo ID.
Where to Stay


Reminder: Check rates and book your reservations- car and hotel -with https://worldtravelers.enjoymydeals.com/travel.

Avalon Excalibur Resort: Av. Costera Miguel Aleman, #163, Fracc. Magallanes, C.P. 39670. Mountain view rooms - $86, with all-inclusive plan - $140. Ocean view rooms -$92, with all-inclusive plan - $162. Also have 1-2 bedroom suites. Check for specials like a 4th night free. Rates are per person, based on double occupancy. 1-(800)-261-5014, http://avalonislamujeres.com/AvalonExcaliburAcapulco.htm.

Hotel El Mirador: Plazoleta La Quebrada 74, Col. La Mira, Old Acapulco 39300. Is home of the La Quebrada cliff divers, 2 pools, and villas with ocean views, seawater pool La Poza, beautiful setting but quite far from everything. (Restaurant is listed under Where To Eat). Standard room - $69, Superior room - $111, Master suite - $220, rates change seasonally (Did not personally review food or rooms). From the U.S. call 01-744-483-1155.
Where to Eat
Bella vista Restaurant at the Avalon Excalibur Resort. See hotel listing above for address. Meals are very affordable ranging from $4 to $10.
El Cocotero Restaurant at the Avalon Excalibur Resort: See hotel listing above for address.
Also very affordable ranging from $4.40 to $12.
La Perla Restaurant at the El Mirador Hotel. On the La Quebrada cliffs. See hotel listing above for address. Watch the divers from your table. International cuisine - filet mignon, fish with coconut sauce, pork loin with black pepper sauce, fettuccine alfredo.
Getting Around


The bus costs around 50 cents, but you must have the exact change in Pesos. The little white Volkswagen cabs are the most reasonable and you can bargain with them.

Discos/Entertainment
Special Note:
Many of these nightspots charge a cover charge that can run $10 to $60 per person. Some include your drinks, but some do not. Also, some are rather exclusive, so you may need a VIP line pass to get in. So, it's a good idea to check with your hotel concierge before hand to find out who charges what and to see if they have any special discount tickets or VIP line passes.
Baby O's: Av. Costera M. Aleman 22, Fracc. Costa Azul, C.P. 39850. Phone: 484-7474.
Nina's: Costera M. Aleman 2909, Col. Costa Azul (Frente al Centro de Convenciones). Phone: 484-2400.
Palladium - Las Brisas. Phone: 446-54-90, 446-54-86.
Senor Frog's Acapulco: Carretera Escenica #28, Fracc. El Guitarron C.P. 39880. Phone: 446-5734/5.
Siboney: Escenica Las Brisas. Phone: 446-5711/ 2.
Zucca Bar: Carretera Escenica # 28-L 1, Fracc Playa Guitarron. Phone: 446-5690, 484-6727.
Avalon Excalibur Resort offers Mexican and International shows along with dance music. Seasonal. (See information under hotels.)
Attractions
Cliff Divers: See El Mirador Hotel listing and information above.
C.I.C.I. Acapulco Magico, Aquatic Park: Av. Costera Miguel Aleman. Fracc. Costa Azul. Open 10 am to 6 pm. Phone: 481-0294, 484-8033, 484-1970.
Tours/Day Trips
Maritur Mexico: c/o Hotel Fairmont Acapulco Princess, L-10, Col. Granjas del Marques. Phone: 469-1000, ext. 1602-746. www.maritur.com.

Constellation Services (Services Turisticos Constelacion S. A. De C.V): Calle Bora Bora # 335, fracc. Lomas de Magallanes, CP 39680. Phone: 485-8852, 449-5006.

SDA Swiss Divers Association: Island of Roqueta, Cerro San Martin# 325, Int. Hotel Caleta, Fracc, las Playas. Transportation from & to hotel. $35. Phone: 744-482-13-57. www.swissdivers.com. (Note: the author did not personally review this).

Pueblo Bravo Acapulco: Av Costera Miguel Aleman, # 121, l-30, Hotel Continental Plaza. Phone: 484-1154/ 55/ 56. (Note: the author did not personally review this).
Bay Cruises
Yates Fiesta and Bonanza Fun Cruises: Costera M. Aleman, Glorieta Tlacopanocha Locales 4 y 5, Centro. Phone: 482-2055, 483-1550, 482-4947.

Amusement Park
Parque Papaya: Costera Miguel Aleman. Across from the Avalon Excalibur Resort. A 52-acre children's amusement park, skating rink, jungle garden, mechanical toys, artificial lake, zoo, boat rentals.

Museum

San Diego Fort Museum: Costera Miguel Aleman. Originally built in 1616 to defend the port against pirate attacks; later rebuilt in 1776. Very exciting displays and exhibits. Open 9:30-6:00 except Monday. Phone: 482-3828.

Shopping Centers
Plaza Bahia (next to Acapulco Plaza Hotel) and La Gran Plaza (across from Avalon Excalibur): both are on Costera Miguel Aleman.

Mercado Municipal is where the locals shop in old town.
Zoos

La Roaqueta Zoo: Isla La Roqueta or La Roqueta Island.
Parque Papaya: See info under Amusement Park listing.
Tourist Information
Acapulco Convention and Visitors Bureau: Great resource for information about attractions, restaurants, tours, sports, special rates, and everything Acapulco has to offer. https://visitacapulco.travel/en/.
Other Information

U.S. Consulate: Continental Plaza Hotel, Costera Miguel Aleman 121-14, Costera. Phone: 469-0556.

Emergencies

Hospital del Pacifico: Fraile y Nao 4, Costera. Phone: 487-7180.
Avalon Excalibur has a physician on staff from 9 a.m. - 7 p.m., and on call after hours.
Super Farmacia, La Playa: 24-hour pharmacy. 151 Costera Miguel Aleman. Next to McDonald's, a few blocks from the Avalon Excalibur.
Police: Phone: 486-8220.
Notice: This information is current as of February 2004. It is recommended that you contact the numbers, and/or visit the websites above to determine any changes to the information.